Rusty Anderson
Rocking the World Alongside a Beatle Legend
By Paul Hanson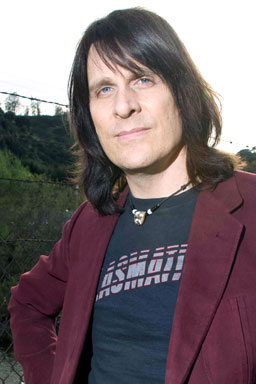 Since 2001, Rusty Anderson has been the lead guitarist in Sir Paul McCartney's band, one of the most prestigious positions a guitar player can hold. In addition to playing with the ex-Beatle, Rusty has worked with a who's who of other music greats, including Elton John, Willie Nelson, Santana, Stevie Nicks, Joe Cocker, and many more.
Despite his busy schedule, Rusty still finds time to pursue a career as a solo artist, and he's just released a new album titled Born on Earth. His first release, 2003's Undressing Underwater, featured contributions from McCartney, drummer Stewart Copeland, and a host of others. To learn more, visit www.rustyanderson.com.
I caught up with Rusty between tours for a phone conversation that was recorded for our BOSS Tone Radio podcast series. To listen to the full interview—along with music samples from Rusty's new album—go to www.BossUS.com/podcasts.
The following is an excerpt from our conversation.
I really dig the guitar sound that you got on the main riff of the title track from Born on Earth. There's a certain distortion that's almost like the mic pres are distorting or something.
No, it's not that. I think I was using my [ES-335] most likely—or maybe a Les Paul—and my Divided By 13 4x12 cab [with a '70s] Laney head. When I'm touring, all I use is Divided By 13 amps. But in the studio, I use different things, various older amps that are sitting around that I wouldn't want to necessarily take on the road. That's what I like about the Divided By 13s—they're pretty versatile like old amps, but they're new, so they're not going to start humming or buzzing or having problems on the road.
Do you have a home studio?
I do.
Did you record Born on Earth at home?
I think I recorded most of it there, yeah.
Do you have a room where you can mic up drums?
Yeah, it's been growing. I started off with a [cassette four-track] Portastudio a few years back and it just kept growing and growing. Now I'm lucky enough to have a separate drum room and a vocal booth, a control room, a machine room, and all that.
Born on Earth is a really warm-sounding record.
My sort of angle has always been to get everything to be as natural and warm as possible in that respect. I'm not really into the digital sound, but it is a computer world and that's the way things are going these days. It's funny, because the guy who mixed the record actually mixed it "in the box." He somehow manages to get a big, fat, warm sound from his mixes, more so than people that I've worked with that go through big mixing consoles and stuff.
Let's go back in time. I understand that you grew up in La Habra, a suburb of Los Angeles, CA.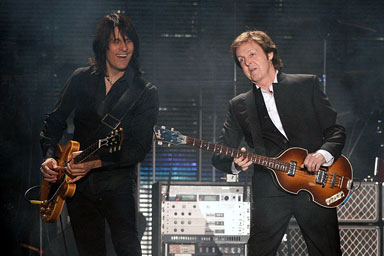 In Orange County. Yeah.
Did you hang out at the beach a lot as a kid?
I did go to the beach sometimes. But I was not really a big beach fanatic surfer kid or anything.
So you stayed home and practiced instead?
Something like that. Yeah. I think I got my first electric when I was eight years old, and I just became inseparable with the guitar. That's all I cared about really.
Was it easy for you when you first started?
No, it wasn't. It was really a bitch, but I was so into it it didn't matter. I think if you've got enough drive, you'll really break through the initial barriers. I used to teach guitar a bit, and a lot of people would complain about it hurting their fingers and all that. [When I started] , I had a funky guitar. It was a Kent, an old pawnshop guitar. The strings were fat and rusted and the nut was high and it was hard to play, but I just didn't know you could change any of that. My parents didn't have a lot of money, and I just kind of dealt with it.
At what point did you decide to be a guitarist for your career? Was it something you always knew you'd do?
When I was five, I sort of flipped out on music, and I just feel like I've been doing the same thing since I was five, basically. [Laughs.] It sort of found me. I always thought it'd be tough to have to work it out on paper, to make a big list of things that you could possibly do and pick one. You know, that would be hard. I never did that.
As a kid in Orange County, you formed the band Eulogy. Did you guys play Hollywood clubs like the Starwood and the Whiskey ?
Yeah, those were crazy times. I've been in a million different bands and played a million different clubs. I was in a band called Ednaswap in the '90s. [Editor's note: Ednaswap was an L.A.-based band that wrote and recorded "Torn," a song that later became a huge international hit for singer Natalie Imbruglia. ] We toured around in a van and argued in the snow and all that. [Laughs.] Now, when I work with Paul, I [fly on] private planes. So, I've kind of done it all, really.
When you're on the road with Paul McCartney, you're not on a tour bus? You actually travel in private planes?
For the most part. Occasionally we do a tour bus, but [not often].
I've always wondered about playing with Paul McCartney. I'd think that if you got a gig with Led Zeppelin, that would be a step down from your current gig, you know?
[Laughs.] Yeah, it's pretty amazing. I feel very fortunate to be part of it.
Paul McCartney is now a knight, so I was trying to figure out if I should call him "Sir Paul McCartney." I don't know—is that important?
I think most people just call him Paul. I guess some people do call him Sir Paul. But I think he's not that formal about it.
After you left Ednaswap, you recorded with Elton John, Willie Nelson, Sinead O'Conno r, Jewel, Santana, Stevie Nicks, and a ton of other artists. Do any of those sessions stand out in your memory?
None per se. You know, when you go in to do the recording, it becomes a spiritual and cerebral muse connection. For me, I just want to contribute something and make it better if possible. You never know to what degree your stuff gets featured and all that.
I've done a lot of really fun recordings. I've done a ton of 'em over a bunch of years. Working on the New Radicals record, that was really fun. I did a tune with Willie Nelson and that was really fun, too. He was gracious enough to sort of let me keep the time, and he'd flow in around it. It was really interesting, because it was all live.
A lot of the stuff is overdubs. You know, maybe I'll come in and the artist isn't even there. But sometimes you work directly with them. With Elton John, I worked on half that record and we did it all live. Bernie [Taupin, Elton's long time lyricist], would hand him some lyrics and he'd just write the song right there. Fifteen minutes later, we'd be working out the chords and just start going, a really crazy process. It's always different.
By 2001, you'd done all these sessions, and then you got a call to go and record with Paul McCartney.
Yeah. I'd worked with producer David Kahne a lot, and he got a gig with Paul. So he brought Abe [Laboriel Jr.] and me in and we did the Driving Rain record, and that was sort of the beginning of this current band. We've been working with Paul now since 2001.
What was it like when you first met Paul?
It was pretty trippy, you know? The Beatles were the reason I started playing music at five.
Me, too.
Yeah? It was a pretty amazing hook up; I never thought I'd be meeting a Beatle, much less playing with one. When I walked into Henson Studios [in L.A.], there were some folks with English accents and I met some different people. Then, I finally met Paul and I was feeling rather electrified. You know that feeling of being hyper-aware? And that lasted off and on for maybe three, four, or five days until I could finally settle down. The good thing is that playing music is something I've done so much of, so it was really a good focus. We could go in and play music instead of just sitting there, staring at each other and talking or whatever. [Laughs.]
We worked quite quickly. We recorded most of the record in two weeks. It was pretty surreal looking over and seeing Paul there with his Hofner [bass], singing, and then playing guitar. I was thinking, "Wow. This is really trippy."
And now it's cool — the exciting part is still there, but to me Paul is a guy. He wears a million hats: rock star, friend, dad, spokesperson, and host. He wears a lot of different hats as we all do more and more as we get older, but him especially.
When I was growing up, I'd save enough money so I could ride my bike down to the store and buy a Beatles record. The first one I bought was Revolver. So, Paul's way bigger than life for me, too.
Yeah, exactly. That's the thing. If you're a big Beatles fan, then you've listened to all those records and you've flipped out on their wealth of incredible music. It's a powerful thing.
What's it like recording with Paul?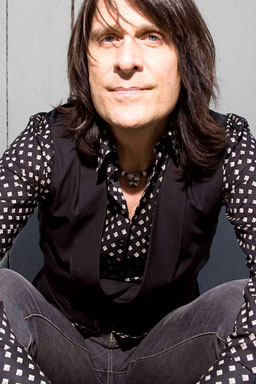 There have been different situations. When we were working with him on Driving Rain, it was, "Just go out and do it and have fun." It wasn't stressful. When we worked on Memory Almost Full, his approach to the record was more meticulous. He was a lot more specific about little details.
I've had a lot of different experiences [with him]. We've recorded at Abbey Road, and we've done recordings at his personal studio in the countryside in London. Driving Rain was recorded at Henson Studios in L.A., and we've recorded at RAK Studios, another one in London.
I heard you just got a BOSS TU-1000, the top-of-the-line BOSS tuner.
Yeah, it's cool. I'm just messing around with it now. I've always used [BOSS] TU-12—the staple—and in an old rack I have the half-rack BOSS TU-50.
Is your TU-12 the white one (TU-12H) or the grey one (TU-12)?
I think it's the TU-12H.
The TU-1000 is huge.
Yeah, exactly. I actually got that and I'm exited to use it live, but I haven't started using it yet. It looks very robust, clear, and easy to look at.
Yeah, it's so easy to read because of its size. Do you have a TU-2, the traditional BOSS floor tuner?
Yeah, I have a few different tuners. The ones that I use live are the TU-12s, and I'm planning to use the TU-1000.
I haven't used [the TU-2] in my configuration yet, but I'm planning on it. Another BOSS pedal I use is the [NS-2 Noise Suppressor]. It's really effective when I'm playing live.
I heard you have a GE-7 Equalizer pedal, too.
Yeah, that's really cool. I use it mostly for quirky sort of sounds, like if I want to get a special effect kind of sound. [Of course], you can use an equalizer to slightly shape [the sound as well], and I do that stuff, too.
I've found that using the GE-7 after the distortion is awesome for shaping and getting special effects.
Yeah, I put almost everything after distortion pedals, it seems to be better. You can put everything before [the distortion], but that's a real extreme, crazy sound that can be fun and interesting but hard to contain.
I also heard that you have a BOSS DB-60 Metronome. Do you practice with metronomes or drum machines regularly ?
I have. I've practiced with guitars and metronomes for years, [though] I haven't done it lately. I use the BOSS [DB-60] as a production tool to get tempos, and also sometimes for practicing piano. I'm not as advanced at the piano—I'm a much better guitar player by far—so it's sometimes helpful when I'm working on a piece on the piano.
Do you use heavy strings?
I use .010s mostly. A few guitars have .011s, a few guitars have .009s, on electrics that is. On my acoustics, I use .011s or .012s.
On the song called "Intro" from your Born on Earth album , you have echo on your guitar. Was that done in the studio at mixdown, or was it done with a pedal as you played it?
I don't [usually] use studio echo for some reason, though occasionally I do. But with guitar, I like it with pedals or effects going between the guitar and the amp.
Do you have a favorite echo pedal ? "Intro" almost sounds like a tape or analog delay.
Shoot, I don't remember which one that is; it might've been a BOSS. I have an RPS-10 I like to use. [Editor's note: the RPS-10 is a vintage BOSS half-rack pitch shifter/delay unit. ] Or it could have been a real Echoplex. I have a bunch of echoes that I use for different things.
We now have the RE-20 pedal, an emulation of the vintage Roland Space Echo.
Oh yeah! I have an RE-20 on one of my pedalboards. It's a good-sounding delay unit.
Do you run that in the amp's effects loop?
No. Years ago I messed with that stuff, but I don't like doing the effects loop thing as much, because it sounds too clean. I mean, it sounds good for certain things—it's a little more clean and hi-fi—but I kind of like the attitude you get from an effect going between the guitar and the amp.
Do you run your amps fairly clean?
In the studio, I'll play with it till I get it right. It could be super over-the-top distortion or super clean. Usually not super-super clean, but fairly clean or in-between. When I'm playing live, I usually run the amps semi-distorted. So, if I turn the guitar on 10, the amp is a little dirty. But I can turn the volume down and clean it up, or I can kick on a pedal and get [really] dirty.
Lets go back eight or nine years. After 9-11, did Paul McCartney ask you to go on tour with him?
Yes. The first gig with Paul was The Concert For New York City.
At Madison Square Garden?
Yeah. And that was a little less than a month after 9-11 happened. In fact, I remember going there and [the smell from ground zero was still] in the air, that crazy mixed smell of cinder block and plastic; it was very strange. Anyway, that was a crazy gig because we went over there, rehearsed for a day or two, and then played this gig with David Bowie, The Who, Elton John, and Eric Clapton.
And those guys were basically warming up for you.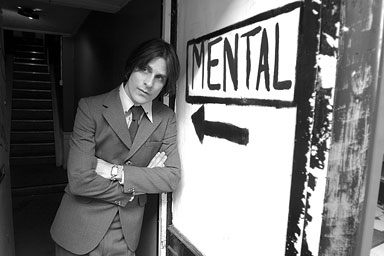 Yeah. It was really surreal and I met all these people: President Clinton, Pete Townsend, and James Taylor. I saw Elton—I'd worked on his record less than a year before that, so it was good to see him. And then Keith Richards and all these people [were there] and it was really a lot at once. That was our first real gig. That was pretty crazy.
How did you keep from making mistakes? I think I'd lose it.
I think that it actually, for me anyway, does the opposite. It makes me really focus in.
I read that you played with Paul in Rome for 500,000 people. I've been to pro football games with maybe 100,000 people. But I can't even imagine what playing in front of half a million people would be like.
Well, we played inside the Coliseum for about 1000 people, sort of a half-acoustic show. Then, we played in front of the Coliseum down the Appian Way for 500,000. About halfway through the show it became completely dark; at a certain point the audience held up lighters, and it looked like a river of fireflies going off the edge of the earth.
Do you have some advice for guitarists who would like to have a successful career like you have had?
Man, I'd say follow your bliss. That's what I did, and I never knew if I was making the right decision or not in life. I just sort of followed this muse and somehow it worked out. I look back and think, wow, you know that crazy winding road brought me to where I am now. And you never know really if you're making the right decision or not—you've just got to follow your instincts and use your head.
Be sure to check out Rusty's Podcast on BOSS Tone Radio.