Getting Great Tone
Overdrives and Distortions
By Peter Swiadon

As guitar players, what are we all after? What do we struggle to describe, work to attain, but always know when we hear it? And what is all that gear out there for?
The answer to all three of these questions is the same: great tone. With so much equipment available today to help in creating tone, how do we go about making it do what we want? Let's take a look at some simple and effective ways to get killer tone with overdrives and distortions.
The first question is which should you use: an overdrive or distortion? The answer isn't quite that simple. Like many things in the tone-quest world, there aren't too many fixed rules here. The real answer is: it depends. Maybe an overdrive is what works for you; maybe it's a distortion. So the next question is: What's the difference between an overdrive and a distortion?
Generally, an overdrive is designed to work and sound like an old tube amp turned up loud. A good overdrive can produce the same overtones and harmonics that an overdriven tube amp produces, hence the name Overdrive. BOSS started the overdrive revolution with the legendary and very collectible OD-1.
A distortion usually goes beyond the amount of gain and harmonic crunching typical of an overdrive. They tend to get more distorted, are usually (but not always) louder than typical overdrives, and often have multiple gain stages for abnormal amounts of sustain. The BOSS MT-2, probably the best selling distortion pedal ever, is a good example of a distortion pedal with those features.
Now that we know what they are, let's look at making them do what we want: getting great tone. Overdrives first....
There are two good ways to get tone from an overdrive. One is to use the overdrive in conjunction with your amp; that is, use the overdrive pedal to augment your amp's inherent tone. Here's how this works:
One of the things an overdrive can do it to hit your amp with a bit more level, without adding too much distortion. Sometimes all an amp needs to sing is more input gain than your guitar can put out. It's like the difference between single coil and humbuckers; hums put out more level, so they tend to create more sustain and distortion from an amp. Stevie Ray Vaughn often used his overdrive pedal in this way. Not much additional distortion, just some additional gain to boost the level of his single coils. To do this, set the amount of overdrive pretty low on your pedal, but set the output volume a bit high. Set your amp for a mild amount of distortion. If your overdrive has a tone control, set it so it doesn't alter your tone as it is before you turn the pedal on. This mode is also effective for boosting solos.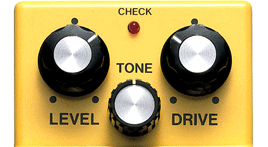 How effective this is depends a lot on the amp: A good tube amp works in this way better than a simple solid-state amp.
Another way to use an overdrive is to set the amp for a clean sound with flat EQ, and let the overdrive's inherent tone come through. In this case, try setting the overdrive for somewhat more drive (or crunch, or whatever your pedal calls the amount of distortion), and try to match to the output of the pedal so that your volume doesn't change when you turn it on (unless you want it to, for soloing or just being louder). Remember, there are really no rules! If you like the sound, that's all that matters. This method is less dependent on the tone of your amp, and players often use their pedals this way. Their tone is based on the pedal's tone; the amp is just making it louder.
Now on to distortions: Since they tend to be louder and have more inherent distortion than overdrives, it is a little trickier to use them in conjunction with the amp's own distortion sound. It might be what you want, especially if you're after a nu-metal, super heavy, or very grungy sound. If you use your pedal this way, you are distorting distortion. This can get pretty ugly, but sometimes it's just the thing. Set your pedal similarly to using an overdrive to use it this way: Set the level up, the distortion somewhat down, and the tone for neutral.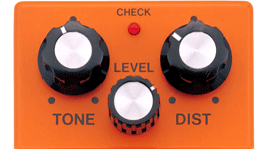 Distortions tend to be more effective when you use your amp set for a clean sound and let the pedal's own tone sing through. Good distortion pedals, such as the BOSS Metal Zone, are quite sophisticated. Under the hood is some powerful circuitry that can create multi-stage distortion just like a high-end boutique tube amp. The MT-2 even has studio quality EQ: a 3-band tone section with parametric sweepable mids for duplicating pretty much any distortion tone you might want. For blazing metal tones, try this setting with a Metal Zone and your amp set for a clean and neutral sound: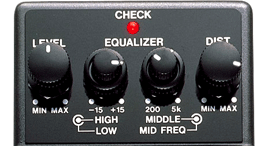 To wrap up: These are not rules. They are concepts. The best way to incorporate them into your playing is to experiment. There are many pedals on the market, each with its own characteristic tone. One may be just the thing to make your tone what you've wanted it to be. Try some out, both with your own amp and guitar, and with others. The magic combination is out there.
Try out BOSS pedals and pedal combinations on the Virtual Pedalboard 2, and check out the Pedals that Make the Tone page to find out how to get the tone of your favorite artists.