BOSS VPB-2
Welcome to the BOSS Virtual Pedal Board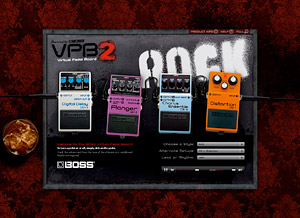 To turn a pedal on or off, simply click the pedal
Styles:
Rock

Crank the volume and hear the tone of the ultimate rock pedalboard. Roadie not required.

Blues

From sorrowful to soulful. From Chicago to Austin. Check out the tones of the ultimate Blues pedal board.

Metal

Sorry, we had to build this board on a concrete slab. The tones were so heavy, the wood floor couldn't handle it.

Country

This board would be "right at home" on stage at the Ryman. Now get to pickin' (chicken, that is).

Acoustic

When the gig calls for a more "woodsy" approach. BOSS has you covered.

Jazz/Jazz Fusion

Through the decades, jazz/jazz fusion has brought us tones that ranged from warm and smoky to blistering. BOSS delivers them all.

Funk

The Mothership just landed on this pedal board. Boom-chicka-wow!

Twin Pedals

Think of it as our own little trailer park of BOSS double-wides. More tone and flexibility than one board has a right to deliver.

Bass Pedals

"Phat" doesn't do it justice. Embrace the low side — now.