BOSS TU-1000 Stage Tuner
Big, Bold, and Accurate
By Jim Bybee

BOSS has been the world's leader in guitar and bass tuners going on nearly three decades now, and for good reason—our tuners are super-accurate, easy to use, and hold up to the rigors of the road. Until now, nearly all have had another thing in common: they've been rather compact in size. But in 2009, a fresh type of tuner has been added to the BOSS line-up, one that's big, bold, and ready to grab some attention. Designed for the stage floor, the new TU-1000 is pro all the way, with a feature set that's tailor-made for performing guitarists and bassists.
Eye of the Tiger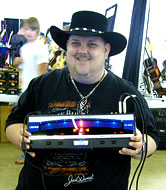 The blue, silver, and black TU-1000 is truly a sight to behold. At over 16 inches in width, it's huge, with a massive bright orange LED tuning display that spans nearly the entire face of the unit. Two display modes are provided to meet any stage-tuning situation. In Cent mode, the display's LED acts much like the VU meter on a standard BOSS tuner, moving to the left when a pitch is flat, and to the right when it's sharp. In Stream mode, multiple LEDs move left or right in a strobe-like action, making it extremely easy to tune in dim lighting. In either mode, a super-bright "tiger's eye" illuminates in the center of the display to let you know when you're in tune. There's also an indicator that shows the current pitch or string number (more on this in a bit), as well as two arrow indicators that further aid in dialing in the pitch.
With such an enormous and bright display, the TU-1000 makes it easy to tune in any performing environment, from dark stages to sun-drenched outdoor venues. The display can also be seen from a distance, so you don't have to be right on top of the tuner to see what's going on. This is especially handy if you play on big stages or use a large pedalboard. The cool Accu-Pitch feature helps here, too; when enabled, the tuning LEDs give a big visual indication by streaming to the center of the display when a string is in tune. To turn the tuner on and off, there's a large, integrated foot switch, and the audio output is muted when the tuner's active so you can tune in silence.
Tuning Modes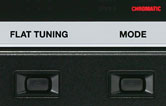 The TU-1000 offers a number of different operational modes to suit your particular tuning needs. Chromatic mode is perhaps the easiest to use—just play a note, and the current pitch is shown. If you prefer to tune by string number, you have many options: standard tuning (for either guitar or bass), drop D, open tunings (D, G, A, E), and even modal DADGAD tuning. In any of the string number modes, pitches are displayed by string number instead of the actual pitch.
Tuning guitars and basses to a lower pitch than standard can give a rich, deep sound, and this type of "low tuning" has become very popular in recent years, especially in metal music styles. But it can be a little problematic when it comes to using an instrument tuner, because even though you're tuned down a semitone or more, you're still "thinking" in standard tuning when playing the music on guitar or bass. This is where the TU-1000's Flat Tuning feature really helps you out.
Essentially, Flat Tuning allows you to calibrate the tuner anywhere from one to five semitones down, so that you can always tune with the TU-1000 as if you're in standard tuning. For example, say you want to tune your guitar two steps down from standard pitch: D-G-C-F-A-D, low to high. No problem—just press the FLAT TUNING button so that two "flat" symbols are displayed. Then, tune your guitar as if you were in normal tuning, and—bada bing—the TU-1000 does the rest. (Flat Tuning also works when using the drop D, open, and DADGAD tuning functions mentioned previously.)

The Ins and Outs
Guitarists are picky about their sound, and they want to make sure that any device they plug into their signal chain will keep their tone intact. No worries here—the TU-1000's rear-panel I/O has got that covered. To get audio into the tuner, simply plug into the INPUT jack (by the way, this jack also doubles as a power switch). To get audio out, you have two choices. You can use the OUTPUT jack, which processes your signal with a buffer amp before it's output, converting it to a low-impedance signal that can drive a long cable or pedal chain without any signal loss. If you want an unprocessed "true bypass" signal, use the PARALLEL OUT jack instead. Both jacks can be used simultaneously if you like, letting you use the TU-1000 as a splitter to send your signal to two destinations, such as two different amps, an amp and a recording device, two different pedal chains, etc.
The TU-1000 also provides a TUNER ON/OFF jack, allowing you to connect an optional BOSS FS-5U foot switch (or similar) to turn the tuner on and off remotely. This is great when you have a pedalboard setup—just place the TU-1000 wherever it works for your particular stage rig, mount the foot switch on your pedalboard, and connect the two with a standard guitar cable. You'll also find this option handy when using the TU-1000 in a studio environment.
Power Train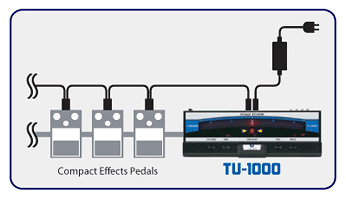 Another cool TU-1000 feature is that it can be used as a power supply for multiple stompboxes. Just connect the end-plug of the included 7-pin parallel cable to the TU-1000's DC OUT jack, and then connect the cable's additional plugs to your favorite PSA-compatible pedals. By "PSA-compatible," I mean pedals that can be powered with a BOSS PSA-120S AC adaptor. This includes the entire current lineup of BOSS Compact Pedals and Twin Pedals, and a large number of third-party pedals as well. Just make sure that the total current draw of all connected pedals doesn't exceed 500 mA. (Refer to the owner's manual for each of your pedals to determine PSA compatibility and current draw.)
Rockin' the Stage
As you can see, the new TU-1000 is one cool tuning machine. It's already been adopted by some of the world's most prominent players, so you're likely to see it on a performance stage in the near future. Pop on down to your BOSS dealer to check one out for yourself and see what all the buzz is about. You'll find that the TU-1000 makes tuning on stage so easy, you'll wonder how you ever got by without one.