BOSS TU-12EX Chromatic Tuner
The Rebirth of a Legend
By Jim Bybee

For over 25 years, the venerable TU-12 Chromatic Tuner has anchored the BOSS tuner line. Introduced in 1983, it was the world's first automatic chromatic tuner, automatically sensing and displaying the current pitch as it was detected by the input. Though we all take it for granted so many years later, this useful feature allowed you to keep your hands free for tuning your instrument, instead of futzing around with buttons. This attribute, along with its spot-on tuning accuracy, reliability, and affordable price, made the TU-12 an instant hit and the industry standard for a generation. Now, in 2009, this workhorse is ready to hang up its hat, and a new tuner is taking over the reins: the TU-12EX. BOSS' new flagship retains all the great features of the old standby, with a few modern tricks of its own added in.
VU from Above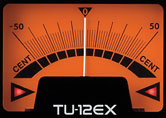 The fashionable TU-12EX sports black, gray, and orange styling, and it's over 30% thinner than the TU-12, making it even more portable. The classic and super-accurate VU-type tuning needle is still here, along with the lighted arrow indicators that let you know when you're sharp, flat, or right in tune. There are input and output jacks for hooking the TU-12EX in line with your rig, of course, and a built-in mic for tuning acoustic instruments as well. The battery compliment is now two AAAs (instead of the TU-12's single 9-volt), and you can power the unit via AC with an optional PSA-120S adaptor. Also, a gig-saving auto-power-off feature has been added, which automatically shuts the power off and saves the batteries if you forget to switch off the tuner after its last use.
Tuning Options
Like the TU-12, the new TU-12EX has both Chromatic and Guitar tuning modes. Chromatic mode is as easy as it gets: simply play a pitch into the tuner and it's detected automatically. The front-panel indicators let you know the name of the nearest pitch, and the needle and arrows show you how close the pitch is to being in tune. The new tuner also features an extended range that covers 8-1/2 octaves (E0-C8), plenty of range to tune any instrument. (This tuning range is two octaves higher and nearly one octave lower than the TU-12's extended-range sibling, the TU-12H.)

If you play guitar or bass and prefer to tune by string number, then switch the TU-12EX into Guitar mode. Just select the desired string number on the front-panel string grid with the up and down buttons and tune away. In a nod to the growing popularity of extended-range guitars and basses, Guitar mode provides the ability to tune the low "B" strings on seven-string guitars and five-string basses in addition to the primary strings.
Sounding Off
Another new feature added to the TU-12's successor is a built-in speaker, which facilitates a couple of useful functions. First is Accu-Pitch, which makes tuning quicker by sounding an audible "beep" when a pitch is in tune. Second is the ability to play reference pitches. In Chromatic mode, you can play any pitch in half-step increments over a five-octave range. This has many uses, including providing a tuning reference for a group of musicians, or playing target pitches for singing practice. In Guitar mode, you can play the pitches of each string individually. Among other applications, this is great for rough tuning after a restring.
Calibration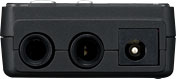 The TU-12EX offers two adjustable calibration options. For all normal tuning operations, the tuner is calibrated to the standard A440Hz reference by default, but you can adjust that anywhere from 438Hz-445Hz if desired. The second calibration mode—called the "Flat Tuning" feature—is great for guitarists and bassists who like to play in "low" or "drop" tunings, where you tune the instrument a half-step or more down from standard pitch.
When you tune a guitar or bass to a lower pitch than normal, it gives the instrument a thick and rich sound that's great for lots of music styles, and hard rock and metal music in particular. But, when it comes to using an instrument tuner, this can cause some confusion, especially when you want to tune in a hurry. That's because your brain is "thinking" in standard tuning, even though you're tuning down a semitone or more. This is where Flat Tuning really helps—just press the FLAT button on the tuner's front panel, and then use the up and down buttons to select the desired setting, anywhere from one to five half-steps down. Then, use the TU-12EX to tune your guitar or bass as if it were in normal tuning—E-A-D-G-B-E—and the Flat Tuning feature offsets the pitches accordingly. (By the way, Flat Tuning works in both Chromatic and Guitar modes.)
Changing of the Guard
The TU-12 has had a long and successful run, but now it's time to retire and let the new guard take over. No worries, though—the future of BOSS tuners is in good hands with the TU-12EX carrying the torch. With the same set of reliable features—including world-class tuning accuracy—and a bunch of useful new ones now onboard, the TU-12EX is destined for a long run as the new industry standard in compact tuners.