Frank Gambale
Guitar Innovator from Down Under
By Tiffany Schirz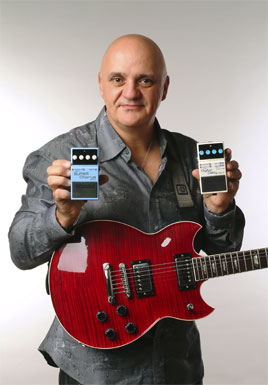 Guitar playing has come a long way in the past 60 years, from the birth of the electric guitar and amplification to the tap technique and beyond. And thanks to Australian-born guitarist Frank Gambale, guitar playing was forever altered yet again by the emergence of sweep picking. While sweep picking had previously existed to a small degree, it was Gambale who fully developed it and proved it a viable and incomparable way to play at high speed. Never one to stand still musically, Gambale also recently invented an alternate tuning that opens up a whole new world of close, piano-style voicings for the guitar. Gambale's BOSS gear has played an integral part in his music from the beginning, and we recently caught up with him and got a close-up look inside the mind of a true innovator. Here are some highlights of the conversation:
Growing up, you were really into Chick Corea, and then you ultimately got to play with him. What was that like?
I knew I was going down a slightly different musical path than my friends and peers when I was about thirteen or so. I listened to "Return to Forever," and I thought it was the greatest thing ever. The Brecker Brothers were also huge for me. So, I studied and transcribed and learned as much of it as I could.
When I moved to the States in '82, I came over to study at G.I.T. in Hollywood. I wanted to be closer to where the music was coming from. I worked my way in through the local L.A. scene, and did a record for a bass player called Jeff Berlin. We recorded at Mad Hatter Studios in Silver Lake, which was Chick Corea's studio. I felt the presence when I was in that studio.
One day, I saw a woman come out of the office. I had no idea who she was, but I couldn't resist — I just went up to her and said, "You don't know who I am, but if Chick Corea ever needs a guitar player, you must call me." And she looked at my card and said, "I've heard of you, my husband played with you." It turns out that was Tom Brechtlein, and she was Evelyn Brechtlein. She was Chick's manager. Within six months, she called me for an audition. So one thing led to another, but it was an amazing set of circumstances. It was really incredible.
You've really taken your own approach to guitar playing with the sweep picking. Can you talk about that?
When I was about seventeen, I got really fed up with a lot of guitar players. I'd been playing since I was about seven, and I really started to tap into the sweep technique as early as about thirteen years old. I remember seeing George Benson live, and I remember him doing it a little bit. To me, the sweeping technique was like a sleeping giant. But the popular belief was that it was impossible to do it any more than people were already doing.
And I don't know why, but I just didn't believe that it was impossible. I really believed that the idea could be explored and expanded. I put my whole life into it really, and proved beyond a shadow of a doubt that it is an extremely important technique for the guitar, and incredibly liberating. I always use this analogy: most guitar players, when they're playing fast, look like they're about to explode from making so much effort. It's like driving a car that only has four gears, and you're ripping along at 70 mph, and the car is shaking. Sweep picking is like having a 5th and 6th gear, so you can go at this incredible velocity, but it's easy and comfortable.
Some of the voicings you do on the guitar are really unusual, because of the unique tuning you came up with. How did that come about?
I started playing piano a long time ago, and I really love close voicings. A half step interval on the piano is really close, but it requires a big stretch on a guitar. And if you want two or three of them together, good luck — you need a hand that stretches about three feet long!
Alternate tunings have existed on the guitar for years, but the problem is that they alter everything. The beautiful thing about what I came up with is, all I did was change the octave of certain strings. I can play the same shapes I know, but the voicing will come out differently. I can do any of my favorite four and five-note voicings on the guitar now, which is just incredible to me. On my record "Raison D'etre," you'll hear it.
Can you describe the tuning?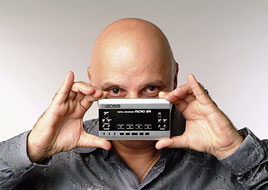 The tuning I came up with was an adaptation of a recent tuning called "Nashville tuning," which was also a preset on the [Roland] VG-88. The VG-88 was what really enabled me to discover my new tuning, so I'm extremely grateful for that. I started playing around with that preset, and realized I could play pretty much any voicing I wanted. That was when the whole idea came to me of switching notes into different octaves.
So I transferred it from the virtual world to the real world — I wanted a fundamental guitar with this tuning — so I did it backwards. I left the lower four strings at regular pitch, and took the highest two down an octave. And then I moved the whole thing up a fourth so that my lowest string was an A, and that was it.
Now, I have a double-necked guitar that I've restrung, that has my tuning on one neck and the standard tuning on the other, because I still like to take my single-line solos on the traditional tuning.
Which BOSS products are you using, and how are you using them?
I've played a whole bunch of pedals over the years. One of my favorite BOSS pedals is the BOSS Chorus, the light-blue-colored CH-1. When I first heard it, I went, "Wow. How could anyone play guitar without a chorus on it?" It's just a beautiful sound.
I have used many of the other BOSS Distortion pedals, and the [OC-2] Octave pedal; I found it an interesting and easy way to make your guitar sound huge. It's like having another guitar or bass playing at the same time. And I've always had BOSS tuners, because it's extremely important to stay in tune.
You also have the GT-Pro, right?
I've just gotten the GT-Pro, and I love that machine. It's got a really cool preamp, and I'm getting some great sounds out of it. It's great to have in the studio when you don't feel like plugging in an amplifier and microphones. It has some incredible effects and great, clean sounds. I'm really enjoying the clean electric guitar.
I also have the MICRO-BR. I've used that quite a bit for live recordings and recording my band live, just with a small mic to MP3. It's wonderful, and I can record ideas quickly. There's nothing worse than forgetting ideas. If I'm in the midst of writing, I don't want to have to stop and write something down. I like to just record various ideas, and then I'll go and organize them later.
Are there any up-and-coming guitarists you're excited about?
Absolutely, and it's not limited to just guitar either. I know this guy in Edinburgh, Scotland, named Kevin Glasgow. This kid is a freak. He plays a six-string bass, and he does everything — taps, sweeps — and that's sweeping on a six-string bass. And he plays with another fellow named Ben MacDonald, a fine young talent who's got a lot of potential. There's another guy in London, Alex Hutchings. He's trying an interesting thing, too. He's altered the last three strings of his guitar, switching it to straight fourths, so he's really pioneering in that, and he's an incredible guitar player. It really is encouraging to see young players who are just terrific.
What CDs are in your CD player right now?
I'm in a phase where I'm listening to a lot of stuff that I used to dig in the '60s when I was a kid. There's something about the raw innocence, and I just love the way the recordings sound. I'm digging some early John Mayall records, and early blues and early Yes records. I'm always listening to Donald Fagan and Steely Dan. I just think their music is genius.
If you look at all of my records, you'll see that there was this movement all the time. I kept going from one thing to another. And some people criticize that, saying "Will the real Frank Gambale please stand up?" [laughs] But the reality is that all of those things are me. I'm just awful at conforming. I don't like to have any chains or ropes on me, and I like to break free of anything that people would expect of me. And I think I've still got a few things up my sleeve.
What current projects are you working on?
The early years for me were really about vocal music and singing. And throughout the years, I've always written songs, but very few people have ever heard them. I've been writing pop songs and actively trying to get them covered. I'm getting close to sending them out to various places and soliciting artists — all sorts of artists.
It's a strange time in the music business, and the value of music seems to be less than it used to be. But I still love doing it, and I will still continue to do it. This is an exciting new phase for me.
Be sure to check out Franks's Podcast on BOSS Tone Radio.