Oz Noy
Jazz-Rock Guitar Wizard
By Paul Hanson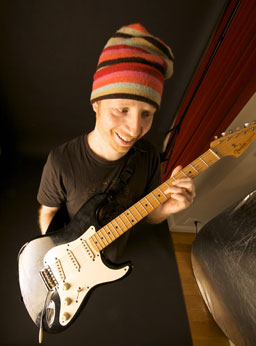 Jazz-rock trailblazer Oz Noy grew up in Israel and started gigging at around 13 years old. He worked his way up to the top of the guitar food chain there, playing in the house band for one of Israel's most popular TV shows.
At the age of 24, Oz packed up his Strat and jazz box and headed to New York City, where his stunning chops quickly earned him inner-circle status among the jazz-fusion elite. Today, Oz navigates the NYC jazz scene along with top players such as Dave Weckl, Will Lee, Mike Stern, Vinnie Colaiuta, and others.
Recently, I interviewed Oz for a BOSS Tone Radio podcast. To listen to the complete discussion and clips of Oz's music, visit www.BossUS.com/Podcasts.
The following is an excerpt from our talk.
Hi, Oz. I heard you did a gig last night.
Yes. When I'm in New York, I usually play on Mondays with my regular trio, the trio I do all my records with. But once in a while, I play the 55 Bar in New York with a jazz trio, and I basically take standards and twist them around. We do two sets at the 55. It's kind of a famous place in New York for jazz.
Is that in Greenwich Village?
Yes. It started in the early '80s with Mike Stern and Jaco Pastorius. Mike Stern went into the bar [because] he wanted a place to play. He just started playing there, and now it's like an institution. They have music every night, actually two bands a night. It's really great, and Stern still plays there to this day. When he's around, he plays Mondays and Wednesdays.
You grew up in Israel. What is it like over there?
It's an intense place in many ways, but the quality of life there is really, really high. In general, it's a pretty relaxed place.
Let's go back. At what age did you start playing guitar?
Ten.
Were you influenced by a guitar player to start playing?
Not really. Actually, I wanted to play drums, and I was already planning to take drum lessons. But a friend of mine was learning guitar and he told me, "Hey, come and take a lesson with my teacher." I just went. I don't know why I went—I wasn't attracted to guitar or anything, but I just went and started learning.
Well, your time is really good. I bet you would have been a great drummer, too. Was learning the guitar easy for you?
You know, I'm one of those guys [where] nothing comes easy. I have to work on everything I do. So, in my opinion at least, I'm not one of those guys that picks up an instrument and starts playing and it all comes easy.
I don't know if it came easy as much as I was kind of a fast learner. I got into jazz really early on, probably by the age of 11. My brother had started listening to jazz records [before me], so I already had a sense of what it [was].
Over the years in Israel, you became a very successful studio musician.
I started working there when I was really, really young. From the age of 13 to 24, I worked as a musician there. I played with a lot of people, and with most of the big artists.
In the last couple of years that I lived there, I played on this TV [variety] show. I was in the house band. It wasn't on every day; it was [only] on weekends, but it was really popular. I was doing a lot of TV with different artists.
Did a comedian like David Letterman host that show?
Yeah. It's really a horrible story, because the guy lost his mind. The bottom line of the story is [that] he just committed suicide a few months ago. It was actually in the news here, too. He was so sick, [and] his career started to go downhill. He was a good guy, but his career went down and he couldn't handle it. He hired people to attack industry people that [wouldn't] give him gigs. Then, they found out it was him, and they put him in jail, and then he killed himself. It's an unbelievable story. He was the biggest entertainer in Israel.
What was his name?
Dudu Topaz. Really tragic. Unbelievable.
So, you did a couple years on that show, and then…
Then, I moved here. I did two years on that show, and I was [working with] other artists, too. I played pop and rock, but I always played jazz at the same time. I was always doing both. And then I moved to New York at 24.
I've got a list of artists you've played with since you've moved to New York: Richard Bona, Harry Belafonte, Toni Braxton, Phoebe Snow, Nile Rodgers, Roger Glover, Cyndi Lauper, and Clay Aiken. Can you tell us about any sessions or gigs that stand out?
Not really. I don't know, to me all that stuff was kind of like…it's not that it wasn't good, it was just kind of "for hire" work [laughs].
You show up and they need you to play.
Yeah. You know, it's a record or something like that, and you just play. When I did the Clay Aiken record, he wasn't even in the studio. [But] I really liked working with Roger Glover [from Deep Purple]. He's a great guy, a great musician. And I played with Gavin DeGraw for many years.
Of course, you have your own solo albums.
Yes. The last one, Schizophrenic, just came out in September [2009].
There's also Fuzzy and Ha!, and you have a live one, too [Oz Live]. Does [New York session player and Late Show with David Letterman bassist] Will Lee play on Schizophrenic?
He's been playing with me for years. He's a part of the band, and we've been playing [together since about] 2001. He's on all the records.
I've talked to him a few times because he uses a GT-10B, the BOSS Multi-Effects unit for bass.
Yeah, he uses the BOSS thing. You're right.
I see it all the time up on the stage when I watch Letterman. Have you ever gone on that show and jammed with the band?
No, [I've never been] invited [laughs]. I know them all pretty well. I don't know, I guess I'm just not famous enough [laughs].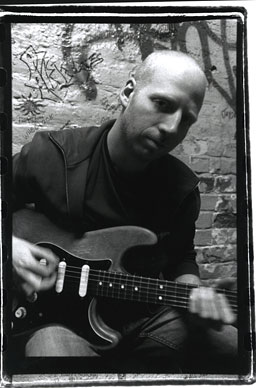 I've seen that people can hire you to play through eSession.com. How does that work?
There are a lot of session players on there, and you choose who you want to work with. Then, you send a work request and the song you [want the musician to play on]. You do the negotiations through the service, and once everybody's happy, you upload the session music [to their] server. I have a home studio in the house, [and after I do my tracks], I put them back on the server. You download them and put them [in your session]. That's it.
I've done things where guys will send me an MP3 with a click track on one side and the basic tracks in mono on the other. Then, I load that into my software.
Yeah, I do that all the time. There are really good sides to it and really bad sides to it, you know? It definitely helps generate more work, and it's good for certain music. [And in a home studio], you can tweak the sounds the way you want and everything. But I still prefer…
Being in the studio with other musicians?
Yeah. Or with the producer or the artist at least. It actually takes longer to do [tracks in my home studio], because you have to guess what they want. They tell you they want this and they want that, but in reality there are a million ways you can do certain parts. So, you always have to give the artist or the producer more than they need just to cover yourself. It actually takes longer, because you have to make all the decisions yourself.
It's sometimes hard to decipher what a producer wants, even when you're in the same room with them [laughs].
Yeah. Exactly. I guess that's part of how it works today.
You've had a lot of big stars on your records, like Will Lee, Mike Stern, Steve Lukather, Dave Weckl, Vinnie Colaiuta, and others. Is there a place where all the New York jazz musicians get together and jam?
We've played every week for years at a place called The Bitter End. It's kind of a legendary place in the Village. We've played there every Monday for years. That's basically how my band was developed, through that gig.
It's basically like a live rehearsal place for us. I write some music, and we do a very short rehearsal, kind of running the tunes. And then once we play it live, it comes together. We've been doing that every Monday since 2000.
Let's talk about gear. You're a Strat guy, right?
Yes.
Have you always played a Strat? Or have you used Gibsons and other guitars in the past as well?
When I started playing, I had all sorts of weird guitars. I grew up in the '80s…on one hand, I was playing jazz, and on the other hand I was totally into the [rock] shredding thing. So, the first couple of professional guitars I had were guitars with humbuckers like Charvels and stuff like that.
In the late '80s, I started to get into Stevie Ray Vaughan and Hendrix and all that stuff, and I always liked the Strat sound. In 1990, I started to play Strats. [After that], I always had a Strat and I always had a Gibson hollow-body guitar.
Did you use the hollow-body guitar to play chord-melody stuff?
Yeah, the jazz stuff. But I never liked [the traditional jazz guitar sound]. I always forced myself to play it to sound like the record. Those records, that sound…I was struggling with it because I always liked the sound of the Strat better.
When I moved to New York, I came with my Strat and my Gibson and I started to play in the scene. It's kind of funny what happened; I started to play with this guy Gavin DeGraw, the pop guy. We were doing a weekly thing where I was playing acoustic guitar and he [was playing] piano. I didn't have an acoustic guitar [when we started], so I decided to sell my [Gibson] jazz guitar and buy an acoustic guitar. And that's the best thing I ever did in my life.
Once I sold my jazz guitar, I had to play everything on my Strat—jazz or blues or rock or whatever. That kind of became my voice, so that was the best thing I've done since I moved here [laughs].
What kind of amps are you using?
I have a Marshall 50-watt head and a [Fender] Bandmaster, an old Bandmaster head. Those are my main two amps.
It looks like you have a fairly substantial pedal board. What are some of your favorite effects?
I have a few different boards for different situations, so I have a lot of pedals. But the main stuff that I use a lot is BOSS. [Especially] the BOSS delays, I really like [them].
I heard you have the new DD-7 Digital Delay.
Yes. Actually, I have many of them in my setup now.
Many DD-7s?
Yeah.
Do you use an external pedal to tap in the tempo?
Sometimes I do.
Do you also use the BOSS TU-2 stompbox tuner?
Yeah, absolutely. And the BOSS volume pedal, of course.
I use all that stuff, and some [BOSS pedals modified by Robert Keeley].
Do you have the BOSS DS-1 with the Keeley mod?
Yes, actually I do. He does a great mod for that. I actually use it a lot.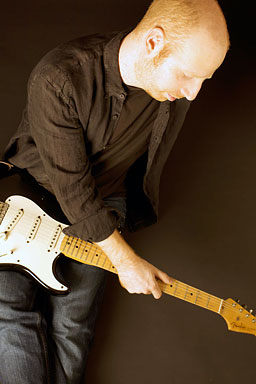 A lot of guys use that one.
Yeah, it's really good. And I have bunch of different tremolos, too. I have two BOSS [TR-2] tremolos.
If you were stranded on a desert island, which pieces of gear would you want to make sure that you had?
You know, any type of overdrive or booster will do it for me, and then probably some kind of a Leslie pedal or some sort of chorusing thing.
[For a Leslie sound], have you tried the BOSS RT-20 Rotary Ensemble?
I haven't tried it, but I've heard it's really great.
Do you have any words of advice for guitarists?
Practice as much as you can. But go out and play live as much as you can also, and play with people. [Anywhere] you live, there are musicians—people who like music, who like to play. You can find some people to play with [anywhere you're at].
Do you have any last words about BOSS gear?
You know, I've been using BOSS pedals all my life, and they're the most consistent pedals you can buy. They always do the work—always.
There are people that make "boutique" pedals that may have a pristine [tone] color or sound, or some kind of unique thing [they do]. But BOSS pedals always work perfectly. When you plug them in, you know you're going to get a good sound [that will just] work. And I like their delays. I think the delays they make are the best.
Be sure to check out Oz's Podcast on BOSS Tone Radio.
You can also visit his website at oznoy.com and Facebook at facebook.com/oznoymusic.