BOSS RC-50
Introducing the Ultimate Looper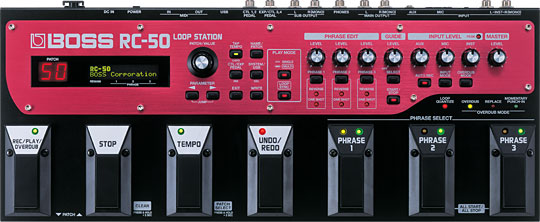 Performance-oriented loopers have come a long way since their humble tape recorder and echo unit origins. BOSS first raised the looping bar a few years back with the RC-20 Loop Station (and again with the current RC-20XL model), bringing enhanced features such as superb sound quality, long recording time, and onboard loop storage to the party. True to BOSS form, the latest addition to the Loop Station family ups the ante once again. With an amazing feature set and an even more amazing price, BOSS has gone "all in" with the new RC-50—it's not only the best looper ever made, it's an incredibly versatile musical tool as well.
Introducing the Ultimate Looper
With CD-quality sound and massive realtime control options, the RC-50 is truly a looping powerhouse. In fact, to simply call it a "looper" is a bit of an injustice. Underneath its sleek red and black exterior lies a multitrack phrase recorder with numerous mixing and playback options. With up to 49 minutes of mono recording time (or 24 minutes in stereo), the RC-50 can function as a song recorder as well as a looper. Unlike a traditional multitracker, though, the RC-50 is designed with live performance in mind; seven onboard pedals provide hands-free control of critical recording and playback functions, and even more control can be had by incorporating optional external pedals and MIDI devices.
Plug Me In, Plug Me Out

To get audio into the RC-50, its rear panel provides three different input types. Left and right 1/4-inch instrument inputs allow for the connection of a guitar, effects processor, synthesizer, or any other device with 1/4-inch outputs (for mono instruments, use only the right input). Next up is an XLR input for connecting a microphone. Phantom power is available on this input, so you can connect a condenser mic directly to the RC-50—a definite sound quality boost for looping with vocals, acoustic guitars, and other non-electrified instruments. Finally, the 1/8-inch stereo mini AUX jack provides an easy hook-up for a CD or MP3 player. (By the way, the RC-50 provides a Center Cancel function that can be applied to audio arriving at the AUX input to remove vocals and other center-located sounds—great for "minus one" practicing or a bit of karaoke fun.) All of the RC-50's inputs can be used simultaneously—just plug your stuff in and mix the levels with the front panel INPUT LEVEL knobs.
Among the many features that set the RC-50 apart is its audio output compliment. Two pairs of stereo outs are provided ( MAIN and SUB), and the RC-50's audio can be sent to either or both output pairs, complete with panning control. This allows you to send loops to multiple amps onstage, feed separate channels on an external mixer, or send a dedicated monitor signal to other performers. There's also a headphones jack for silent practicing or onstage monitoring.
Rounding out the rear panel are jacks for connecting up to four external footswitches (or two footswitches and an expression pedal), MIDI IN and OUT jacks, a USB port for computer data transfer, and a power connector.
Turn a Phrase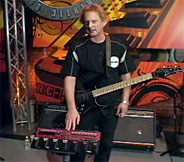 When you capture a performance on the Loop Station, you can do a lot more than just loop it (see and hear an example); therefore, to be more descriptive, a recording is called a "phrase." Normally, phrases are set to loop continuously. However, you have the option to trigger phrases sampler-style using the "one-shot" setting. A phrase can be either mono or stereo, depending on your patch settings (more on patches in a bit).
Phrase recording couldn't be easier—simply select a phrase with its dedicated front panel pedal, press the REC/PLAY/OVERDUB pedal, and go! If you don't want to fuss with timing a pedal press with your performance, use the Auto Record function to start recording as soon as you begin playing. When you're done, press REC/PLAY/OVERDUB again and your phrase will loop continuously. Alternately, press another PHRASE pedal to immediately begin recording to a new phrase.
While a phrase is playing back, you can add a new performance using the overdub feature. Here, the front panel OVERDUB MODE setting determines how the new material is combined with the previous phrase. When set to OVERDUB, the new material is mixed with the previous. REPLACE—as the name suggests—replaces the previous material with the new. MOMENTARY PUNCH IN is similar to REPLACE, except that new material is recorded only as long as the REC/PLAY/OVERDUB pedal is held down.
If you make a mistake during recording or overdubbing, there's no need to start over—just step on the UNDO/REDO pedal to erase the last recording. If you change your mind and want it back, simply press UNDO/REDO again and the recording is restored. All this can be accomplished while the RC-50 is playing, of course, so you'll never skip a beat with your audience.
Patch Me Up
Up to three phrases can be stored in 99 different patch locations, adding up to onboard storage for 297 phrases—yowsa! A patch contains many settings that determine how its phrases play, including tempo, level, output assignment, panning, reverse playback, fade-in, fade-out, and more. Internal and external pedal assignments and various MIDI settings are stored in a patch as well. (Note: Functions such as level, reverse playback, and panning can be controlled in real time from the front panel or by incorporating external pedals and/or MIDI devices.)
The most important patch parameter is the Play mode setting—Single or Multi. This determines how the three phrases in a patch interact with each other.
In Single mode, phrases play independently, but not simultaneously. An obvious way to use Single mode phrases is for independent songs sections; for example, you can have a song's verse on Phrase 1, chorus on Phrase 2, and bridge on Phrase 3. You can load your song sections ahead of time for use as backing tracks on the gig, or create 'em in real time during a performance. Depending on the patch settings, a PHRASE pedal press will begin phrase playback immediately, or cue it to start playing when the currently playing phrase ends.
While Single mode is awesome, Multi mode really sets the RC-50 away from the pack. In this mode, all three phrases can play simultaneously, essentially functioning as a three-track recorder. Phrases can be synced together in perfect time, or loop at their own tempos to create a constantly evolving sound sculpture. Phrase recording and playback is controlled independently with the onboard pedals, and you can even start/stop them all at once with a handy dual pedal press. Among its many creative possibilities, Multi mode allows you to invent a complex multi-layered composition right in front of your audience. Is that cool or what?
Just in Time
The RC-50 provides plenty of tools to keep your phrases in perfect sync. The built-in rhythm guide gives you a beat to play to, and features high quality sampled drum sounds and a ton patterns in various time signatures. Setting the tempo is easy—just tap on the TEMPO pedal a few times at the desired speed, or dial it in with the PATCH/VALUE dial. When playing with the guide, Loop Quantize keeps your phrases in time even if you don't hit the REC/PLAY/OVERDUB pedal right on the beat.
Tempo Sync—and Loop Sync in Multi mode—locks phrases with the current tempo setting. This is accomplished by some time-stretching magic that changes a phrase's length without changing its pitch. In addition to its usefulness for syncing phrases together, Tempo Sync also makes a great phrase trainer for learning licks—just record a fast musical passage from a CD or MP3 into a phrase, and then reduce the tempo to hear it in slow motion for easy digestion.
The RC-50 also provides MIDI clock sync functionality. This allows you to sync your RC-50 loops with other MIDI devices, such as drum machines (e.g., BOSS DR-880) and MIDI sequencers (e.g., Roland Fantom-X, MV-8000).
The Computer Connection
RC-50 phrases are captured as CD-quality (16-bit, 44.1 kHz) WAV audio files. When you connect the RC-50's USB port to a USB-equipped Mac or PC, you can export your phrases to the computer. Once there, your RC-50 loop creations can be played, sliced, or mangled in your favorite computer audio app, or exported to another audio device such as a Roland/BOSS recorder or sampler.
The USB connection is a two-way street; you can also import WAV audio from the computer into RC-50 phrase locations. Load up phrases with just what you need for your next gig—previously backed-up RC-50 phrases, rhythm grooves, song sections, or even entire songs. By the way, the RC-50 ships with a Sound Library CD that provides a bunch of rhythm patterns and sound effects to get you started.
Adding it All Up
The RC-50 is an extremely powerful musical tool, and I've really only scratched its creative surface here. It's a multitrack looper, a sampler, a backing track player, a drum machine, a practice tool, a song recorder…hey, it's even a karaoke machine! Most of all, though, it's inspirational and fun. To me, that spells M-O-N-S-T-E-R. Check out the RC-50 and discover its creative potential—I'm certain it will quickly become an essential component in your gear arsenal.