Getting Pro Drum Sounds
Using the BR-1600 and BR-1200's Onboard Drums

Want professionally recorded drum tracks for your next song? Everyone knows — it's incredibly difficult to record your own drums. Who has the time or money to book a studio, hire a professional drummer, and recruit a recording engineer to accurately mic the drum kit and run the session? Are professionally recorded drum tracks beyond the typical songwriter's grasp? Not if you own a BR-1600 or BR-1200. Both these digital studios can play and sequence .WAV and AIFF files from their "Loop Phrase" sequencer, and this offers the fastest and easiest way to get professionally recorded, organic drum tracks into your song.
Loops (i.e. .WAV and AIFF files) are not synthesized, they are actual recordings of a real-live human playing a real acoustic instrument, so if you don't want your drum tracks to sound like they came from a machine, this is the way to go. The BR-1200 and BR-1600 both have nearly 200 loops pre-loaded on the hard drive, and you can add more easily via USB or through the CD drive. The BR-1600 comes with a free CD ROM of some amazing drum loops from Discrete Drums. Session drummer Greg Morrow and percussionist Eric Darken cut these tracks at a Nashville recording studio especially for Discrete Drums. Use them anyway you like in your song, license and royalty free. The BR will automatically adjust the tempo of the loops to match the tempo of your song. For example, if your song is at 100 bpm, but the drum loops you want to use are at 95 bpm, the BR will speed them up without changing the pitch. So if you're craving real, organic drum tracks, they're already inside your machine — check out the Loop Phrase sequencer.

A few short examples of organic drum tracks created using some of the Discrete Drum loops in a BR-1200.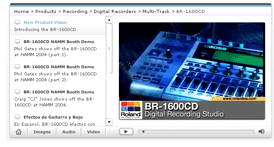 For a more modern sounding drum-machine track to your song, both the BR-1200 and BR-1600 also have a built-in Drum Machine and Bass Line (learn more). Compose your own drum patterns by using the buttons on the BR — they double as drum pads - or for even more finesse, drop your beats in via an external controller. Or just draw from the hundreds of patterns already built-in, which include Intros, Verses, Fills, and Endings. Arrange patterns together in any order you like to make your own drum track, then decide which drum sound you want. With nine different drum kits, over 600 patterns, and a nearly infinite number of tempos, the possibilities are endless.

Here's one drum pattern from a BR-1200. Now, we'll take the same pattern, and change the drum kit and the tempo to get a completely different sound.
If needed, you can top off your drums with a matching bass line. Just like the Drum machine, you can play your own bass lines right into the BR by either using the buttons on the front, or by playing them in from a MIDI keyboard. Or just use any of the hundreds of different preset patterns. Then simply 'teach' the BR your song's chord changes by going to the Chord Map, and dialing in the chord changes, measure by measure. When you press PLAY, the bass line will then walk through the changes you specified. With the chord structure of your song mapped out, you can try swapping out different patterns and experiment with different bass sounds. The BR has twelve bass sounds built-in, including Slap, Fretless, Acoustic, and Solid types. There's tons of room for experimentation.

We add a bass line to our drums, then bring in some organic percussion tracks using the Loop Phrase to pull it all together.
Look no farther than the BR-1200 and BR-1600 for professional drum tracks. Between the Loop Phrases, a killer drum machine and a matching bass line, these machines give songwriters the tools to not just make great demos, but create and record the final product all inside.