Monte Pittman
The Texas Trail to Prong and Madonna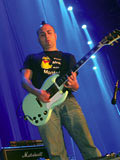 From the hardcore crunch of Prong to the summit of pop superstardom with Madonna, guitarist Monte Pittman is living a chameleon's life — and loving every minute. Prong, now in its second incarnation with Monte in one of the guitar chairs, is the fuel for the guitarist's heavy musical appetite. Madonna, now in the midst of a major, sold-out world tour, is Monte's connection to the mainstream masses. What beautiful duality.
Monte's story is an inspiring one. In 1999, he bid a fond farewell to his rural hometown of Longview, Texas, and headed west to Los Angeles in search of the big time. But like so many other musicians who have done the same, Monte found himself in other situations. "I got a job working at a music store selling guitars and sweeping floors," he tells us. But as fate would have it, that dues-paying gig opened a door that would change Monte's life. "People would come into the store looking for guitar teachers," he explains, "so the thought occurred to me, 'I could just teach. I could be my own boss.'" And that's exactly what he did. "I quit cold, put out my card, and started looking for students."
One day a man called the music store inquiring about guitar lessons, and Monte's name was passed along. That customer was none other than Guy Ritchie, film director extraordinaire and soon-to-be husband of Madonna. "Guy was my third student," Monte recalls. "That was before Snatch came out, and I didn't know who he was. It turns out he and Madonna were dating. He had just had some surgery done on his knee, I believe, so he was off his feet and she got him a guitar. He started taking lessons, and he got pretty good at it. I remember the day Music [Madonna's CD] came out, and I taught him a few things from it. I thought it would be cool for him to play them for her."
When Guy returned the favor and bought Madonna a guitar, she started taking lessons from Monte as well. "It was the same thing as Guy — she learned everything I gave her," says Monte. "She took it seriously, and worked really hard at it. She learned so much so quickly. That's one thing about Madonna — her drive is incredible."
A month after Madonna started playing guitar, she got called to perform on David Letterman. "She invited me to come play with her, and I thought she was pulling my leg at first," Monte laughs, "but she was serious." That gig went well, and it led to a slot on Madonna's Drowned World tour, which carried Monte through to the current Reinvention tour.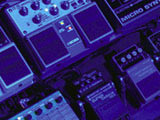 Monte's rig for the 2004 tour features no less than nine BOSS stompboxes. "Most of my pedals are BOSS," he says, as he leads us on a private tour of the massive Madonna stage. "The compressor, the octave pedal, Super Shifter, the Auto-Wah, the delay pedals, the chorus pedals are all BOSS. With the new models, the CE-20 and DD-20, I love the fact that I can have multiple settings. I mean, there's so much you can do with them I don't even use it all." Monte's rig is a thing of beauty, thanks to custom cabling and silver-trimmed casing from guitar tech Dave Rouze. Click here for diagram.
Over the course of the show, Monte pinballs from intricate acoustic fingerpicking to jump jazz to full-fuzz rock. If you were able to grab a ticket for the Reinvention tour before they all sold out, you witnessed the spectacle that was — especially when Monte donned the red top hat, cape, and Les Paul, and stole centerstage from the flame jugglers, skateboarders, and breakdancers. Not an easy cast to upstage.
Get more info on Monte, his gear, and his work with Prong and Madonna by logging onto www.montepittman.com