Gus G.
Ozzy's Guitar Man on BOSS Gear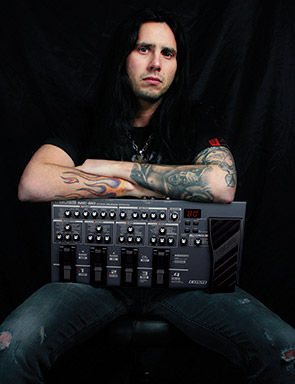 Over the last decade, Gus G. has been making a name for himself as one of metal's reigning guitar virtuosos. The Greek shredder has recorded more than a dozen studio albums and performed around the world with bands such as Nightrage, Arch Enemy, Dream Evil, and his own group Firewind. Gus has also been Ozzy Osbourne's recording and touring guitarist since being personally handpicked for the spot by the metal legend in 2009.
As a longtime user of BOSS stomps, we recently asked Gus to create some custom patches for the new ME-80 Guitar Multiple Effects. You can download them right now for free—along with a ton of other great patches—at BOSS TONE CENTRAL.  
Who are your biggest influences?
I started listening to The Beatles, The Doors, Zeppelin, Hendrix, stuff like that. Later on, when I saw Guns N' Roses and Metallica on TV, some of my early guitar heroes were probably Slash and Hetfield and Hammett. But there was a big change for me after I listened to Yngwie Malmsteen—that really made me want to study that style of guitar, getting more into the whole shredding thing. Definitely guys like Yngwie, Michael Schenker, Uli Roth, Gary Moore, Tony Iommi, players like that.
How do you approach your gig with Ozzy Osbourne?
With Ozzy, I get to play all these classic songs, and it's a little bit of a different mind frame. I obviously have a lot of respect for all the legendary players that were there before me, and I try to do the songs justice. I'm the kind of guy that likes to play stuff the way it was—I stick to the original versions and the way they were recorded. I know Ozzy likes to hear them that way. In Ozzy's music, there's also a lot of space for the guitar player to expand and do his own thing, so there's obviously my flavor on that.
What did you do during your last tour break?
I actually got to record my first solo album. I started writing material about a year ago, and I started recording the album the summer of 2013. It's finally completed now. It's definitely a different thing from what I've been doing with Firewind all these years. It's not actually a heavy metal record; it's more classic rock or more modern rock stuff on there. There's still a lot of cool guitar on it. I have a lot of different vocal guests, and a lot of great musicians on the record. The record is called I Am the Fire, and it's coming out on Century Media Records.
What does tone mean to you?
For me, it's actually all about the quality. It's something you need to feel comfortable. Obviously, most of the tone comes from our hands, the touch that you have on the guitar and stuff. But you need to have the right sound, and it's hard to define that, to put it into words. There's a certain quality about it, it makes the guitar sing in a way.
How long have you been using BOSS pedals?
That goes back to when I was a teenager and first picked up the electric guitar, because the first four years I played classical. I must have been 14 when I got an SD-1 Super Overdrive. Over the years I've used also the digital delay pedal and the tuner—I've had the TU-2 for many years in my stage rig. I basically grew up with BOSS pedals.
Growing up, whenever I opened the guitar magazines and saw the players' rigs, everybody always had at least a BOSS pedal. Being an aspiring young guitar player, I always searched for those things, and for me it sounded right. I remember when I first stepped on the SD-1 over the distortion channel for my little practice amp, and I got that really compressed tone that gave me that sustain, it was perfect, you know. It sounded great in the bedroom, when you play with your little practice amp, and it sounded great on stage, too.
What do you like about the new ME-80?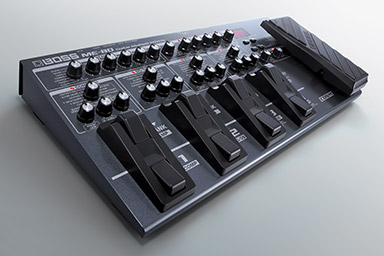 What I like about the ME-80 is it's super-versatile, and it's got an unlimited amount of tones. But the cool thing about it is you don't really get lost in there the way it's set up. It's like you have stompboxes, and you can add and take away whatever effect you want. The first time I saw it, I felt like a kid in a candy store—really cool effects, really good tones, good preamps, very easy to get around on. I was already creating tones within the first two or three minutes.
Another cool new feature of the ME-80 is the USB connection, which allows you to connect straight into your computer, log onto BOSS TONE CENTRAL, and download all the sounds you need.
Do you have any advice for young guitar players who want to have a career in music?
What I always tell the aspiring young guitar players and musicians who are looking to do this professionally is to basically be true to yourself and stick to your guns. Play the music you like, have fun, do it for the love of music, and everything else will work out. You'll find out that everything will slowly start happening and there will be people out there that will support you.