The 2011 BOSS Loop Station World Championship
Top Honors Go to Master Beatboxer Shlomo from the UK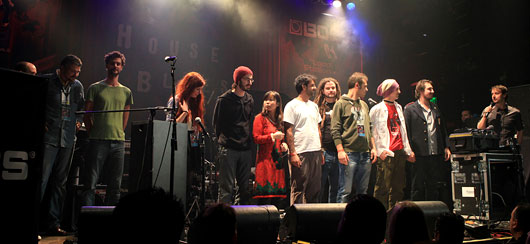 On January 14, 2011, BOSS hosted the final showdown of its first-ever Loop Station World Championship. Held at the House of Blues® in Anaheim, California, the event coincided with the 2011 Winter NAMM Show and attracted an enthusiastic crowd of nearly 1000. The audience was treated to a dazzling presentation of both technology and musicianship as the world's top six loop artists used BOSS Loop Station pedals to perform fun, inventive, and mesmerizing original compositions. Simon "Shlomo" Khan from the United Kingdom was the evening's big winner, executing an electrifying display of beatbox vocalizations and live loop manipulation using just a mic, his voice, and a BOSS RC-50. After the contest, BOSS artist and guitar legend Yngwie Malmsteen performed a spirited set with his band.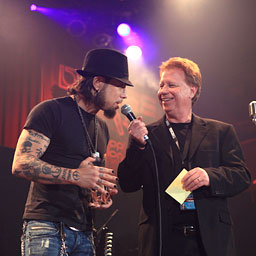 Throughout the latter half of 2010, BOSS embarked on a worldwide talent search for the world's best loop artists by holding competitions in 12 different countries. From thousands of video submissions, these countries chose six performers to compete at the finals events, with the winners of each earning a spot at the World Championship. The 12 finalists competed in a semi-final round at the NAMM show on January 13th, where six top finalists were chosen to perform the next evening at The House of Blues.
Contestants at the semi-finals included The Duke of Loops (Peter Davidson) from Canada; Bebertos (Albert Ilyasov) from Russia; Fii (Michael Krappel) from Austria; Seu Zeba from Brazil; Dillian Fevry from Belgium; and Simone Vignola from Italy. The six that moved on to the finals were Shlomo from the UK; Naoryu (Naoko Otsuka) from Japan; Greg Bal from Hungary; Clara Lindsjö from Sweden; Philip Stendek from the United States; and Hyperpotamus (Jorge Gustavo Ramirez-Escudero Susaeta) from Spain.
On hand to judge the championship event was Dave Navarro, guitarist for Jane's Addiction and The Red Hot Chili Peppers; Steve Stevens, a GRAMMY® winner and longtime guitarist with Billy Idol; April Malmsteen, president of Rising Force records and wife and manager of Yngwie Malmsteen; Paul Youngblood, director of BOSS Corporation; and Dub Fx, a world-renowned beatboxer and winner of the 2009 BOSS Loop Station Championship in the UK. Master of Ceremonies for the evening was well-known comedian and actor Kyle Dunnigan.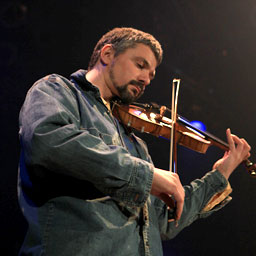 The six finalists performed original live compositions about five minutes in length using one or more BOSS RC-series Loop Station products, and could use whatever means they wished—voice, mics, musical instruments, etc.—to create sound.
U.S. champ Philip Stendek kicked off the performances with a grooving vocal tune that featured multiple looped guitar and bass parts, singing, and live V-Drums®. Philip built numerous song sections using a double-neck guitar/bass and an amazing array of five different RC-20XL Loop Station pedals. He then sang and played drums over the loops, deftly bringing them in and out by foot control throughout. Other Roland/BOSS gear on Philip's pedalboard included a GR-20 Guitar Synthesizer, two DD-7 Digital Delay pedals, and an FV-500 Volume Pedal.
Next up was violinist Greg Bal from Hungary, who played a modern neoclassical composition with an RC-50. He processed his violin sound with a BOSS GT-10 guitar multi-effects unit, and his use of its octave effects (to create a string bass sound from his violin) and harmonist functions was particularly impressive. Greg's emotional piece was made up of three distinct movements, each featuring sweet legato and pizzicato playing and loop layering, as well as rhythms tapped out on his instrument's body.
Japan's winner, Naoryu, played next, performing a spirited pop vocal tune with an RC-50 and an RC-2. She rivaled Stendek for the sheer amount of gear used, which included a mic, an acoustic guitar, and flute, plus a large pedalboard stocked with a VE-20 Vocal Performer, DD-7 delay, PS-6 Harmonist, and a TU-3 tuner along with her two RC Loop Stations. Naoryu particularly impressed with her looped vocal harmonies and use of the VE-20 to manipulate her voice with numerous effects, one of which was an octave-down, pitch-corrected sound that drew cheers from the audience for its surprising contrast to her petite feminine appearance. She even used the RC-50's Tempo Sync function to employ a key modulation of a loop to close out her tune.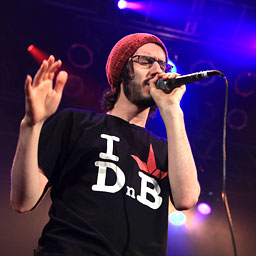 Being a well-established musician in Europe, Shlomo was perhaps the evening's best-known performer, and he was clearly a crowd favorite before he even began. A master beatboxer, he conjured up a magical and energetic sonic onslaught with just his voice, a mic, and an RC-50. Unlike the other contestants, who controlled their Loop Stations with their feet, Shlomo placed the RC-50 at chest height so he could manipulate the machine with his hands. Through constantly evolving looped vocalizations that included rhythms, rapping, vocal FX, melody, and harmony, he worked the RC-50's knobs and switches like a mad DJ, continually switching between normal looping and one-shot trigger modes. His intense handwork led judge Dub Fx to ask afterward if his fingers were bleeding!
After Shlomo's hyperactive intensity, Sweden's Clara Lindsjö gave a subdued vocal performance that evoked a completely different type of emotional energy that was no less intense. Using an RC-50 and one mic, Clara began by looping a vocalized beat, then adding melodic percussion by striking tuned bottles. On top of this rhythmic backing, she went on to layer many rich and beautiful harmonized voices, over which she sang lyrics and vocalized.
Closing out the performances was Hyperpotamus from Spain, who incorporated four vocal mics and an external mixer to feed an RC-50. The RC-50 has a dedicated XLR input for a single vocal mic, but his choice to use multiple mics was primarily for visual interest; he positioned himself in the center of the mic array, building a layered vocal performance by moving rhythmically among the different mics as he layered parts. Hyperpotamus' vocalized composition was both rhythmic and melodic, evoking a tribal vibe, as well as some Bobby McFerrin-like vocal styling. Some technical difficulties plagued the start of his performance, but he handled them with professional ease, leading the judges to comment afterward on his extreme grace under pressure.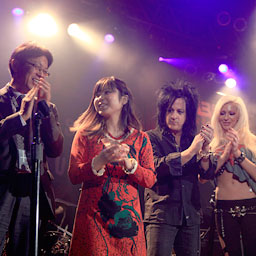 To determine first, second, and third place finishers, the judges evaluated each artist's performance in three categories: creativity, musical expression, and skill in using their chosen BOSS Loop Stations. While they deliberated backstage, MC Kyle Dunnigan entertained the audience with a standup routine that incorporated musical elements with a piano and an RC looper.
Before announcing the winners, Paul Youngblood—speaking for all the judges—thanked the performers for their participation and praised them on their creativity and talent. Third Place went to Greg Bal, earning him a prize of $1000 in BOSS gear, while Naoryu garnered Second Place and a bounty of $2000 in BOSS gear. With the day's top honors, Shlomo took home $3000 in BOSS gear, plus a full year's bragging rights as the BOSS Loop Station World Champion for 2011.
To learn more about the Loop Station World Championship in January 2011, click here.