Rafael Moreira
The Making of a Rockstar
By Paul Hanson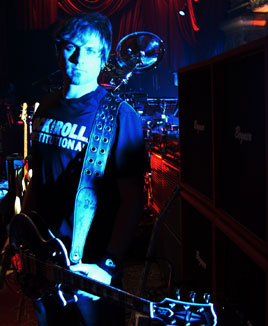 It's 1995 in Hollywood , an average Wednesday around 2:00 in the afternoon. An unknown Brazilian guitarist named Rafael steps up onto the stage and plugs into a BOSS Chorus. I'm about to pop my earplugs back in but I hear this amazing tone and decide to leave the plugs in my pocket.
Along with bass guitar legend Tim Bogart, I am teaching (well, sometimes enduring) Rock Performance Class at Musicians Institute, which is less of a class and more of a full-on performance. It's actually where students go to check out who's good and who sucks — and this Rafael guy is good. No he's really, really good!
Nowadays Rafael is still on Hollywood stages using the BOSS Chorus that he affectionately calls "his Chorus," but now one of those stages is at CBS, and his performances have been broadcast to millions of viewers. Rafael has been the lead guitar player in the house band for CBS's Rockstar TV show. INXS was the focus of Season 1, while a new all-star band comprised of Tommy Lee, Jason Newsted, and Gilby Clarke (collectively Supernova) were the subject of Season 2.
Before he joined Rockstar, Rafael toured with Pink, Christina Aguilera, and many other famous artists, but he says he's more in his element on Rockstar than on those previous gigs. But … if you happen to be in Hollywood and want to check out Rafael in his true element, look for his power trio Magnetico. Check out his myspace.com/magnetico page, and don't miss his CD called Acid Guitar.
Rafael is a true rocker who can shred with the best. He also sings great and writes memorable songs. But Rafael has one noticeable trait that too few players have: amazing time! Maybe it's because he comes from Brazil where rhythm is an essential ingredient of life, but whatever the reason, every chord or screaming note Rafael plays "locks in" within the horizontal grid of time with smooth relaxed perfection.
Rafael granted BOSS a podcast interview that can be heard at bossus.com. I talked to him just after he had judged Guitar Player magazine's "Guitar Hero '06" contest along with Joe Satriani, Steve Lukather Ritchie Kotzen, and others.
• • • • •
Now that Rockstar Supernova is done for the season and you have some more time, what else is going on?
I made a promise to myself that I will put out a full length CD or an EP from my band Magnetico. People keep asking me, and I want to move on and write new material. I'm also going on tour mid October to mid November with Paul Stanley from Kiss, you can check the dates at his website.
And then are you going on tour with the Rockstar Supernova show?
I think we're going to be opening for Supernova beginning mid January.
Let's talk about gear.
I've been using BOSS pedals since I was 11; I had the Heavy Metal pedal, distortions, and a bunch of them.
You mentioned in the podcast that the BOSS Chorus is big part of your sound.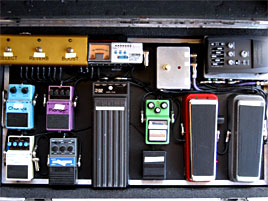 About ten or 11 years ago, when I was at MI, my neighbor was about to go into the army to try to become a pilot. He gave me his BOSS Pitch Shifter, the little blue pedal [PS-3], and a [CE-2] Chorus. I used the Pitch Shifter for years as my main octave pedal to have sub tones. I later added the DD-5 Delay because it has the tap tempo.
Now BOSS has the Giga Delay Twin pedal, and you can set up different rhythmic groupings for the tap tempo. When you tap quarter notes, for example, it can give you triplets or half notes, you name it.
Wow … that gives you more options, which is really cool, but I got married to the DD-5. I have a TC Electronic in my rack but the only delay I use is the DD-5. Anyway, the CE-2 Chorus that I got from my neighbor 11 years ago I still use … it's built into my pedalboard with ground control. I also do acoustic gigs with the RC-20 [BOSS Loop Station] but I just upgraded to the RC-50 and it will become my new machine. I may even be able to incorporate it with my electric stuff.
Do you use your DD-5 in the effects loop?
I have the DD-5, CE-2, and my BOSS Flanger all in the effects loop. I have the new one [BF-3], but I mostly use the old one [BF-2]. It's really cool … I just like the sound. All of that is going through the effects loop as well as my Boss FV-300L volume pedal, but I'm upgrading to the FV-500H.
About your playing, you have such a great sense of time. How did you develop that skill?
I really don't remember any of that.
So when you practice, what do you do?
I don't really practice. I just play, write music, and, even growing up, I would just jam with my two brothers … one's a drummer and the other is a bass player. All we wanted to do was jam. When I went to MI and I came to your classes Paul, it was more like a jam session. That's what I like doing: writing music, jamming, and trying new things. I never tried to practice with a metronome; that all just came naturally to me.
Do you think it helped growing up in Brazil, hearing all those rhythms in the background, like even at the supermarket?
That would come mainly from my mother; she's a piano player and we actually played a lot with her at festivals and stuff. I don't really know if that would have an influence on my playing … maybe harmonically. Of course I grew up with rock, that's my main thing, but growing up in Brazil and listening to a lot of Brazilian musicians opens your mind to different possibilities harmonically. Of course we have so many different rhythms, it influenced me. But, I wouldn't be able to tell you exactly what it was. Thanks for the complement, by the way.
Back to the TV show, Rock Star Supernova, how did the second season go?
It was great; a lot of work as usual. What I like about it is that I'm able to reach so many people with my playing. That's what I care for really. More people are getting to hear what I do, and if I can inspire someone by doing that, that's what keeps me going.
Your house band is so good, I wouldn't want to be Gilby Clarke or Dave Navarro and have to get up onstage after you guys.
Thanks, man. Paul Mirkovich on keys, Nate Morton on drums, Jim McGorman on rhythm guitar and backing vocals, and Sasha on bass … everybody had experience and has played major gigs. We all are backing up Paul Stanley from Kiss together.
Let's go back to after you finished at MI. Was getting in Christina Aguilera's band your first big break?
Most definitely. I actually got a call from a drummer at MI who said "Hey man, I heard there's an audition over at SIR on Sunset Blvd in Hollywood ," which is a big studio where musicians rehearse. I just showed up at this audition. There was nothing set. I just played whatever I thought was right and they liked me and invited me to come back. They gave me a tape, I leaned a couple of songs, and I got the gig. It was a crazy day for me just to walk in and then hear, "Hey you got the gig". Next thing you know, I'm on Saturday Night Live, playing in one of the classic shows with Christopher Walken and Will Ferrell playing the cowbell. Do you remember that one?
After you were with Christina Aguilera you were in Pink's band?
I was on tour with Christina, and I had a day off. They flew me into play with Mark Anthony at the Sports Illustrated "Man of the Year" TV show. I did several gigs with Mark Anthony, and then I played with Maya and Cisco, a few gigs here and there. Then I got a call to audition for Pink, but they wanted a woman to play guitar. I showed up and I was the only guy. I guess she liked me. She changed her mind; they hired me on guitar and they hired a girl to play keys.
Did you get to do any wailing or shredding solos in Christina or Pink's band?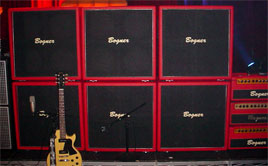 I got to walk out to the front of the stage and do a flamenco solo every night with Christina. And we did "All Right Now" by Free, which you can see it on a DVD called Reflections.
And of course on those gigs you had your same BOSS pedals?
Oh yeah. All my BOSS pedals are the same ones I have now. With Pink too. Oh, and yes, you can see me shred four or five songs on Pink's new DVD Live In Europe .
Any advice for up and coming guitarists? You said you don't really practice; you just play.
It doesn't work for everybody. Everybody has their own formula. Whatever works, I don't discourage anybody from practicing. The more you practice the better you get. I can't help but be who I am. I am fortunate. I think I would become a little better if I did practice more, but sometimes you can't force it. You've got to do what you like. If practicing helps you mentally, and it most definitely will help you technically, I think it's an important thing to do. Also to write music, to listen to music, and go out and play shows. Even if you think you suck, go out and play as much as you can and feedback from people.
Is being a professional guitarist the way you thought it was going to be when you were younger?
When I was very young, I just wanted to play for a hundred thousand people, and I've done that. Now I wanna play my music for a hundred thousand people!
• • • • •
Be sure to check out Rafael's Podcast on BOSS Tone Radio and his Video Interview.
Also, check out Rafael's Acid Guitar CD [available from CD Baby], and keep track of Rafael on his MySpace page: www.myspace.com/rafaelmoreira.