eTracks for eBand and MICRO BR® BR-80
Free Jam Tracks for Rocking with eBand and MICRO® BR BR-80
By Jim Bybee

eTracks are backing tracks for use with the eBand JS-8 Audio Player with Guitar Effects and the MICRO BR® BR-80: Digital Recorder. Created by our staff of shredders here at BOSS, eTracks allow you to grow your library of eBand jam tracks so you can continually challenge your skills and keep your chops fresh.
Every eTracks volume contains multiple eTracks. Each eTrack features:
two WAV backing tracks — one with full-band accompaniment, and another with drums and bass only.
PDF documentation with the eTrack's original tempo and key, a music description, and suggested scales and guitar tones for jamming.
a featured lick with tablature.
an MP3 example of the featured lick played over the backing track.
Here's the best part—eTracks are free, so click below to download 'em now! And don't forget to bookmark the download page so you can check back often and get fresh eTracks as they're released.
About eBand
The eBand JS-8 Audio Player with Guitar Effects from BOSS is your ultimate jam-along companion. It's a portable, full-featured WAV and MP3 music player with great-sounding stereo speakers built in, and it's packed with world-class BOSS guitar effects — including COSM amps — derived from the flagship GT-10 Guitar Effects Processor. With eBand, you'll play for hours on end with a ton of pro guitar tones at your fingertips!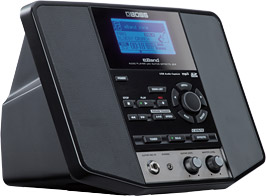 eBand comes equipped with 300 ready-to-go music tracks that include drums, bass and accompaniment. And via USB or SD media, you can add and jam along with any WAV or MP3 song you like, including your favorite songs and our monthly eTracks. It's easy — just connect eBand to your computer with a USB cable and export music tracks into eBand's onboard memory using the included JS-8 Song List Editor software. Alternately, you can copy tracks to a USB flash drive or SD card and plug it into the appropriate memory port on eBand's rear panel. Then, call up the tune in eBand's song list, dial in a guitar tone, press play and start rocking!
eBand also features a host of great tools for music practice. There's a built-in chromatic tuner, a metronome, and an AB REPEAT function that lets you play a section of a song over and over. And, to check your progress as you practice, eBand's super-simple recording feature lets you capture your jams along with the musical backing.
Perhaps eBand's coolest practice feature is its ability to independently adjust the pitch and tempo of imported songs. For example, you can change the tempo of a song without changing its pitch, which is great for slowing down and learning fast musical passages that are tough to play at regular speed. Alternately, you can change the pitch of a song without changing its tempo. This is cool for developing your fretboard skills in every musical key.
Though designed primarily for guitarists, eBand also works great for vocalists and bass guitarists. The front-panel 1/4-inch input accepts a hi-z microphone as a well as a guitar or bass, and there are a number of preset effects for voice and bass, too. eBand's Center Cancel function is particularly useful for vocalists, allowing you to remove the lead vocal from popular songs for karaoke-style performances. Center Cancel also removes guitar solos, perfect for jamming your own solos over popular music tracks.
To learn more about eBand, click here.