Vintage Corner
The JC-120 Turns 30
By Tara Callahan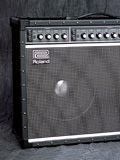 The JC-120 Turns 30
Roland and BOSS proudly announced the 30th birthday of the venerable Roland JC-120 Jazz Chorus amp in January 2005. Originally introduced in 1975, the JC-120 and its famous clean-amp sound has been heard on countless records over the past three decades. With shimmering chorus effects, dual-amp design, and high-quality reverb, the JC-120 "sound" has become a legend in its own right.
Thirty years and six presidencies ago, Captain and Tennille had everyone's toes tapping with their pop hit "Love Will Keep Us Together," the population of the United States swelled to 216,000,000, Japan rolled out the world's first VCR, two computer geeks cobbled together the first Apple 1 prototype, and the crew at a little company called Roland delivered the first JC-120 Jazz Chorus Amp to the public. It was a monumental step for the fledgling enterprise.
Since the Chorus was invented by Roland, it was logical to build a stereo amplifier with this function. Thus the JC-120 was the first amp with built-in effects, including stereo chorus, distortion, and reverb – all of which are foot-switchable. It was designed to be a high-end, super powerful twin-type amp with unusually clean sound; the thought being that since effects were built in, the amp should be clean to reproduce the effects sound.
When it rolled off the line three decades ago, the huge rivets and unique style of the JC-120 made it easily recognizable. The classic look remains the same today.
This product has lasted because itís one of the few amps with a distinct sound and look. It still has features that other amps don't have, including an enormous amount of clean power. The JC-120 is still one of the loudest combo amps there is.
The last days of disco have long since faded from memory and the VHS tapes are starting to fray, but the squeaky clean and ridiculously loud Roland JC-120 is still selling strong.
"I own a couple of 'em," says Joe Perry of Aerosmith. "The JC has a sound all of its own. I keep a minimum of stuff in my studio, but I always have at least one JC on hand."