Amplitude
Modeling and the Micro CUBE
By Peter Swiadon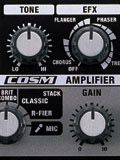 Micro Cube
Combine amplifiers and attitude and you've got amplitude. It's about amps: what they do, and what we want them to do.
What do you want from your amp? The same thing all guitar players want: Everything! Killer tone, of course, and not just one tone. Lots of amps have one great sound, but that's all they can do — just one sound. Most of us want versatility, so we can go from blues to shred to grunge to super clean — all with one amp. Are we asking too much? Not at all, at least not since amp modeling became possible. Modeling amps do it all by digitally duplicating the best classic and modern amps in the world; ones that are good for blues (such as old Bassman 4x10s) or classic rock sounds (Marshall Plexis, for example) or the huge tones of Dual Rectifier stacks. And since Roland invented amp modeling with our legendary COSM® technology, Roland modeling amps have always had an edge.
Now there's the Micro Cube. Just when you thought amps couldn't get better, they have.
No Way? Way!
It's hard to believe. We're talking a truly portable serious amp, with seven modeled amps inside — all the amps I wish I had but can't find/afford/have room for. All the effects I need, too. It's kind of like a multi-effect or an old-fashioned Chinese menu: I can pick any of the first set and match it with one from the second set — one from column A and one from B. It has a headphone jack, so I can rock late at night without bothering the neighbors. I can record from the headphone output, too. It has two aux inputs — one with a 1/4" in and one with a mini pin in, so I can hook up my MP3 player and jam to my tunes, or fire up a drum machine and play along to that. It sounds like it does everything, right? Oh yeah, I forgot one more thing: This little wonder weighs less than 7 pounds and runs on batteries! No way? Yes way! This amp has amplitude.
The Amps
Wouldn't it be great to have seven true classic amps in your arsenal — the ones everyone wants and uses? The ones that make the really famous guitar tones? The Micro Cube has accurate COSM models of seven amp legends: a Roland JC-120, a Black Panel, a British Combo, an early Plexi stack, a Rectifier, an acoustic guitar amp, and even a modeled mic pre. Why these? Maximum versatility. With these amps, you can make a world of guitar tones.
Let's run down the list: The JC-120 is probably the most famous clean amp ever made. It has been in production for over 20 years, it was the first amp with built-in effects (yet another Roland first), and groups from the Funk Brothers to Korn use them all the time for classic clean tones. The Black Panel is well known for round tube tone, with natural tube compression, and players use it for everything from country to blues to reggae and funk. On the British Combo, everyone from the Beatles to Brian May used one. I probably don't have to explain the British Stack, and the Rectifier picks up where the Brit Stack leaves off. If that were all, it would be incredible; after all, imagine having one of each of these legendary amps around to fire up whenever you wanted. But the Micro Cube has still more. The acoustic amp model is valuable when you need to get acoustic sounds, but what if you only have an electric guitar? It has a built-in acoustic simulator just for that purpose. And a COSM mic pre? Why? Simple: What if you want to record a vocal with effects, or sing over a beat box? Vocals sound great with a little 'verb or delay, and for industrial or techno sounds, other effects are very cool. You can plug a beat box or MP-3 player into the Aux in of the Micro Cube, hook up a microphone to the input, dial up the mic pre and some effects, and you're good to go. Are you a bedroom rapper? You need a Micro Cube!
Effects
An amp with effects equals big time amplitude. The Micro Cube does more than just model amps — it has two sets of digital effects. In fact, they're the same ones that are in the famous Roland Cube-30. The first set consists of phaser, flanger, chorus, or tremolo, and the second has digital delay or reverb. So when you want to sound exactly like a JC-120, you can select the JC model, dial up the chorus, add some reverb, and get the exact sound you want. Black Panel amps have a well-known tremolo sound; think of pretty much every surfing song you ever heard. That's the sound. If you select this model, set the tremolo for just the right speed, and throw in plenty of swimmy reverb, you've got that exact sound. If you're going after a classic heavy rock sound, the Classic Stack model with a taste of flanger and delay captures it perfectly. When we said this amp was versatile, we meant it.
And More…
Unlike the original amps modeled in the Micro Cube (try living in a large city and dealing with a full amp stack), the Micro Cube itself is portable. Very portable. So much so, in fact, that it has strap buttons on the sides for its own carrying strap, or for a guitar strap so you could strap it on, wear the thing, and jam anywhere. And since it runs on batteries, you could go anywhere — literally. Six AA batteries will drive the amp for about 20 hours. In other words, if you use your Micro Cube to practice an hour a day five days a week, it will run for a month on one set of batteries! Of course, it comes with an AC adapter, so you don't have to use batteries unless you want to.
There's one other thing: What do guitar players always have to do? Ten points to you if you said tune up. While the amps modeled in the Micro Cube are great, none of them has a tuner built in. However, the Micro Cube does. It's called a Digital Tuning Fork, and it works just like a real one, only better. Not only does it put out a standard A-440 by pressing a velocity sensitive button on the amp, the Tuning Fork supports flat tunings as well, so if you want to tune down one or even two steps, it will "give you an A" in A-flat or even G.
You can cruise pawnshops, vintage shows, or eBay in search of those classic amps, beg or borrow a bunch of pedal or rack effects, find a mic pre somewhere, and, oh yeah, get an acoustic guitar and a tuner. Or you can make it very easy on yourself and get a Roland Micro Cube. Tough choice.