George Lynch
Furious George Gets a Metal
By Johnny DeMarco & Greg Rule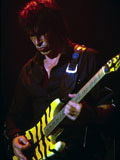 While many guitar heroes from the '80s metal scene have faded away, George Lynch is as vibrant as ever. Not only did he capture arena-rock success through the '80s and '90s with five huge Dokken albums, he continued the quest throughout the '90s into the new millennium with Lynch Mob. George's stunning slides, vibrato, and extra long finger stretches coupled with his blistering leads and his legendary soulful guitar voice helped him rise to the top of the guitar hero's chart — and stay there. George possesses a natural "cool factor" in his playing. He bends, slides, and weaves through sonic textures, always to land on the coolest notes on the neck.
Tone is an equal partner in George's success, and BOSS has been a longtime member of his lineup. "The box I've used consistently since the '80s is the DS-1," he says. "That pedal, for me, has always been my default overdrive/distortion pedal no matter what else I have access to, which is basically everything. I'm a pedal freak. I mean, I'm on eBay, I'm talking to collectors, I'm picking up every old retro pedal that Hendrix, Beck, or Page ever used, but I swear the DS-1 beats 95-percent of everything that's current or ever made. You can't go wrong with it.
"I just did this tour with Yngwie," he continues, "and I must have gone through ten overdrive pedals, and some of them are $1,000 pedals, but I always had my DS-1 right there onstage at every show. And I know a lot of players who use DS-1s — a lot of the big guys out there. You'd probably think, 'I bet they're using $1,200 vintage tube screamers or boutique pedals,' but in a lot of cases we're just using store-bought DS-1s."
George was an early adopter of the innovative BOSS GS-10. "I think a lot of people became disenfranchised with digital amp modeling stuff over the last year or two, but the GS-10 has really taken it to the next level. I wasn't expecting a lot, to be honest, because quite a lot of these boxes were letdowns. But I tell you what killed me was that first program. You just turn it on and it's unbelievable. It's the kind of tone that I'd been looking for all my life. It's unbelievable. I do a lot of clinics around the world, and it's all I use. I'll plug the GS-10 into anything they've got — any power amp, combo, 4x12 — anything I do is going to sound great. Click here for a diagram. It's a wonderful sounding box. As long as I have it, I know I can go out there and kill consistently."
In addition to his touring schedule, George has been busy in the studio. One of his newest discs is Furious George on Shrapnel Records. "I did this record with Mike Varney in Vegas last March," George explains. "It was an interesting way to do a record; I'd never done one like this before. He had my band, which is Lynch, come in and he tracked them without me. Then I came in for four days and did my solos. In fact, on this record I was able to think about solos and pretty much nothing but solos." On his website, George further explains that the record is "a compilation of sometimes-obscure songs that were inspirational to me growing up playing guitar." Included in the lineup are Hendrix's "All Along the Watchtower," Deep Purple's "Storm Bringer," Jeff Beck's "Superstitious," Montrose's "Space Station #5," Robin Trower's "Bridge of Sighs," and many others. The CD will be for sale by the time you read this from the Mob Shop: www.georgelynch.com/catalog
Other Lynch news of note: George recently crafted ten patches for the aforementioned BOSS GS-10 guitar tabletop effects system. "We brought in a bunch of great amps and pedals as reference points, and we just went for it — lots of ZZ-top-type Texas tones and vintage Frank Marino Mahogany Rush flanged things. In addition to that, there are a few patches that emulate kind of what I'm known for — little 400ms delays with a little bit of feedback and decay, articulated warm sounds but with enough decay and overdrive so you don't have to work too hard to get the right balance of tonality and drive." Users can download these custom patches into their GS-10 from the www.BossUS.com website. And to take a historical journey through George's live and studio rigs, visit www.georgelynch.com and click the Gear button.