Melissa Auf Der Maur
Belle of Bass and Beyond
By Greg Rule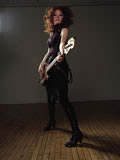 She secured her spot on the global musical map as the bassist with Hole, and then cemented a place in rock history by joining Smashing Pumpkins for their final album and world tour. Now Melissa Auf Der Maur has parlayed her success into a hard-rocking DIY solo project called Auf Der Maur. Joining her on the disc: producer Chris Goss, Queens of the Stone Age's Josh Homme and Brandt Bjork, Eric Erlandson from Hole, James Iha from Smashing Pumpkins, and Steve Durand and Jordan Zadorozny from Melissa's first band Tinker.
"Basically I had ten years to write this record as I was honing my craft in other bands," she tells us. Her writing method was humble but effective. "I wrote at home with my four-track and a guitar." The official recording sessions for the CD began in 2001, which Melissa funded herself. "For creative reasons, it was important for me to do this on my own, before even entertaining the thought of a record company. So I got a plan together and spent every penny I'd made. I just needed to make my album with no thought of how it would get out there." The investment paid off, as Capitol Records picked up the mixes and signed Melissa to a deal.
Melissa is well known as a bassist, so she played all of the bass tracks on the CD. "As a bass player, I don't use that many pedals, but my first and favorite BOSS pedal that I use for the bass is a [CE-2B] chorus pedal. I love chorus on bass, and that was the first one I ever got." Melissa also served as lead vocalist and rhythm guitarist in the studio. "I played rhythm guitar on every song," she says. "The guitar players I invited to play on the record did all the decorative, slinky, solo-style things. They created these textures and layers above the song.
"The most commonly used BOSS pedal on the record — and we also use it live — is the [DM-3] analog delay," she continues. "It's a great pedal. We also used some BOSS [CE-5] choruses and [OC-2] octave dividers. I also like the fact that the BOSS pedals are colored, so we talk about them in terms of … 'the orange one, the green one,the red one, the purple one, the blue one' [laughs]. But seriously, BOSS is the best, no joke. There's of course cool old unique, crazy pedals you can find, but in terms of mainstream stompboxes that are readily available, BOSS makes the best. Both BOSS and Roland are companies that make products that are more timeless in their approach, and I respect that."
Speaking of Roland, another product that played an important role at the tail end of Melissa's songwriting sessions was the Roland V-Drum™ kit. "I loved the sound effects I got from it — the weird things that sounded like bells, doors slamming, and backward drums. I used the V-Drums not only to keep time, but to create rhythmic and sonic depth. And they're so easy and amazing to play. I'd have friends come over and we'd plug it in and have hours of fun."
Melissa has taken more than a few people by surprise with her solo CD. "I've had some interesting reactions to it, but the recurring theme has been: 'We had no expectations of this record because we didn't expect you to make a record in the first place. You're a bass player!' It's actually working in my favor, so if anyone is pleasantly surprised, I thank you."
Melissa can be found online at www.aufdermaur.com