Daryl Stuermer
World Tour with Phil Collins, Solo CD Launch to Follow
By Greg Rule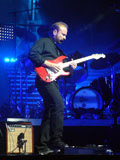 From the power chord heard 'round the world on Phil Collins' "In the Air Tonight" to groundbreaking fusion with John-Luc Ponty and George Duke, guitarist Daryl Stuermer has traversed a first-class, eclectic musical path. Add Genesis, Gino Vanelli, Philip Bailey, Frida. David Arkenstone, Joan Armatrading, and Douglas Spotted Eagle to the list, and you'll start to see how colorful Stuermer's résumé is.
Hailing from Milwaukee, Daryl has built a career on rock-solid, tasteful musicianship. He's happy to lay low when needed, and to step out front/center when the spotlight hits. Today, on the verge of releasing his fifth full-length solo jazz CD, Retrofit, Daryl pulls up a chair to talk about his career past, present, and future.
"I wrote Retrofit with the music of the '70s in mind," he says of the album. "Chick Corea, John McLaughlin, David Sanborn, Larry Carlton — this is where I came from. So the intention of Retrofit was to take that kind of feel, the instrumental jazz of that era, and bring it into the 2000s. That's what a retrofit is — taking something old and fitting it in with something new."
Retrofit showcases nine instrumental songs, from deep-grooving, uptempo tracks to airy ballads, with Stuermer's guitar as the featured melodic voice throughout. "Of the nine songs on the album, I wrote seven of them within a two-week period," he tells us. "I just started blasting out songs, and they all fit within a similar style and attitude. The other two songs were written a few years prior that. The song that ends the album, 'The Least That You Can Do,' was co-written with Phil [Collins]. How that happened was — I had written it as originally as an instrumental. I played it for Phil in 1994; he liked it, and asked if he could write lyrics to it. I thought, 'Hmm, I don't know if I want you to ruin my song.' [Laughs.] Of course I said yes, and so that's what he did. Phil had done this once before with the song 'I Don't Want to Know' from the No Jacket Required album, which I'd originally written as an instrumental. So that's what happened with 'The Least You Can Do,' which Phil put on his last solo album, Testify." The version that appears on Retrofit is a newly cut instrumental, with a nod to Phil's vocal melody rendered on guitar by Stuermer.
Daryl shares one of his songwriting secrets. "I'll sit in front of the TV with my guitar, and I'll play along to theme songs, commercials, whatever. I find that it inspires ideas, maybe a groove or riff, so I tend to keep manuscript paper handy so I can write down whatever I come up. Honestly, that's how a lot of my songs are born … with me sitting in front of the TV playing guitar."
In the tone department, Daryl's approach on Retrofit was straightforward. His signal path consisted of "a couple of pedals, two amplifiers, and that was pretty much it." Among Daryl's pedals of choice: "The [BOSS] SD-2 Dual Overdrive, the DD-5 with the tap tempo, and the HR-2 Harmonist, which I love. Plug-ins are nice, but for me, I like going straight through a pedal because it represents the feeling that I had at that moment." With one exception — delay. "I'll monitor delay in my headphones as I'm recording, but I'll usually print dry and add delay later, which gives me the option of playing with it during mixdown. Sometimes as you're mixing you might discover that there's too much delay, or maybe not enough." Daryl's recipe for delay is often eighth-notes locked to the song's tempo. "Sometimes I might do quarter- or eighth-note triplet figures, depending on the song, but more often than not it's straight eighth-notes. For stereo delay, I might offset the sides by a few milliseconds, or maybe I'll have one as eighth-notes and one as 16ths."
Daryl cites three main reasons why he relies on BOSS pedals. "First and foremost is the sound," he states, "and that's a given with BOSS. There are a lot of pedals out there that sound good, but are they durable? With BOSS, they don't break. They're tough and road-worthy. And then there's a practical thing about BOSS pedals that I like: When you're playing live and you're walking over to hit the pedal, with a BOSS you know you're not going to be bumping the knobs accidentally, and that's a big thing for me. I have so many pedals that sound good, but the knobs stick out and are easy to bump by mistake." BOSS tuners travel with Daryl as well. "They're still my favorite tuners. They sit right behind my volume pedals, and they work perfectly and reliably."
Reflecting back on his body of work, a highlight for Daryl was being a part of the now-classic Face Value album. "Leading up to Face Value, I didn't really know Phil Collins was a songwriter. I was in Genesis, starting in 1978, and Phil didn't start working on Face Value until around 1980. One day he was driving me into London, and he said 'I want you to hear something.' So he puts in a cassette, and there's this beat from a Roland drum machine [CR-78]. Then a keyboard comes in, and he starts singing 'I can feel it, coming in the air tonight,' and I knew right away that there was something very special about that song. And then he played me one more, 'I Missed Again,' which was an R&B thing. He only had two songs at that time, but I was amazed, and I suddenly realized that this guy was going to be a solo artist. I didn't know that he was going to be as big as he turned out to be, but I knew there was something special about him as a songwriter. I'll never forget sitting in his car and listening to that demo."
When Phil had Daryl add guitar to "In the Air Tonight" nine months later, little did Daryl know how massive that performance would become, both in terms of sonic impact and mainstream popularity. "We tracked the guitar at Village Recorders in Los Angeles. Phil said to me, 'Your guitar teacher is going to be proud of you.' And I laughed, because my teacher was a jazz player, and he would have thought it was crap — it sounded like an electric razor [laughs]. But Face Value is probably the most special album I've ever worked on."
For up-to-the-minute info on Daryl's music and gear, visit him online at www.darylstuermer.com. You can order a copy of Retrofit from the site as well.