John Petrucci
15 Years of Virtuosity with Dream Theater
By Greg Rule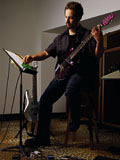 Dream Theater at 15
Shred dead? Not if you use Dream Theater as a gauge. Fifteen years since their first release, Dream Theater continues to pack venues from pole to pole — which is no small feat for a band that never found its songs in heavy rotation on MTV or Clear Channel radio.
Actually, to pigeonhole Dream Theater as a band of paid-by-the-note shredders is selling them short. All five bandmembers can blast with machine-gun speed, impact, and power, but they're as deft at melodic ballads and cinematic soundscapes as they are at finger gymnastics. Their latest studio release, Train of Thought, is such a showcase of technical fluency and musical diversity — from the grinding, Metallica-esque "As I Am" and full-force fury of "Stream of Consciousness" to the delicate piano/cello "Vacant."
"Stylistically, we've always had that hard metal sound at the core," says guitarist and founding Dream Theater member John Petrucci. "It was the type of music we were driven to as teens and young adults, and, even now, I just love the sound of it — the power, the rawness, and attitude of metal and hard rock. I'll never lose that. It's always in there stylistically, but to me it always comes down to expression. I liken it to classical music, where you have different types of movements within a symphony. The players have to be able to do whatever it takes to express the composer's ideas. They have to be able to play fast, clean passages at points, along with beautiful lines and soft sections. So my whole attitude and concept with Dream Theater was to be able to play anything that was in my head, and to be able to express any kind of emotion. It's not always angry, bombastic 16th-notes. Sometimes it's beautiful, sad, sometimes it's trippy and spacey. The number one thing for us is that we're all very open-minded and versatile as musicians."
This year marks the 15th anniversary of Dream Theater as a bonafide recording/touring entity. BUG was pleased to catch up with Petrucci during the band's 2004 world tour. How has BOSS technology impacted his playing, both onstage and in the studio? How did he rise to such high ranks in the guitar stratum?
• • • • •
This has been a year of milestones, with BOSS celebrating its eight-millionth pedal sold and Dream Theater marking its 15th year as a band.
We played a show in L.A. earlier this year at the Pantages Theater, which was the 15th anniversary of our first release, When Dream and Day Unite, in 1989. It seems longer than 15 actually [laughs]. We were together a few years before that as well, but that was the first album we did. The story is that John [Myung, bassist] and I grew up together, along with our original keyboardist Kevin Moore. We had been playing together since junior high school, and we'd recorded little things here and there, but when we got to Berklee and met Mike [Portnoy, drummer], we officially started Majesty, which turned into Dream Theater. We recorded tons of demos, and in fact we recently made those available to the public through our website and through a series that we call our Official Bootlegs — a bit of an oxymoron [laughs]. This is stuff we recorded when we were teenagers, really cheesy on a 4-track, but people seem to be interested in hearing it, and it's part of the history of the band.
Speaking of the good ol' days, how early in your development did your BOSS lust set in?
I remember going to a music store as a kid and looking through the display case at the BOSS pedals thinking, "Wow. If I could only have one, or two … or ten." I don't recall exactly which one I ended up getting first, but there was a period when BOSS was making half-space racks — not pedals, but compressors and things like that. So I got one of those. Then I started experimenting with distortion. I got one of the BOSS Heavy Metal pedals, then an EQ pedal, and of course delays and choruses, and eventually I was into all of them.
Is there one pedal that you have the fondest memories of using — your "desert island" stompbox?
I've always loved delay. In the early days I had a BOSS delay pedal with the stereo out, and I'd hook up two amps to it — any two I could get, even if it was my brother's bass amp [laughs] just so I could hear the delay in stereo. I still do that, actually.
That reminds me … thinking about the demos we did way back when, a lot of those were recorded on a 4-track direct to tape. I'd plug my guitar into a Heavy Metal pedal and go direct, so a lot of those sounds were BOSS direct, no speaker sends or anything.
Let's talk about the most recent Dream Theater album, Train of Thought. What was your approach to this record?
You know, the concept was pretty simple. I used one head and one 4x12 cabinet for everything — the rhythms, the leads, the cleans, everything. We miked it, and then did our best to make it sound exactly in the monitors like it sounded coming out of the 4x12 in the room. I used a bunch of reference CDs that have guitar sounds I love, and went back and forth between, say, Chevelle and Mudvane or whomever, until I got the sound I was after. Then I started tracking.
In the end, there was obviously a little bit of difference between the live-in-the-room sound what ended up on the CD, because when I'm cutting the track, I'm playing along with the drums that aren't mixed. But, obviously, when the mix comes along and things get pumped up and beefed and brightened and everything, the guitar sound that we recorded might need some adjusting and processing at that point. And that's where the talent of the mix engineer comes in.
What was the conceptual blueprint for Train of Thought, in terms of musical content and general theme?
The blueprint was actually very specific. Before we went in, while we were still on tour for the previous album, we had talked about it. I had presented some ideas that we pretty much stuck to — how we wanted to make this album heavy, how we wanted the songs to be songs that would go over well live and have a lot of impact and energy. We knew we wanted to put an instrumental on the album, we knew what we wanted to call it, and we knew how many songs we wanted to put on it, how long it should be, who we wanted to have mix it, everything. So we did have a very definite plan, and we pretty much stuck to it. It's good to have that type of focused direction going in.
Did you cut demos of each song before the official album sessions began?
Yeah, but they were very minimal. Basically we were writing the album in Manhattan during the start of the Iraq war. I can remember driving into the Midtown Tunnel and listening to the news of the Iraq bombing, which was pretty weird, and then writing an album. But, anyway, once we'd get a song or two together, we'd basically just perform it live. We'd mike everything up, minimally, and record a live demo. That's how we did it.
How did BOSS gear factor into this project?
BOSS always works its way in, some way or another. In the studio for this album, I took a more minimal approach, recording mostly dry, but there were a couple of songs where I recorded through a chorus pedal at the front. I also used a BOSS on "Stream of Consciousness" during the middle part — the section we call the "Crimson section," as in King Crimson. I used a BOSS OC-2 Octave pedal for that one.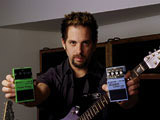 On previous albums, I constantly used the BOSS phasers, choruses, and delays. In my live rig I have a BOSS phaser, digital delay, tremolo pedal, and tuner. For things on a smaller scale, when I don't want to bring my full rig, I always bring a BOSS delay and chorus. Whenever I do clinics anywhere in the world, for example, I use 'em. Part of my rider is a BOSS delay and chorus. I have an album that was just licensed and re-released by Favored Nations called An Evening With John Petrucci and Jordan Rudess. It's a duet album, piano and guitar — mostly piezo acoustic, except for the few songs where I did use lead patches. That whole concert was recorded through a small combo amp with a BOSS delay and chorus.
Any particular delay or chorus model you insist on?
Any BOSS that's digital and stereo, 'cause I'll split it. I'll have two heads, and I'll go out of the effects send of one head into the input of delay, and then one output of the delay into the effects return on that head, and the other output into the effects return of the other head, which kind of acts as the power amp, and then I'll have a stereo delay. Click here for diagram.
We understand that you've been experimenting with the BOSS GS-10.
Yeah, that thing is awesome. It's great — like having a million BOSS pedals in one little unit. At one point I had this other [non-BOSS] USB guitar unit, but I wasn't too crazy about it. But I love this BOSS thing. It's incredible. I loaded all the software into my computer, and brought it into my hotel room every day on tour. I love the way you can tweak everything onscreen, and save everything. And it sounds really good. There's one thing in there that I never even knew existed, it's a little arpeggiator [Auto Riff] where you play one note and all of a sudden there's a series of notes right after. It's wild. You can change the speed, you can program in the notes, basically you can wail by playing just a few notes. Really, really, cool.
Earlier you talked about the Official Bootleg demos. Considering the past 15 years, and reflecting on the body of work you've amassed during that time, what are your thoughts on your development as a guitarist over that period?
In a way, a lot of my skill was developed very early on. So even when I was young, I was playing technically at a level that was pretty high. But it's something that I've never stopped working on ever since. With every album I've challenged myself, so I certainly feel that I've gotten better technically, as far as the craft of playing the instrument is concerned. And there's way farther for me to go. I realize it when I go to see some of my favorite players like Steve Morse live, and I think "How did he do that?" One of my goals is to hopefully make people say that about me as well.
As far as improvising and phrasing goes, when I listen back to my early work, I feel that some of it was a bit immature. And as for my skills as a producer and my ideas on sounds, I can say that my guitar tone, arranging, and composition skills have all grown. It's interesting to listen to stuff that I wrote and recorded when I was 17, and now here I am 36. There had better be a noticeable improvement, otherwise I'm in big trouble [laughs].
How did you get up to speed so quickly as a youngster?
I practiced my butt off as a kid. That's all I did. Honestly I don't remember things being real difficult for me, but I don't want to say that I just picked up the guitar and started wailing either. I worked and worked and worked at it. I think with music, a lot of it is craft and hard work, repetition, and practice, but there's also, obviously, a concept of music that you have to have. As I kid, I was always driven to music, I always had an ear, and I was always able to pick things up fairly quickly — to understand and write music pretty easily. Whether that's genetic, or whatever you want to call it, that's the talent part that as a kid you try to recognize, or try to recognize in your own kids, and hopefully then get a chance to develop it. Music and art were things that I was always into. If you talk to most musicians, they're into some type of art, whether it's painting or poetry. Same with me. As a five-year-old kid I was already painting and drawing, and that turned into music.
Your Berklee training must have been key in elevating you to a higher level as well.
Yeah, but it's interesting. We went there for two semesters, so it's not like we were there for a long time being molded. The best thing that happened during that time was that we formed our group. John and I went there, we got exposed to so many great players, we met Mike, and we started a career.
What has experience taught you about guitar tone, and finding your space in the frequency spectrum from the band and producer's perspective?
One of the biggest lessons I've learned, even as late as our most recent album, is simplicity in orchestration. It's easy to get carried away in layering and thickness. You can easily take up a ton of a space as one player. As a guitar player you can layer clean and acoustic, and put baritone under that, and create this giant wall of guitars, but it doesn't leave room for anything else. It becomes very, very difficult to mix. And keyboard players are just as guilty, if not more so, when it comes to layering sounds — trumpets, and pianos, and strings, and synth bass, and everything else. So for this album, what we did was really strip down the orchestration. If somebody was playing something in a certain range, and if we felt it wasn't necessary for anyone else to be in that range, we'd stay out.
Was EQ and compression used heavily during the mix sessions to help carve each instrument's frequency range?
Not so much compressing, not with the guitars anyway. It more came down to EQ and placement. Once again, I'm not going to kid myself. I'm not an expert at that; Kevin Shirley is. If I say to him, "Can you bring out that line more," he'll know exactly how to do it. And it's not just a matter of raising the fader, it's also about placement, panning, and perspective.
Having said what you have about simplicity, how do you feel about future technology as it relates to guitar? Any dream products that you'd like to see materialize in the years ahead?
I have two sides to that. In one way I am very old school and I do like simplicity. I like the sound of a guitar through a head through a cabinet. Very pure. But at the same time I have this monster rig with all the latest gear and switching technology and stuff like that. I mean, I have enough technology in there to launch the space shuttle [laughs]. I love playing with all the toys and modeling things. I mean, ultimately, it would be great to have the same exact quality as a guitar through a head and a cabinet in one little box, and have it sound exactly alike. That would be unbelievably convenient.
And your view on guitar synthesis?
On the album Falling into Infinity, which Kevin produced, he had a guitar synth that I plugged into and did some 12-string things and stuff like that, which was great. I loved it, but I haven't delved into it much since. I want to get the new Roland guitar synth [GR-20], though, because there are some sounds on it that I would love to get live that I can't get with my current rig. We have a tune called "Vacant" from our new album that has cello accompaniment, for example, and I would love to be able to play the cello on my guitar with a guitar synth. That would be fantastic.
What does the rest of the year hold for you and the band?
We're playing Japan and Korea next, then we'll have a couple of months off. I'll be using that time to finish up a solo album that I've been talking about and working on for the past several years now — Suspended Animation. I did the G3 tour about three years ago with Satch and Vai, and I'd written some songs in order to be able to do the tour. After I wrote the songs and played them, it was obvious that I should put them all onto a solo album. I'd never done one, and it was a good excuse. So I started doing that a while back, started recording some stuff, but things kept coming up that prevented me from completing it: a Dream Theater tour, a Dream Theater record, a ski trip, I dislocated my shoulder and couldn't play for two months, things like that. But I'm planning to use my summer break to finish that up, mainly because I'm getting tired of people asking me about it [laughs]. Whenever I meet fans, it's the number-one question they ask me, and I feel like a jerk. I mean, I have bandmembers who have done five side-projects in the same amount of time. But enough with the excuses, it's time for me to finish it up.
Final thoughts?
Just like when I was a kid looking at the BOSS pedals in the music store window, I'm that same guy now with the GS-10 looking at the computer with all those little boxes onscreen, saying to myself, "Wow, this is really cool." So not much has changed; I'm just the adult version of that kid.
• • • • •
Thanks to BOSS U.S. Product Manager Peter Swiadon for the Q&A assist.