Yngwie Malmsteen
The Master of Metal, Sultan of Shred, Neo-Classical King
By Johnny DeMarco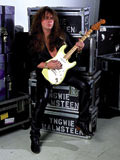 On the Attack
Exploding onto the Los Angeles guitar scene in the early '80s was Swedish-born Yngwie J. Malmsteen. It didn't take long for the buzz to spread, and for the virtuoso to be crowned the King of Shred.
Yngwie erupted out of the California bands Steeler and Alcatraz, and eventually forged a solo career that would spawn the groundbreaking albums Rising Force and Marching Out. Not since Edward Van Halen had there been a guitar player to impact the scene with such magnitude. It seemed as though Yngwie either inspired or depressed almost every guitar player that crossed his path.
Today Yngwie continues to awe guitarists. His trademark neo-classical guitar style is full of light-speed harmonic minor, Aeolian, and Phrygian scales, melodic, sequenced patterns, blistering-but-flowing arpeggios, and effortless pedal tones.
BUG traveled to Malmsteen headquarters in Miami and sat down face to face with the man in his home studio.
• • • • •
You've been extremely busy this year. You just got off the G3 tour with Steve Vai and Joe Satriani, and you have a new release, Attack, out on Sony Epic. After finishing this successful tour, you must be happy to be back home and recording in your studio?
Yes, the Baroque & Roll Studio. Thank you. I've been extremely blessed, really. Ultimately, 30 years ago I picked up a guitar and wanted to be something like Ritchie Blackmore. You say I've been extremely busy, but really I've just been having a good time. I write songs, I write lyrics, I record, I tour.
In addition to all the things that you are famous for — super speed, pedal tones, fantastic scales, arpeggios — your vibrato is flawless. The power of holding one note, á la Clapton and B.B. King …
I'm a huge fan of Clapton and B.B. King. I think that B.B. King is probably one of the best guitar players to have ever lived because he can make one note count for a million Malmsteen notes, you know! I am very happy to say that.
I was very concerned with technique for a long, long time. But, technique does not involve [playing] fast only. It is when the one note counts, you know? It's like when I combine a fast 5–6 string arpeggio run then land on a big long note and continue holding it. And I never rely on my tremolo bar, you know? I hardly ever use it. It's there, but I'm more of a finger vibrato guy.
Does a scalloped fretboard help that?
The scalloped fretboard only serves one purpose, which is to get more control of your left hand when it comes to slow notes. Fast notes, when you want to play fast scales, actually become more difficult. Plus, I use quite a high action on my guitars, you know? I don't like low action. Steve and Joe, I love those guys, they're great, but I've played both of their guitars — and I've played Brian May's guitar; Brian's another hero of mine — and they all set their strings as low as they can. I've always found that if you do that it's easier to play the guitar, but you lose something in the equation because the string needs to vibrate. If you hear a piano note, there is nothing there to disturb the vibration of the note. There is no fretboard underneath. Now, on a violin or cello you get sustain of the note from how long you want to hold the bow. If you hit a guitar note, you have to have the string high, which makes it more difficult to play, especially if you scalloped the neck as well. Then it becomes very difficult.
BOSS is celebrating its eight-millionth pedal sold this year. Do you recall your first BOSS pedal?
This goes way back to 1977, '78, something like that. I got my hands on a Roland DC-10 Analog Echo, and I still have it. And that's the one I get that sound [mimicking the echo]. Now, as far as BOSS Pedals go, I will never forget about 1993 when I used a Hush Noise Gate rackmount and never liked it, I'm sorry to say. But, if I didn't have it there it would sound really noisy. One day, I came to sound check and my guitar tech didn't tell me anything, but apparently it wasn't working anymore. It was broken. I didn't know anything about it. I went to sound check and the Marshall was the quietest ever. The quietest ever! And what he'd done. He'd run out to the local store and put a BOSS NS-2 in the system without telling me. I was going, "My God, I can't believe this!" This little thing, is incredible? But the first BOSS one was actually an octave pedal, the OC-2. Click here for a diagram of Yngwie's rig
What inspired you to buy that one?
I wanted a Mutron but I couldn't afford that, so I got the BOSS Octave because I really like that low nasty sound, you know? I've been using it 22 years now. I've been using Roland and BOSS pedals from the beginning, but the OC-2 pedal is the first BOSS that I bought.
It sounds like you really dig your BOSS NS-2 noise suppressor.
It certainly was a great revelation to realize that in this little white box with a 9-volt battery you could blow away this $2,000 dollar thing, you know? So, that made a big difference. As far as sound goes, I've never been a big "effect" guy, really. I wish I could say that, but I've always been more into tone, just the sound. But getting rid of the noise was like a breath of fresh air, it was very cool, and I've been buying BOSS pedals for years because they're great!
You've also played through our CS-3 Compressor/Sustainer. Your thoughts on that one?
I used it for my acoustic guitar, my Ovation, and I use it sometimes when I record the bass. I like extreme compression; you know the most compression you can get, which comes automatically with a Marshall. So, when I play the bass or an acoustic guitar or sitar I always mic them up with a compressor, usually the CS-3.
Your concerto with the New Japan Philharmonic in Tokyo is stunning. You were you using your BOSS NS-2 for that, yes?
Of course, I never leave home without my NS-2s.
On your new release Attack, you used a Roland GR-33 guitar synth on "Valley of the Kings." Can you describe how you use the GR-33?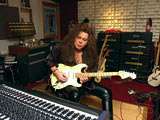 What happened was, for 12 years I always used a keyboard player and a drum programmer for my Roland R-8 MKII, which is a bitchin' drum machine! The keyboard player and I had a falling out and I wound up sitting in my studio all alone. I was writing songs like "Stronghold" and "Attack" — good riffs if I may say so. But I felt there was something missing, so I went to the store and what did I do? I bought a guitar synth because I just wanted to hear what it would sound like if a keyboard player like Derek Sherinian or someone who could play some interesting stuff on there. Reason being, I didn't have somebody with me. I just wanted to add something that would help me come up with vocals and lyrics. I write all that stuff. I write every thing, you know? So that is how I use the GR-33.
We hear some tabla drums in the intro and ending of "Valley of the Kings."
I just hit the low E, and boom. That's all it was. And then, I overdubbed flute on top of it. But I did a lot of music with the GR-33 and still do a lot with it. There's no keyboard, just a Roland R-8 and a GR-33 guitar synthesizer.
The last time we visited you, we brought the new Roland GR-20 synthesizer.
I'll tell you the thing I was really keen on: the solo violin. I can't wait to get one for myself.
This week we've been making patches for the BOSS GS-10. GS-10 users will be able to download the patches we made from the BOSS website. Your sound is based on Marshalls, so you used some of the modeled Stacks. This is a small unit that you can take on the road. Do you think you will do so, and why?
Oh yeah. I'm going to use it as my warm-up amp before the show. Of course! Absolutely. It's got a lot of gain. I've tried a lot of these things but this is probably the best one. I like it.
Your music is deeply rooted in classical tradition, but rich in improvisation and infused with numerous other elements. How do you balance these factors?
I came up with a term — one day I am going to patent this, no, actually I already did — "improvisation is the genesis of composition." If you don't improvise, nothing new is coming. You could be the best classical player in the world, but you are still playing something that's already been done, you know? I sometimes compare myself to Wylie E. Coyote. I throw myself over the cliff and hopefully there's a little branch hanging there that I can hold onto, and wait until I can climb back up. I always do what I think I can't do, and sometimes I succeed, sometimes I don't, but if you don't take those chances, you know?
With that idea, that has to have something to do with you venturing into the world of guitar synthesizers, to try new things?
Let's get back to the Concerto Suite. Deep Purple had a piece for a rock band with an orchestra in 1968 that was great. ELP did something similar, and so did Metallica. My idea was to step completely out of the rock and roll world and step into the world of classical music where I would just compose the piece and take the part of one of the soloists. No rock and roll riffs, drums, vocals, nothing. Just me, myself, and the orchestra. Trust you me, it was very challenging, but I had decided that's what I wanted to do. So I did that, and I will do it again.
You've used our gear from the beginning, and we want to thank you for almost 30 years of support. Any closing comments for guitarists and fans out there?
I would like to thank you guys at BOSS and Roland, first of all from the bottom of my heart for (A) making this cool equipment that actually has forwarded me in what I do, and (B) just for being so nice to me. I would like to have a long relationship. We are just beginning. And thank you to everyone.
Be sure to check out Yngwie's 2008 NAMM Peformance.