KORN
Munky, BOSS, and Nu-Metal Trailblazing
By Greg Rule

Ten years since Korn first popped, the band is as combustible as ever. Their innovative, dynamic approach to nu-metal put them on the rock map immediately … and indelibly.
It's not an overstatement to say that Korn revolutionized rock in 1994 when their debut CD introduced a unique 7-string, twin-guitar assault anchored by crushing, synchronized 5-string bass and industrial-strength drums. And not just any drums. We're talking tubs with enough high-frequency content to pierce armor. Added to that were the tortured vocals of Jonathan Davis, the production prowess of Ross Robinson, and songs that spring-boarded from whisper to atomic blast, and you had true pioneers of the nu-metal frontier. Today, with a Greatest Hits CD queued up for a summer release, and the mega Projekt Revoluton tour ready to roll across the States with Snoop Dogg and Linkin Park, Korn remains at the top of their game.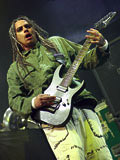 James "Munky" Shaffer (pictured left) is one half of Korn's 7-string attack squad. Along with guitarist Head, he has been instrumental in redefining the role of the modern metal guitarist. During recent recording sessions in Los Angeles, BUG met up with Munky to get the latest on what Korn was up to, and to reflect back on the past decade of Korn and BOSS.
Eight Million
"Man, that's staggering," says Munky of the BOSS milestone. "One of my favorite BOSS pedals is the HyperFuzz [FZ-2]. I love that thing … and I can't find it anymore." Munky's BOSS connection was made simultaneously with the guitar itself. He explains: "The first effects pedal I ever had was a BOSS. I bought my first guitar and a Heavy Metal pedal at the same time. I actually bought it all off our other guitar player, Head. Head sold me my first amp and first electric, and he had that pedal, which I wanted to buy. So he sold it to me as a package deal for 300 bucks."
Many BOSS pedals have come through Munky's stable over the years. "One pedal that I grabbed onto early and used a lot was the [SD-1] Super Overdrive. I used that all over our first and second records. The Harmonist [HR-2] got used a lot too, especially on Follow the Leader, along with the Digital Delay pedal for the arpeggio effects." For that creepy warble-guitar sound, heard on Korn classics such as "Got the Life," Munky used a combination of "a Tremolo pedal at a low rate with my BOSS reverb."
When it comes to the songwriting process, Munky leans on the BOSS RV-5 Digital Reverb/Delay pedal. "It's a great songwriting tool," he says. "I use it all the time when I'm experimenting, trying to find a melody over a rhythm section, because it gives you a warmer, more inspiring tone when you're fishing for a melody. So that's been in my lineup for at least five or six years now, especially during writing."
Today, the BOSS PH-3 Phase Shifter and PS-5 Super Shifter get frequent workouts in Munky's live rig. Click here for a diagram. "They provide me with the nice atmosphere that's needed for that soundtrack kind of vibe. I also love the [GE-7] EQ pedal, because I can shape a really cool lo-fi sound out of it without having to switch anything on the amp, which I was doing before my guitar tech Jim O'Tell came in and suggested I do it with the pedal, which is cool, because I can cut the level, add a lot of mids, and take out the highs to get a really cool lo-fi sound."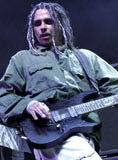 Seven-String Revolution
Two 7-string guitars and a 5-string bass — how did Korn derive this unique formula? "The big influence was Steve Vai's Passion and Warfare album," says Munky. "When he came out with that, he also introduced the 7-string guitar, which I believe he tracked most of that record with. That record came out around 1990, and I was highly influenced by him at the time. And so I was listening to his record, and thinking, 'He's playing a 7-string, but I'm not hearing the low end like I thought I would.' So it gave me the idea to take the instrument and apply it to what we were doing, which at the time was called thrash or thrash metal. I wanted to take that guitar, play barre chords, and bounce between single-string notes in a rhythmic way. It just seemed that there was more to that guitar than what was being explored. I wanted to take it a step further, so I tuned the whole guitar down a half-step, a drop-A tuning, and added larger strings." Head followed suit, adding a 7-string to his guitar rig, "and then Fieldy got a 5-string bass so he could tune to the same tunings with us."
Getting his first 7-string was no small feat. "It took me six months to save up and buy my first 7-string," Munky recalls. "I went to the store, picked out a white one, put it on layaway, and paid a hundred dollars a week. Whenever I could, I'd go in and have them take it off the shelf and let me play it until they were sick of hearing me [sings heavy, fast riff: dun dun dun dun dun dun]. Then they'd put it away, and I'd come back the next week and give 'em whatever I could from my paycheck until I was finally able to pay it off." Little did the staff suspect that the young metal-head would take that lay-away guitar and make rock history with it.
With the 19-string blueprint set, the band went about refining their monstrous sound. "When we started, we decided that if we all hit the same notes in unison, it would make a bigger impact. I would come across as more aggressive. With everybody hitting the same note at the same time, it was massive. It's something we've used throughout the years to make certain parts more impactful. You get the whole band going, and we're all hitting on the same note in unison — instead of a bunch of different notes, where things might tend to get mushy and lost. It's a simple, basic idea but it creates a huge, aggressive sound."
But was it a nightmare for Korn's mix engineers? "Not at all," says Munky. "It was so natural when we recorded those first few records. Nothing was over-thought. We just went in and went for it, and we didn't hold back. Everything fell into place."
Subsequent albums weren't quite as streamlined and smooth, however. "I'd have to say the toughest album for us to record was Untouchables," Munky reveals. "We spent so much time writing and recording that one … it was just painful. It took so long. We wanted to get the record out, but we were hung up on sounds and experimenting with new things. It was a stepping-stone along the path that we had to go through. It was something we had to do, just so we could say we'd done it. Now we don't have to go back and do that anymore, 'cause we know that doesn't work for us."
Koming Soon…
Korn just recorded cover versions of Pink Floyd's "Another Brick in the Wall," Nine Inch Nails's "Head Like a Hole," Faith No More's "We Care a Lot," and Public Enemy's "Fight the Power." The placement for these tracks remains to be officially determined, but one likely home will be as bonus tracks on the band's upcoming Greatest Hits CD. "The version we did of 'Another Brick in the Wall' is epic," Munky enthuses. "It's seven minutes long, and we do parts 1, 2, and 3. We edited it down a little bit, but it comes in with one guitar note droning through a Leslie, and it gets really heavy. Head does the original solo that David Gilmour did, and then I do another solo that kind of fills it up and makes it sound like Korn — a more rhythmic kind of a solo. And then, the outro of the song, Jonathan does the 'Goodbye all you people, goodbye' line — just bass and vocals. People are gonna flip out when they hear it. I can't wait for it to come out."
Munky tells us the band is thinking about having the fans pick the songs for the Greatest Hits release. "We'd have them pick their favorite songs from each album, and then the top two from each album would go on the Greatest Hits CD."
During the upcoming tour, Korn plans to start writing its next batch of original material. "While we're out on the road we have a writing rig, which includes a Roland V-Drum kit, a recording system, practice amps, and headphones. It's the ultimate compact setup to make decent demos with. So on this European tour coming up [with Metallica], we're planning to use this setup and write some new material. When we get back, we'll choose a producer to come in, listen to the tracks, and help us pick the good stuff from the crap. So at the end of the Revolution tour, we hope to go right into the studio and start tracking the good songs that we get out of these writing sessions in Europe. We've got a good year ahead of us."
In addition to his recording and touring with Korn, Munky has also been working on a side project. "We're putting music to an animated film," he explains. "It's kind of an Aeon-Flux kind of vibe. It's a mindblowing project."
Parting Shots
"I've always loved BOSS pedals because they're small, compact, consistent, and they have so much punch. I can fit ten pedals on my board, because they aren't too big. They're also durable, made from cast metal, which is important. I've gone through a lot of other pedals because they're not made well. BOSS pedals are probably the toughest and most durable pedals ever made.
"Whoever has handled the design, build, and circuitry at BOSS has been very consistent over the years," he continues. "They're really reliable, durable, and you always know when you get a BOSS pedal that it's going to have a lot of punch. When you kick it on, people are going to know. Every time a new BOSS catalog comes out, I'm always anxious to look at it and see which pedals I don't have so I can try it. BOSS has always been appealing to me because of the innovation. The pedals have always been cutting-edge."
Special thanks to Lisa Roy and Jesse Gould for their behind-the-scenes assistance.