Joe Perry
Aerosmith Vacation
By Greg Rule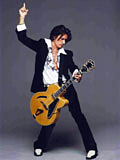 When a hard-working band like Aerosmith takes a rare hiatus, remote island getaways are often the first order of business. But not for Joe Perry. During his recent vacation from the legendary guitar chair, he went into pedal-down production mode for his new self-titled solo CD, as well as [drum roll] the launch of a signature brand of hot sauce.
Hot sauce?
"Great food is something you rarely get on the road," says Joe, "and that's why cooking has become one of my passions. I'm thrilled to bring my rockin' hot sauce to the Hard Rock Cafe's world-famous menu."

When we caught up with Perry at the Hard Rock in Beverly Hills, he looked surprisingly spry considering the day he'd just had. "I woke up in New York, did the Howard Stern Show, flew to Dallas for a Hard Rock Cafe event, then flew out here to LA — all in a day. Days like these, you really have a hard time figuring out where you are, what time it is, or when to wake up. It can get a bit crazy."
Despite the manic schedule, Joe was more than generous with his time. With a line of fans and media clamoring for a turn at the table, Joe happily sat and chatted with BUG well past his allotted interview time. Here are some of the highlights from our discussion on tone, stompboxes, recording, and his new CD on Columbia Records.
• • • • •
Congrats on the recent quadruple-platinum certification of You Gotta Move [Aerosmith's live concert DVD]. BOSS is celebrating a platinum achievement as well, with eight million pedals sold last year — and now headed for the nine-million mark.
You know, I think I accounted for quite a few of those pedals!
What BOSS pedals have you used the most frequently?
One I really fell in love with and use all the time is the white one: the [DD-6] digital delay. When I worked with Glen Ballard on "Taste of India" [from Aerosmith's Nine Lives CD], that was the pedal I wrote with, and the one I used for the backward effect. For me, writing has a lot to do with picking up a guitar and getting a sound. So sometimes it's an amp, a tuning, or, in this case, a pedal that stimulates and inspires me to think in a different musical sense. Sometimes I'll just fall into an unusual sound, and that'll be my inspiration to write a song. Pedals play a big part in that creative process for me, and BOSS has such a great pile of pedals.
As much as I love to collect old guitars and amps, I'm also a pedal freak. I have two or three guys around the country who are always digging up old pedals. One of my favorite things to do is, especially when I'm in Japan, is go to the vintage stores and look for old, oddball guitars, amps, and pedals. It's great fun.
Speaking of vintage gear, BOSS's parent company, Roland, is celebrating the 30th anniversary of the JC-120 Jazz Chorus guitar amp this year.
I own a couple of Jazz Chorus combos, the [JC-120] 2 x 12. Nothing else sounds like it … it has a sound all of its own. I keep a minimum of stuff in my studio, but I always have at least one JC onhand. There's a band called White Lion, and he [the guitarist] used the Roland JC heads. I bought four heads off of him at the end of their tour, so I have four of those and a pair of the Jazz Chorus combos.
We understand that you're using a Roland VG-8 as well. In an interview with Mix magazine, producer Kevin Shirley was quoted as saying: "When we did the Aerosmith album, I showed Joe my VG-8. He was like, 'Nah, I'll never use that. If I need a 12-string, I'll use a 12-string.' But if you see him live now, he's got a VG-8 hooked up."
Yeah, I actually have two guitars — a Strat and a Les Paul — set up with the pickups for the VG. The thing about it is, it tracks so well. I use it a lot for writing, and I used quite a bit of it on my new solo record. Rather than use a keyboard, I can go to that. I love it. I also have a set of the [Roland] V-Drums that I use. Nothing can replace those.
Tell us about your new solo CD.
These days it's so hard to get any kind of notice at all, so I thought, "Why not cut to the chase and name it what it is — Joe Perry." And the other thing is that it's a true solo record. I wrote all the songs, wrote all the lyrics, sang, played bass, all the guitars, guitar-related instruments, and all the guitar-synth stuff — I played pretty much everything on it except for the drums and percussion, which Paul [Caruso] played. Paul lives down the street, and is on the cutting edge of the whole digital recording thing, but he's old-school too, and knows how to run tape machines and all that as well. He did some engineering and pre-production on the last couple of Aerosmith records, and he's also an incredible drummer and percussionist. I've used him on stuff for years. We've become a good team.
[Ed. note: Also guesting on the CD is Perry's friend Chris Noise, who teaches at the Berklee School of Music. "He's an old-school analog synth guy," says Joe. "He plays the string part on the ballad 'Ten Years.'"]
The album's 13 tracks include 11 original songs, plus covers of the Doors' "Crystal Ship" and Woody Guthrie's "Vigilante Man."
It covers a pretty broad spectrum, but it's a hard rockin' record, no doubt about it. There's some very hard stuff, but there are also some ballads and mid-tempo rockers. There aren't a lot of big guitar solos on it, just enough so it's appropriate. For the most part the songs are dedicated to my muse — my wife. It's all straight from my heart. It's a window into what makes me tick, and that's why I have no problem calling it Joe Perry.
[In his press kit, Joe adds: "It didn't occur to me to put this record out until Aerosmith decided to take a year off. It's as honest a record as you're gonna get. Seems like these days, when people go off and do a solo record, it's more the norm to bring in a bunch of all-star friends. But I already have the amazing fortune to play with one of the best singers in the world and the hardest rocking band on the planet. Also, the way these songs developed from the demos, they already had the sound I was looking for, and it was a refreshing challenge to work this way. This record didn't come from anywhere near the same space as my previous solo albums. I mean, I had fun doing them, and they certainly fulfilled a creative need, but this record reflects the experience of 20 more years of writing and recording and making my way on this planet."]
In addition to the VG-8, what BOSS/Roland gear made the most frequent appearances on the album?
Lots of different BOSS footpedals — mainly for fuzz. I use vintage amps a lot, but sometimes you need a little bit more to get that extra touch or extra edge, which I can get from a BOSS pedal.
Did you track with your effects live, or did you add any after the fact?
I pretty much always record all the effects as they come off the amp, as opposed to having to decide later on. I'm a big fan of recording the guitar sound as it is. "This is how I want it to sound" … making that decision right from the top. If you wait to make those decisions later on down the road, it takes a lot of the immediacy out of the process.
In terms of amps, microphones, and room environment, what's your approach to getting a great guitar sound on record these days?

Usually what I'll do is put a mic on my amp fairly close up, and we'll find the sweet spot. Then maybe we'll put one out in the room in case I want to some natural slap-back on it. In my studio, we have a place where we put the combo, and then we have an "X" marked on the floor where the sound bounces off the back wall and comes back. So we aim the microphone at the opposite wall so we get a couple of microseconds of natural delay.
Probably the loudest amp I use in the studio is a 45-watt with a 10- or 12-inch speaker. There's got to be a really good reason to use anything with more wattage than that. Smaller amps are designed to be loud and sound good up close. I mean, if you have a 4x12 with a100-watt Marshall head, it might sound great if you're trying to spread sound all over the room, but if you're playing to a microphone that has a limited field, you have to think differently. So, for me at least, my theory is, the smaller the amp and the smaller the size of the speaker in the studio, the better. An 8-inch speaker, for example, is designed to develop its sound frequencies in a much smaller space, and that's going to make it easier for a microphone to pick up all that sound. By using a ribbon mic that has [a high SPL] tolerance and a smaller amp, I can get a bigger sound with a lot more harmonic content than if I try to mic a 100-watt Marshall with a bunch of microphones spread all around the room.
We have to ask at least one question about your new hot sauce.
Well, for those who haven't tasted it yet, go for it. It's really good stuff. We have a website set up for it www.joeperrysrockyourworld.com.
• • • • •
And for up-to-the-minute news on Joe's musical pursuits, visit him online at www.joeperry.com and www.aerosmith.com.