Mike Stern
The Signature Sound of Mike Stern
By Phil Gates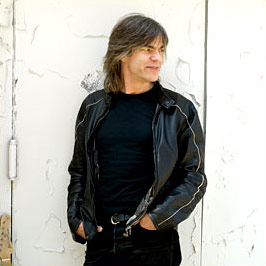 Whether with Billy Cobham, Miles Davis, Steps Ahead, Michael Brecker, or any of his 12 solo releases, Mike Stern has been a prolific player of jazz guitar for over two decades. He can be-bop with the best of horn players, or start a fire with distortion, delay, and chorus that absolutely rocks. His mastery of the melody line, groove, vibe, chord work, and improvisation leave lessons for every guitarist to study and admire.
I caught up with Mike at the Catalina Bar and Grill in Hollywood. The band included Victor Wooten (bass), Dave Weckl (drums), and Bob Franceschini (sax). Mike played selections from his latest release These Times, as well as other great Stern tunes. His sound was amazing, and the playing, stellar. Mike's a very easy going, cool cat, and I spoke to him briefly about his choices of gear throughout his career that have made his signature sound.
• • • • •
How long have you been using BOSS gear?
I've been using BOSS pedals for about 15 years, maybe more … maybe closer to 20 years … and I dig 'em a lot. And I also used the guitar synthesizer, the very first blue one [Roland GR-300], then, in the '80s, I used the GR-50. Now I have the most recent one [GR-20], and that thing is amazing.
Which pedals do you use most often?
I've used the distortion, the DS-1, on every one of my own records, and on a lot of other peoples' records too. I use it all the time. It just works for me, and it's got a real nice sound to it, so I've been using it forever. I also use the delays [DD-3]. I've got one set for a long delay that I'II use occasionally, and the other is set for a regular delay that I have on always. I use the BOSS [OC-3] Super Octave, and that's it. That's all I basically use, but that stuff is killin'.
Why BOSS?
They're the best pedals. I tried a bunch. I didn't even know what they were or who made 'em, but then I settled on BOSS because it sounds the best for me. It's the warmest sound. All the equipment I've used from BOSS seems very … it sounds great … and it seems like somebody really cares and is very aware of the quality. That's what a lot of friends of mine say too. I mean, I just came to it from a very honest place. I wasn't looking at brand names or anything like that. I just kind of went from this pedal to that pedal, trying different things, and those [BOSS] are the ones I hooked up with.
As far as the synth goes, that was the main game out there. The new one I'm about to check out.... Richard Bona, who plays with me a lot, is an amazing musician; he uses that new one [GR-20] on the bass, and it tracks unbelievably well. It's got tons of sounds, and it seems real simple, so even I can figure it out [laughs].
Musically, what keeps it interesting for you?
Usually just playing with other great players … like this gig with Victor Wooten and Dave Weckl. Victor's got something from BOSS that he's using [GT-6B] and that thing is bad. It's smokin'.