Joe Walsh
The Everlasting Eagle
By Greg Rule & Paul Youngblood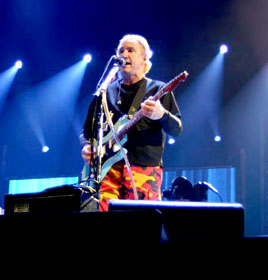 He's an American icon, a merchant of timeless rock riffs, solos, and songs. From the James Gang's "Funk 49" to the Eagles' "Life in the Fast Lane" and "Hotel California," Joe Walsh has imprinted his one-of-a-kind vocal and guitar signature on a long list of hits.
As the Eagles flew through Southern California on their recent sold-out tour, BOSS met up with Joe at the Staples Center in Los Angeles, where he took us on a private tour of the stage. His guitar collection looked like a museum, and his pedalboard resembled a page from the BOSS catalog. No less than nine BOSS pedals are in Joe's current Eagles rig, plus five BOSS pedals onstage for Glen Frey and another five for Stu Smith (see photos below). Joe also uses a Roland Micro-Cube amp backstage in his dressing room.
A testament to the Eagles drawing power, the band sold out all six shows at Staples, a towering arena that's home to the LA Lakers, plus another six nights at the nearby Anaheim Arena. The Eagles are as popular now as they ever were, which is an amazing achievement for a band that first took flight over three decades ago.
Here's what Joe had to say about his use of BOSS pedals past and present.
• • • • •
How long have you been using BOSS pedals?
A long time…. See, I'm from the analog days, and I'm fond of stuff with knobs. I had an old EchoPlex, and I loved that thing. Got more girls with that than anything else I used at the time [laughs]. I ended up with BOSS because it's real logical to chain 'em together and be organized. And, you can beat 'em up. That's the other thing I always liked about 'em. You can spill beer in 'em and kick 'em down the stairs and they'll still work [laughs].
I like BOSS 'cause it's user-friendly stuff. With so much other gear, you've gotta go back to college to learn the manual, and it does a bunch of sh*t that … why in the world would anybody wanna do that?
BOSS takes pride in the fact that its engineers are also passionate guitarists.
And it shows 'cause the stuff is so user friendly.
You have nine BOSS pedals in your current Eagles touring rig. Have you used that setup for a while, or did you try other pedals before finding your way to this configuration?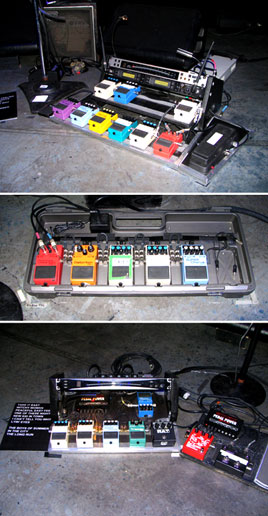 I'm not afraid to experiment. Going to Japan is always great 'cause they have stores over there with nothing but pedals in 'em. So I have a bunch of stuff that I think is cool, and that I get interesting effects out of at home, but I get kinda saturated with it all. There's a tendency to have your whole world collapse on you onstage where you're not paying attention to the song, you're not paying attention to what you're playing, you're not aware of the audience any more — you're just trying to get your delay right. I can't do that. I've gotta sing too, ya know. So one of the reasons I like BOSS is because I can set it, and where I put it is what it is and it's there, and it works. I could add more stuff, but for what the Eagles do, I've got everything I need. It's pretty much every effect I used on the records.
Did you ever go through a period of using rackmount guitar effects?
The rackmount effects … I don't have any use for 'em. That's good for some guys, but not for me. There are no knobs, and also it's not the same every night. It's a different hall, it's a different crowd, it's not the same every night and you've gotta be able to adapt. I like my pedals cause I can reach down and grab 'em.
Joe Perry from Aerosmith told us a story of how the reverse setting on his BOSS delay was instrumental in the creation of a song. Have you had any similar experiences?
Yeah, like in the James Gang, the delay pedal really affected what I did. I mean, I got the sound first, and then I wrote the song. And to this day, I hook up stuff … I can't tell you specifically, but there's Eagles music in Hell Freezes Over where the sound led to a song.
How do you pilot your pedalboard during the Eagles show?
A couple of pedals are just for one song, so it's a simple thing. The pitch shifter [PS-5] … I've found three or four settings in that I change between songs. There's a lot of stuff in that pedal; it allows me to have just one pedal instead of four. It's a great pedal. I have to manually change it between songs, but I've got it down now.
What BOSS pedals get the most mileage onstage?
The delay [DD-3] is a favorite, the overdrive [OS-2], and more and more the pitch shifter [PS-5]. I prefer the DD-3 onstage, but for recording I use the DD-6.
You have a small Roland CUBE amp between your monitor wedges. How is that being used?
That's driving the talk box [used on "Rocky Mountain Way"]. The speaker isn't hooked up; it's driving the talk box. It's an old 60-watt CUBE — an orange one that's been painted black.
Those CUBE amps are so great. I used to play with four of those in the early Eagles when Hotel California came out. In fact I used a CUBE to play slide on "The Long Run." I liked to stack 'em too. That's what I did in the old days. I even made a stand so I had two and two stacked. The top ones drove the bottom ones. I'd like to try out the new CUBE-60.
[Ed Note. Shortly after our interview, Joe took delivery of a CUBE-60. Joe's manager reported: "We took it to his dressing room and it's a killer to say the least! Joe loves it big time."]
Did you ever use the Roland JC-120 Jazz Chorus amp?
Yeah. I used to play a pair of those. I used those when I played the second Us Festival [1983]. That was during the So What [solo] album. There's film footage of that out there.
Now on decade-three with The Eagle, are you still having fun up there?
Oh yeah! Definitely.
Is there a chance that The Eagles will record some new material in the future?
I hope that we'll record some more. We've tried to record a couple of different ways, and I don't wanna say that a project is beyond us, but we just haven't done it the way we have to do it — which is to get away from our families, get away from the phones, get away from L.A., get away from the fax machines, and go somewhere where the only thing there is a control room and a studio. And that's what we have to do. We've tried to do it in L.A. at home so we could be domestic, but there's too many non-musical things going on to get anything done. I hope that we can find a time period that works for all of us, where we can just go to an island or something, 'cause I think we've got another Eagles album in us. And I know I've got another solo album too. I'll just hook up a bunch of pedals, and something'll come out. It always does!