Victor Wooten
The Yin and Yang of it All
By Phil Gates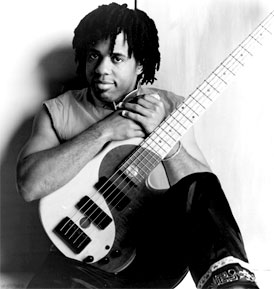 Regaled as the most influential bassist since Jaco Pastorius, Victor is well known for his solo recordings and tours, and as a member of the Grammy-winning supergroup Béla Fleck & The Flecktones. His amazing playing style has earned him two Nashville Music Awards for Bassist Of The Year, and he is the only three-time winner of Bass Player magazine's "Bass Player Of The Year." He has played with a variety of great players, from Branford Marsalis, Mike Stern, Bruce Hornsby, Chick Corea, Dave Matthews, Prince, Gov't Mule, Susan Tedeschi, Vital Tech Tones (with Scott Henderson and Steve Smith), the Jaco Pastorius Word Of Mouth Big Band, to the soundtrack of the Disney film Country Bears.
We got a chance to speak with Victor while he was playing with Mike Stern a short while ago, and we talked about gear.
How long have you been using BOSS gear?
Man, I don't even know. All I know is that it's been a really, really long time. I guess the Octave [OC-2] pedal is one of the first ones that I had, and I've had a few different BOSS distortion pedals [DS-1]. My brother Reggie also uses those. I have the Reverb [RV-5] pedal, and now I'm using the big red GT-6B.
How are you diggin' that?
I'm liking it a lot. I've used a whammy pedal for years, and I like the GT-6B a lot. And I like it because it's clean in Bypass. I've used some other pedals from other companies that have a few effects in 'em that I like, but it clouds up my sound a little bit. The GT-6B seems clean. And I will add this … travelin' around, I've seen a lot of other bass players using this on the professional circuit, like Gerald Beasly, Steve Bailey, Richard Bona, people like that.
So the GT-6B is your most-used pedal right now?
That's what I'm using most of the time. And just to let you know, I bought it! I was glad to. It's a good enough pedal that I did buy it. I didn't try to get it for free. I paid for it. And it was after the fact that I found the "Wooten" patch in there. I thought that was pretty cool [laughs].
Why BOSS?
Well, I'll just tell you frankly … I've always used BOSS and Roland products, and for many years I didn't even know that they belonged to the same company. When I'm shopping, the first thing that I'm looking for is not a brand name. I'm just looking for what I'm looking for. I'm looking for something to do what I need it to do. It just so happens that I've found BOSS pedals to have the cleanest sound for my bass. If that's the answer to "why BOSS," then that's it. It keeps my signal clean, especially when I'm not using the effect [in bypass mode]; the signal still sounds the same.
Have you used any of our bass amps?
I have not. My brother Joseph has a Roland amp with a 15 in it that he's using for his keyboards, but I haven't used any of your amps.
Would you be interested in checking any out?
I'd definitely be interested. I was talking to Mike [Stern] about it, and he was asking me if I was using them. But, yeah … I'm into trying it all out.
Musically, what keeps it interesting for you?
Just keeping my eyes and ears open … you know, that helps my imagination stay open. But, I just listen to everything that's out there. I get away from music a lot so I don't get too burned out. Fortunately I get to do a lot of things. I get to play with Mike Stern, the Flecktones, I'm doing my own band, I'm doing clinics and camps, so that keeps it very interesting. And I'm taking a lot of time away from the bass too … that's probably the main thing. I was told one time that you can get trapped by the bass, and I believe it. You can get so into it, that your whole life revolves around it, and then you're not really seeing the whole picture.