Paul Gilbert
Terrifying Guitar
By Paul Hanson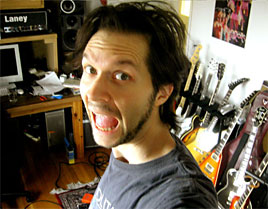 It's like Tanner Hall skiing 50 mph backwards and hurling himself into the sky out of an icy half pipe, or David Blaine levitating in the middle of a crowded sidewalk, or Tiger Woods smacking a golf ball 300 yards and it plops into a 4.25 inch diameter hole … it's like how does he do that?!
That's the way guitar players feel when they see and hear Paul Gilbert play. One of Paul's videos is called Terrifying Guitar Trip, and that pretty sums it up. Paul plays faster, cleaner, and just plain more terrifying than about any other player out there.
Paul grew up in a rural city outside of Pittsburg and moved to Los Angeles in his teens. Soon thereafter he formed the band Racer X where, alongside second guitarist Bruce Bouillet, he wrote and recorded some of the scariest twin guitar parts ever. Next Paul and bass shredder Billy Sheehan formed the band Mr. Big, and they went on to have major commercial success and hit songs. Since then Paul has been busy recording and performing as a solo artist; most recently he released Get Out of My Yard on Shrapnel Records, his first all instrumental solo album.
Paul also has a wacky sense of humor; if you check out myspace.com/paulgilbert his top friends include Wonder Woman, Thomas Jefferson, Carl Sagan, and Keith Partridge of the Partridge family. But be sure to check out his official website at paulgilbert.com where there's lots of great info to peruse, including Paul's Rock Bass Player quiz.
Personally speaking, I know Paul from back when we both used to teach at GIT in Hollywood. While he was organizing his 2007 world tour, we had a phone conversation that was recorded for the "BOSS Tone Radio" podcast. You can get the podcast at bossus.com/podcasts, or itunes. It's free.
Here are some highlights of that conversation:
• • • • •
Thanks for being on our BOSS Tone Radio Podcast.
Thanks for having me. Good to talk to you, I remember those '80s GIT days. Those were a blast. It was an interesting time at the school because it was founded by a bunch great jazz guitar players, and then us rock guitar players sort of infiltrated the system and musically hijacked it.
Not long after that you formed Mr. Big with Billy Sheehan. What was it like playing those big arenas?
It was amazing. The first arena tour we did was opening up for Rush, who were huge musical heroes of mine. I remember the first day I showed up at the arena; I was led into the catering room where everybody was eating, and Geddy Lee was sitting there eating lunch. I had told myself beforehand just be cool around those guys. Don't freak out or anything. But I couldn't help myself. I ran up to Geddy and said. "You're the greatest man. I love you guys." I immediately felt embarrassed.
I was in Germany once and was supposed to play at Musikmesse. This guy was on the stage noodling, and I wasn't going to get a sound check. So I went in — I was going to be real tough — but when I got a clear look at the guy, it was Uli Roth. I think I actually fell to my knees. It's weird when you meet the players who influenced you.
[Laughs.] They become part of your DNA.
Back in the '80s, I remember one time you came into the teachers lounge with this guitar that you said was your new "Tele." And I said, "That's not a Telecaster". Then you pointed to the headstock and it said Telly Savalas. That was the funniest thing I ever saw. Do you still have that guitar?
[Laughs.] I gave it to a friend who runs the Racer X website. He had been running it for the love of it, and I thought I would give him something for his efforts. I can't resist a pun, so I came up with Telly Savalas — a good name for a guitar.
Back in the Mr. Big days what gear did you use?
For each Mr. Big album I would use almost a completely different system. At the beginning it was kind of challenging because I had just come out of Racer X, which was sort of a screaming heavy metal band. At that time I had just discovered this ADA preamp, which I was running through some old vintage Ampeg V4 heads. The nice thing about it was that it was one of the first MIDI switchable preamps, so you could really change sounds radically without having to get an expensive Bradshaw switching system. It was cheap, it worked well, and it sounded pretty good.
But when I started playing with Mr. Big, they wanted more of a vintage kind of '70s sound. I was way into metal, so I remember the producer always wanting me to pull back the distortion. Of course the '70s sounds are cleaner, and they are percussive because the power amp section is working. So anyway, that was sort of my painful discovery that in this band I couldn't just go balls out fuzz all the time, I needed to have more clarity and sustain, just a more classic rock kind of sound. I sort of struggled with that almost through the whole band. My roots are so metal it was hard to find the happy medium.
Did you use any pedals during that era?
You know, that was the era of the rack, so I was using an Eventide Harmonizer. The thing is, when I was a kid first starting out playing guitar and being in bands, pedals were the way to go. And so that really is where my roots are, and my comfort zone.
During the '80s, I sort of went to the rack thing because that was new and exciting, but I always found myself going back to the pedals and that's where I am now. I'm always going to the hardware store and buying new pieces of plywood that I can stick Velcro on and make pedalboards. Now my main goal is that it has to be able to fit on one side of my double gig bag. So one side is the pedalboard and one side is the guitar, and I can just throw it onto the plane and I'm ready to rock anywhere.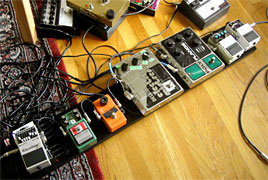 I think my return to pedals actually happened when I started doing my solo records. BOSS pedals are ubiquitous. They are "ever present." They surround you no matter where you go. I don't remember exactly where I accumulated all of them, but I always had BOSS pedals around. Actually I do remember in the Mr. Big days, in my live rig, I had one of those blue BOSS compressors. [Ed. Note: The CS-3.]
I think at that time I had a yellow overdrive with a lot of knobs on it — the four knob model. [Ed. Note: The OS-2.]
Those two pedals really work nice together; I put them both on at the same time. The compressor was sort of a subtle boost for clean stuff and the yellow one took you into hyper fuzz — and that was using an amp that was distorted anyway. But the thing I found that worked so well was to have a nice distorted amp that was distorted enough to rock but clean enough to where if you stopped playing, the guitar wouldn't hiss and feedback and make a lot of noise so you could actually stop. I got sort of a noiseless regular distorted sound and then had those two pedals to give me two more steps of insanity at will. That worked out real well.
Do you mean stopping without turning your guitar volume down?
It's a habit to turn my volume down. If you have the kind of distortion I have when I kick the pedals on, even when the volume on the guitar is down, it's still hissing and making all kinds of noise. To me that's fine. That's not any kind of flaw with the pedal; you're dealing with amounts of gain and distortion that are so extreme it gives the guitar a unique feeling that probably no other instrument in the world has.
[Music plays: The intro from the song "Hurry Up" from Paul's new album Get Out of My Yard.]
That's a pretty steady stream of 8 th notes.
That's my problem — once I get started I can't stop
That's kind of a mixolydian, major kind of vibe.
I like major. Major keys, as simple as they are, were a huge discovery for me in writing. I spent so much time in the world of heavy metal and Iron Maiden-type chord progressions, so when I started analyzing the Beatles songs and Beach Boys stuff, which was much more major-y, it opened up another world.
Modal interchange, playing in A major and all of the sudden switching to A minor — I love that kind of stuff.
Oh yeah, and Lydian. Lydian is a good one.
What kind of gear were you using on that song? You mentioned you used a few BOSS pedals on this record.
The first one I use is the tuner, which I can't live without.
The TU-2?
Yeah, the one you step on and you can see on stage whether you are in tune or not.
Do you use the stream meter, where the lights spin or do you use the mode where the lights center?
Definitely the mode where the lights center. If I hit stream, I'm a gonner. [Laughs.] That one I can't live without. That's the first pedal on any pedalboard I build. The other one I use a whole lot is the DD-3. I don't know if you heard it, but there's a song on the record ["Get Out Of My Yard"] I called the Echo Song, which uses the DD-3 pretty much the whole time. It's where I set the delay at a dotted eighth.
Like the Eddie Van Halen…
Yeah, the Cathedral thing like Pat Travers and Pat Thrall used to do. I composed a five-and-a-half minute heavy metal guitar etude using the BOSS DD-3.
The other thing that I did, actually the very first thing you hear at the beginning of the album, is something I did with the BOSS DD-3 as well. I've discovered something unique about that pedal. When you bypass it, here's what happens: If you have the pedal off, bypassed, and you're playing something and then you stop and hit the pedal, normally you'd expect nothing to happen because you've stopped. But the pedal actually remembers what you just played. So if you go "wadaladalada" [sings a lick] and then hit the pedal really quick, as long as you have the feedback up and delay time as long as possible it'll spit out whatever you just played over and over again.
I've got to try that.
And I love that because I've used that for a bunch of solos, especially unaccompanied ones because I can play my most raging, terrifying lick, you stop immediately after it, kick on the DD-3, and it'll spit the lick out back at you.
So that's how you did the intro lick with the DD-3?
I did the scariest minor triad lick I could possibly summon out of my fingers. As soon as I did it, I hit the DD-3, which looped it. Then I turned the rate knob all the way up so the thing was going "whoowhoowhoo" incredibly fast. Then I slowed it down slowly to the normal speed — the speed that I actually played it — which was still pretty fast [laughs]. When I mixed it, I faded it in from the most high-velocity spot so it sounded like I was descending from the universe into this insane lick. That's one of the coolest things I've been able to conjure out of the DD-3.
Final advice on getting tone, any tips?
I'd say just try everything. Music stores are weird places to try gear because usually you can't turn up to the point that you can if you are in the basement with your drummer. Do your science experiments with drums. I'd say that's a huge difference because you'll get this quiet, microscopic sound that's slaying dragons in your bedroom, but when you crank it up with a drummer you find for various reasons it's unusable — you know, the notes just aren't clear enough or it's too noisy or you can't control it because it's feeding back.
If you can get a decent sized amp with at least a 2-12 cab and get somebody who can play drums and stick the amp next to the drum set and crank up, it'll give you a much more realistic testing ground for what kind of pedals you like, what kind of pickups on the guitar you like, and what kind of heads and all that stuff. You'll have a realistic view of it then as opposed to the bedroom, which is a hard place to figure out what is going on in reality.
Does it look like you'll be on tour in 2007?
Booking flights as we speak.
• • • • •