BOSS GT-Pro
The Flagship Processor from BOSS
By Peter Swiadon

You don't see the word PRO on BOSS gear often, so when we heard about the GT-PRO, we were intrigued. What more could it do that the new GT-8 couldn't already do? I finally got my hands on one, and frankly, BOSS (and maybe no one else) has never made a more powerful guitar processor. Let's explore the new king of guitar tone: the BOSS GT-PRO.
On the Outside
The first thing you'll notice when you turn on the PRO is the way-cool blue LEDs. These give the GT an almost starship look; they could have used one in Star Wars, and it would fit right it.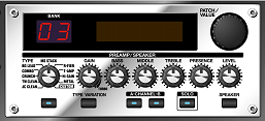 As you start to look closer, you'll see how simple it is. There is a button or knob for every effect and amp in the GT-PRO; if you want to access or edit anything, just press the button, and all the available parameters can come up in the display. Even though it's really all computer-generated space age software, the preamp section works just like a traditional earth-bound amp: Turn the knobs to adjust the tones.
But because this is software based COSM amp modeling, its not just one amp; there are 46 killer COSM amp models inside, organized into ten groups, which you select by turning the TYPE knob on the left. Within each group are variations, easily accessed by toggling through with the TYPE VARIATION button. And notice the buttons labeled CHANNEL A and B:

Just like most modern pro quality amps, the GT-PRO's software amps have two channels. They can be two channels of the same amp model, or two different amps, just like on pro backlines. To the right of the channel buttons is a button marked SOLO. Every one of the 46 amp models in the GT-PRO has its own dialed-in Solo tone; just the thing for putting your solos out front. The Solo mode is programmable, so you can set the amount of tone boost on each amp. What does this mean? Not only does every one of the 400 onboard programs have the ability to produce two different amp tones at a time, but each of these tones has its own Solo tone, so actually you have four distinct amp tones available in each of 400 programs: 1,600 amp tones on board! Even for guitar players, that ought to be enough.
Effects
BOSS is famous for effects; we pretty much invented the effect business with the invention of the original CE-1 Chorus. The GT-PRO is loaded with top quality effects. For example there are 30 modeled overdrives: all the eBay favorites, like TS-808 Tube Screamers, AceTones, Fuzz Faces, Rats, Big Muffs, Klon Centaurs, and 23 more*. There are 13 modeled pedal and studio compressors and limiters, 12 modeled delay types, such as analog, tape, and reverse, and much, much more. I stopped counting the individual effects when I got past 100, and had plenty to go. What does this mean to a guitar player or studio owner with a GT-PRO? It means you can get any guitar sound you ever heard, and have the capacity to make plenty more that no one has made yet.
Outputs
Here is where the PRO gets to be really pro. Check out the illustration of the back of the GT-PRO:

Lots of stuff, right? Let me explain, starting from the left:
There are two digital outs: USB and S/PDIF. The GT-PRO is a true audio-to-USB digital interface, so you can use it to record your guitar directly to your computer.
Next from the left you see AMP CTL 1 and 2. These are unique features that only the GT has: You can use these to have your GT-PRO switch channels of your stage amps for you, or turn external effects on or off.
The CTL 1/2, CTL 3/4, and EXP pedal inputs are for external controllers, so you can easily use the GT-PRO on stage. It can control up to 12 parameters at one time per patch, so your performances can be totally fluid and expressive.
The TUNER out lets you connect the PRO to a stage tuner. However, since there is a BOSS TU-quality tuner built into the GT-PRO, I'm not sure you'll need that external tuner any more; your GT is one. You could use this for a secondary bypassed output, if you want.
Next are three (count 'em: three) effect loops. You can control them independently: LOOP 1/2 can be mono or stereo, series, parallel, or direct out, and each can be set to operate at either -10 or +4. You can move these around anywhere in the signal path, and use them as sub outs or sub ins if you want. The Pre Loop is placed before any of the effects, so it can be used as an insert to or from your recording board, or even a direct out for unprocessed guitar recording.
There are two sets of outputs in the GT-PRO: the MAIN OUT is actually two sets by itself: There is a pair of 1/4"; outs and a set of stereo XLR outs with a switchable ground lift. The XLR outs would typically be used on stage for going out to the main mixing console: For this reason, their output levels are fixed, so when the soundman gets levels, and you turn the output knob, the mix won't change. This is a good thing, because sound folks hate when players do that. However, the output knob on the front will alter the output of the 1/4" main outs, so if you are sending that signal to your backline, for example, you have control of the level; you don't have to pester the sound person for more volume so you can hear yourself. You for once have control! And we haven't even used the other set of outs: the SUB OUTS. These are a second set of 1/4" outputs, with their own volume control, that you could use to send a separate level to feed monitors, or a recorder, while being hooked up to the main board with a different output all at the same time.
The last jack in the picture is another input. There is one on the front, so when your GT-PRO is on stage, you can simply plug your guitar into it and rock. The second one on the back is for when your GT-PRO is in a rack; you can wire it into the rack from the back, connecting it to whatever else is in your rig. No more patch bay.
On Screen
Lets face it: Computers and music production have merged. But you can't plug a guitar straight into a computer; you need an interface, and some cool software to make your guitar sound great and be easy to use on screen. This is where the PRO becomes the super-PRO. It is a USB-audio interface: Plug your guitar into the PRO, plug the PRO via USB into your computer, fire up the included GT-PRO Editor and your recording software, and go directly to work. The PRO is now the ultimate guitar plug-in, but better; you don't have to install its massive power onto your drive, so your computer doesn't get bogged down with yet another plug in. Think of the PRO as the ultimate guitar external plug-in: its hardware contains the software, so you get all the power without any of the latency.
How do you control the GT from your computer? Check out the coolest looking guitar editor ever: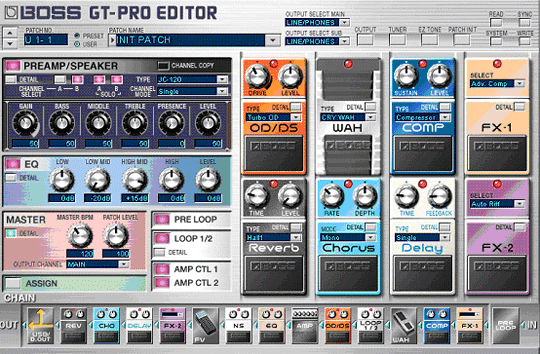 This is a screenshot of the GT-PRO editor. It is a graphic representation of everything the GT is doing. What does it look like? Pedals. Why? Because we guitar players understand pedals, and quickly get what's going on. You don't have to figure out anything tricky. The row of pedals at the bottom of the screen tells you what is in the signal path, and what order it's in. It runs right to left, just like your stompboxes. If you want to move something, you can just drag and drop it to wherever you want. Using the editor pretty much eliminates reading the manual (but please read it anyway; you'll find out some very cool and useful stuff about the GT-PRO if you do).
Here is a typical screenshot. This one is the 4-band EQ screen: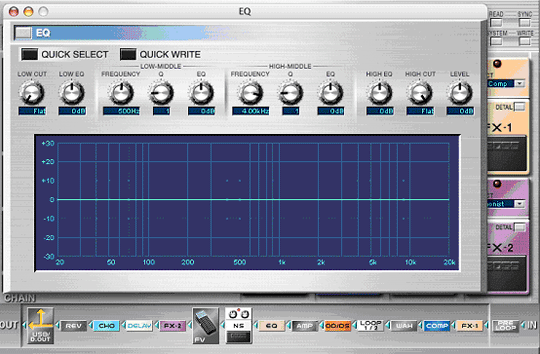 Notice that there is no curve yet: the EQ is flat. If you click and drag the knobs, or enter numbers in the boxes, you can dial in any EQ you want. So if I want to hit the two sweepable parametric mids to dial in some tone, I can make the curve look like this: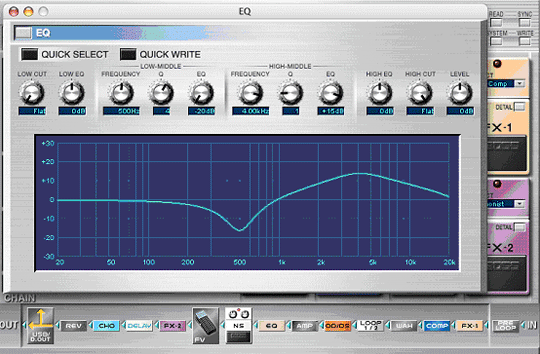 Notice the position of the EQ knobs has changed, so the curve will also change. With a graphic representation of the EQ curve, it's much easier for musicians and engineers to get the right tones.
The editor also enables complete control of everything else in the GT-PRO. Here is a screenshot of the amp detail, clearly showing what channel A and B are doing: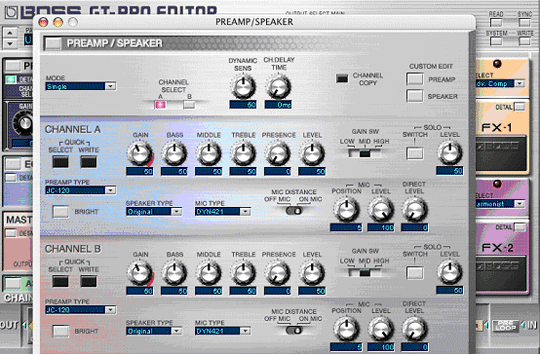 And here is a picture of the famous tuner in the GT-PRO. This will look familiar: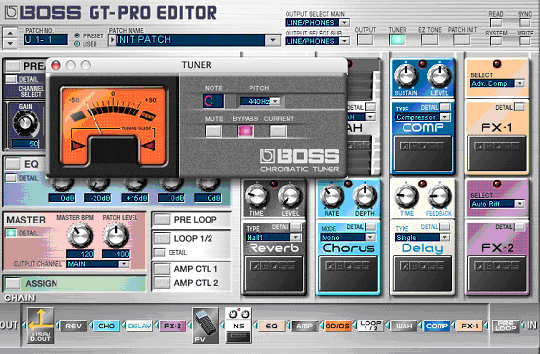 Outro
There are so many reasons the GT is called PRO, we probably can't count them all. Look at it this way: If all you need is everything, you finally have something that can do it — the BOSS GT-PRO. For more info, click here.
*The trademarks listed in this article are trademarks of their respective owners, which are separate companies from Roland. These companies are not affiliated with Roland and have not been licensed or authorized. Their marks are used solely to identify the equipment whose sound is simulated by the GT-PRO.