BOSS TU-88 Micro Monitor & Tuner
A Triple-Threat Practice Tool for Guitar and Bass
By Jim Bybee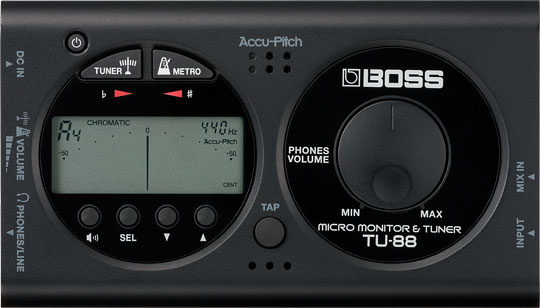 The old adage "practice makes perfect" is undeniable, and a regular woodshed routine is the only way to continually improve your skills at playing an instrument. But, like other things in life that are good for us—such as eating right, regular exercise, etc.—we avoid doing it unless it's easy and convenient. When we finally do get into a regimen, however, we find that it's not so bad after all, and maybe even fun! In the TU-88, BOSS has created a cool "Swiss army knife" for guitarists and bassists, a portable go-anywhere tool that makes getting into a consistent practice schedule and improving your playing chops a little easier.
Three-in-One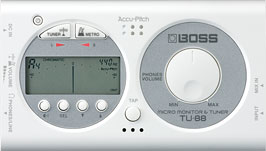 The TU-88 combines a great BOSS tuner with two other useful music-practice tools: a metronome and a headphone amp. Available in either black or white, the TU-88 is small enough to fit into the accessory compartment in any case or gig bag, so it's easy to take everywhere you go. It runs on a single 9-volt battery (or optional AC adaptor), and it has a handy feature that automatically turns the unit off after 30 minutes if you forget to switch off the power. This saves the life of the battery, so the TU-88's always ready when you need it.
Tuner Up
Getting your instrument in tune is the first part of any practice session or performance, and the TU-88's super-accurate BOSS tuner is up for the job. On the front panel, there's a large LED with a high-resolution needle-type tuning indicator, along with two arrow lights that let you know when you're flat, sharp, or in tune. Additionally, the practical Accu-Pitch feature makes dialing in the right pitch even easier by sounding an audible "beep" when you're dead on. To get sound into the tuner, simply plug into the INPUT jack if you're using an electric guitar or bass, or use the TU-88's built-in mic if you have an acoustic instrument.

Three different modes are available for tuning: Chromatic, Guitar, and Bass. In Chromatic mode, the TU-88 tracks and displays any pitch you play, while Guitar and Bass modes display individual string numbers and their pitches. (The Guitar and Bass modes also offer an extended range, allowing you to tune seven-string guitars and six-string basses.) In any tuning mode, you can play audible reference tones from the built-in speaker; this is great for "ballpark" tuning after restringing, or when you want to play a tuning tone for a group of musicians. Last but not least, the Flat Tuning feature lets you calibrate the tuner anywhere from one to five half-steps down from standard tuning. This is handy if you like to use the "low tunings" that are popular in many metal and rock guitar styles.
A Timely Exercise
Playing with steady rhythm is a critical musical skill to master, and the metronome is the time-honored tool to improve your abilities in this area. Working with a metronome also helps develop your speed and accuracy. The TU-88's metronome is flexible and easy to use, providing many of the features found in the popular Dr. Beat line from BOSS. There are eight different rhythm patterns to choose from (quarter note, eighth note, triplet, etc.), and beat settings for different time signatures (3/4, 4/4, 5/4, and so on). You can set the metronome tempo manually, or "tap" in the tempo by repeatedly pressing the front-panel TAP button at the desired speed. In Metronome mode, the display's needle moves in time with the beat, and the sound is output from the TU-88's built-in speaker or through the PHONES/LINE jack.
Micro Monitoring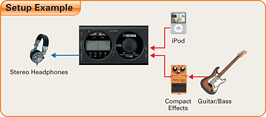 If you play an electric instrument, you'll love the TU-88's simple and great-sounding headphone amp. It's a no-brainer to use—just plug in your axe and a set of headphones, adjust the level, and rip it up! The amp has a good, solid clean tone, with a built-in speaker emulator that mimics the sound characteristics of a guitar amp's speaker. If you want to play with distortion and other effects, simply plug your favorite stompboxes in line with your guitar as you would when playing through a regular amp. There's also a MIX IN jack, which lets plug in an MP3 or CD player and jam along with your favorite tunes. One more thing: with its built-in speaker emulator, the TU-88 works great for on-the-go recording. Just connect the PHONES/LINE jack to an audio recorder (such as the Edirol R-09HR) or a laptop DAW setup for great tone with no fuss.
The Ultimate Guitar and Bass Companion
Packing so many useful tools into one portable package, the TU-88 is a must-have for any guitarist or bassist, and its surprisingly affordable price won't break the bank. Pick up a TU-88 and add it to your gig-bag survival kit; there's no doubt that it'll become a constant practice companion and one of your most-used pieces of gear.