Acoustic Guitar and the BR-600
A Perfect Match
By Jim Bybee

Ever since the unplugged phenomenon hit the pop music world in the early 1990s, the acoustic guitar—and acoustic music in general—has enjoyed a continued renaissance. Major touring groups often include acoustic sets as part of their concerts, local pros regularly play acoustic gigs on off-nights to fill out their schedules, and legions of acoustic guitar-wielding weekend warriors head off to coffee houses and pubs for open-mic gatherings. A great appeal of the acoustic guitar is its simplicity and portability. When you want to record your instrument, doesn't it make sense to use a recorder that doesn't get in the way of the purity of the acoustic experience?
Enter the BR-600
The BOSS BR-600 Digital Recorder makes a great companion for recording your acoustic guitar, or any acoustic instrument for that matter. Like the other members of the BOSS BR family, it offers multitrack recording and playback (in this case, two tracks of simultaneous recording, eight tracks of simultaneous playback, and 64 V-Tracks), legendary BOSS effects, built-in rhythms, and stellar sound quality. And, naturally, it's super-easy and intuitive to use, holding with the BR tradition. However, the BR-600 has a number of unique features that make it particularly appealing to the acoustic musician—let's have a look, shall we?

Say Hello to My Little Friend
The most striking feature of the BR-600 is its thin, sleek design. Weighing in at just a little over 1-1/2 pounds (excluding batteries), the recorder measures 10-1/8 inches by 7-1/4 inches, with a notebook-thin depth of 1-1/8 inches. With these specs, the BR-600 is an easy fit in any gig bag pocket, ready to go anywhere. As part of the streamlined design, the BR-600's knobs and faders are recessed nearly flush with the front panel, ensuring they'll survive the trip intact.
Truly Unplugged Recording

One of the most liberating things about the acoustic guitar is that you don't need cables or amps to play music. But if you want to record your guitar, you've got to invade your acoustic world with a mess of wires, right? Well, not with the BR-600. First off, it runs on batteries—six AAs, to be exact. Next, it's got a built-in stereo microphone, so you can capture quality recordings without the hassle of external mics, cables, and stands. Being cable-free, you're able to take your acoustic guitar, voice, and BR-600 anywhere that inspires you, be it the beach, a mountaintop, or the corner coffee house. The only thing you need to connect to the BR-600 is headphones or earbuds to monitor the sound. Of course, if you wish to go more electrified, the BR-600 can be powered with an optional AC adaptor, and you can plug in your own mics and/or directly connect a pickup-equipped guitar—the choice is yours.
Silence is Golden
The BR-600 captures your recordings to removable CompactFlash (CF) media, and it comes with a 128 MB CF card. Additional CF media is readily available in various capacities (the BR-600 can use CF cards from 32 MB to 1 GB), and with the dirt-cheap prices I've seen recently, it's extremely affordable. When you fill up one card, just pop in another and you're good to go. Another cool advantage of CF media is that there are no moving parts involved; this means there are no whirring fans or mechanical noises to infiltrate your pristine acoustic tracks during recording.
Effective Effects

To sweeten your sounds, the BR-600 provides an abundance of BOSS effects. The insert effect (actually a multieffect with 16 different algorithms to choose from) can be used on live input signals or already-recorded tracks. As its name suggests, the ACOUSTIC GTR algorithm is great for acoustic guitar—it contains a compressor, EQ, delay, and an acoustic processor for making a plugged-in acoustic-electric guitar sound like it's been miked. In addition, chorus/delay/doubling and reverb can be used on the input signal and recorded tracks via two loop effects.
If you record vocals, you'll find the BR-600's Pitch Correction feature useful for automatically fixing any out-of-tune notes. And once you've recorded and mixed all your tracks, you can use the powerful Mastering Tool Kit to give your stereo mix that final bit of polish.
Rhythm and USB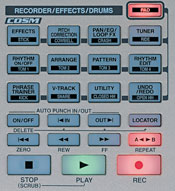 There's a full-featured drum machine built into the BR-600, with 327 different preset patterns covering a wide variety of musical styles. If desired, you can programs your own patterns—up to 100 per song—using the front-panel velocity-sensitive pads. For sound variation, patterns can be played using one of the nine preset or five user-customizable drum kits, and you can program different patterns to play in the desired order to create the perfect backing for your songs.
The BR-600 also features a USB port for connecting to a Mac or PC. The USB connection allows you to backup and recover BR song data, import and export WAV- or AIFF-format audio and SMF data, and more. (For an in-depth tutorial on exporting BR-600 songs to a computer and burning them to a CD—or turning them into MP3 audio files for web sharing—check out the BR-600 Workshop booklet Making a CD of Your Music with iTunes.)
A Solo Gig Companion
I've spent most of this article discussing how great the BR-600 is for recording songs with an acoustic instrument. But I'd like to mention another application that might not be readily apparent: using the BR-600 as a combination effects unit/backing machine/recorder on live gigs. With so many built-in features, it can replace multiple pieces of gear, and its small footprint and battery-powered operation make setup a snap.
Start by pre-recording some accompaniment into the BR-600, and then head on down to the gig or the local open mic. When it's time to play, plug your guitar into the GUITAR/BASS input and apply some tasty effects to sweeten the sound (after tuning up with the BR's built-in chromatic tuner, of course). Then, connect the BR's output to the PA system, start your backing tracks playing, and jam away. If the audience requests a song you don't have pre-recorded, no problem—just dial up a preset pattern from the BR's drum machine for some instant accompaniment. While you're at it, you might as well hit the record button and capture your performance for posterity; it might just end up on your next live performance CD!
The Perfect Mate
As you can see, the BR-600 packs a big punch in a small package, and I haven't even touched on all its features (digital track editing, anyone?). It's a breeze to use, but it goes deep when you want it to. And with a built-in stereo mic and battery power, it's the perfect mate for the acoustic musician on the move. If you like to play unplugged, check out the BR-600—it'll go anywhere you want to go.