Jacquie Aquines
BOSS Artist Profile
By Greg Rule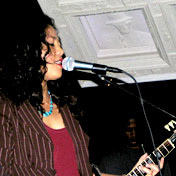 Think Survivor and The Apprentice for musicians … The reality-TV series The Entertainer, hosted by Vegas icon Wayne Newton on the E! Network, gave ten talented finalists a shot at a mega-buck contract on the Vegas Strip. In each episode, the contestants faced a variety of showbiz challenges, including impromptu performances before a jury of experts and live audiences.
One contestant who didn't advance to the final round, but who caught the eye of many viewers with her gutsy brand of original rock was Jacquie Aquines from Los Angeles. In her farewell episode, Jacquie dared to go against the grain and belt out her own song instead of a lounge standard. It spelled the end of her run on the series, but also marked the beginning of a new chapter for her as a solo artist.
Jacquie's journey to The Entertainer began at a cattle-call audition in Burbank, CA. "It was crazy," she laughs. "There were all kinds of interesting, kooky people there — singers, comedians, a guy with birds, magicians, a guy in a wizard outfit, you name it." When it was her turn to perform, Jacquie strapped on a guitar and proceeded to floor the judges with an original song. "Then they asked me if I could do any covers, so I sang 'Rio' by Duran Duran."

Based on the strength of that performance, Jacquie was invited to the final-elimination audition at the E! headquarters. "It was in front of a panel, and I was so nervous," she confides. "I froze!" But Jacquie quickly rebounded, and delivered a powerful interpretation of Gino Vanelli's "I Just Wanna Stop." A week later, her phone rang: "'Pack your bags. You're comin' to Vegas.' It all happened so fast. I got the call on Thursday, flew to Vegas on Friday, and started filming on Sunday. Not much time to prepare for anything."
One of the highlights of Jacquie's experience in Vegas was "being on the boards. Walking out onto that [Hilton] stage for the first time, and knowing that legends like Elvis, Barbara Streisand, Bobby Darin, Bill Cosby, Cher, and Wayne Newton had performed there. It has an indescribable energy. It lifts you. It makes you walk differently and carry yourself like a pro."

At the conclusion of the show, Jacquie returned home and launched a series of gigs at high-profile Hollywood venues such as the Key Club and House of Blues. For her live act, Jacquie relies on a BOSS DD-6 delay, DS-1 distortion, and TU-2 tuner. "One of the first things I bought when I got back to LA was the BOSS TU-2," says Jacquie, who took heat during her final Entertainer episode for having to tune her guitar onstage. "It's a lifesaver. I think every performing musician should have that pedal. Fiddling around with a hand-held tuner, having people hear you as you tune — forget it. The TU-2 is a must-have."
In the months ahead Jacquie plans to stay busy writing, recording, and even traversing Ireland with a film crew. Keep tabs on her activities at www.jacquieaquines.com.