Rich Eckhardt
On Tour with Toby Keith
By Greg Rule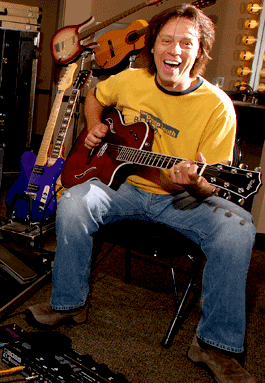 Road to the Big Time
Considering how many gigs Rich Eckhardt has under his belt, you'd expect to find a Willie-like road dog with a leather face, bad back, and pickled liver. But Rich Eckhardt, veteran of 2,000-plus gigs, exudes the youthful energy and happy-go-lucky vibe of a rookie. Halfway into the Big Throwdown tour with Toby Keith, Rich invited BOSS to an all-access tour of the Hyundai Pavilion, where the band was preparing to, well, throw down before a sold-out crowd.
And that's precisely what they did. Rich, Toby, and company blew through their 20-plus song set, and kept the crowd on its feet from start to finish.
Here's what we learned about Rich, his gig with Toby, and his many years of using BOSS and Roland guitar products.
• • • • •
Tell us about your musical upbringing in the Washington DC area, and eventual move to Nashville.
In DC, I was teaching guitar three nights a week, gigging on the weekends, and working in a music store during the week. I figured that if I wanted to find more opportunities as a professional player, I needed to move to LA, New York , or Nashville . So, completely by chance, I chose Nashville — moved there in 1989. I could have just as easily found myself playing in a pit band on a Broadway show, because all I wanted to do was play guitar. I had no preconceptions about being a country star, a rock and roller, or whatever. I just wanted to play music professionally, and it didn't really matter how I did it.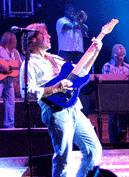 You had to possess serious country chops in order to succeed in Nashville, right?
The interesting thing about that is, I moved to Nashville primarily as a rock player. I figured, "Nashville is full of great country players, so here's a chance for me to stand out." My timing was fortunate, because I arrived when Garth Brooks was hitting, when Travis Tritt was getting hot, so people wanted guys who could rock, and the traditional country guys were becoming a little less in demand at the time.
Did it take long to make a name for yourself on Music Row?
There were a few dead ends in the beginning, but, as fate would have it, the very first time I opened up my guitar case and played a gig in Nashville was on the stage of the Grand Ole Opry. I was in town for seven weeks, and there I was playing at the Opry.
How did that happen?
I joined the musician's union, and people started calling me right away. One band that contacted me was the James Brothers, and something felt right about it. They were in the process of trying to get a record deal, and they had a gig booked at the Opry. They gave me a list of about 120 tunes. I think I only knew 12 of 'em [laughs] but they hired me anyway because I was excited about it, even though it didn't pay a whole lot. Also, I think that my fresh name helped get me noticed. People were tired of calling those same ol' names that they'd seen on the board forever.
That said, one thing I learned about Nashville was that it didn't matter what you'd done anywhere else. When you arrive in Nashville , you start over. What people are interested in is what you've done since you came to town.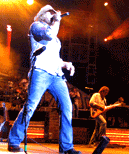 How far did you go with the James Brothers?
I was with them for about a year and a half. Just as things were starting to fall apart, I got hired by Eddy Raven, who had some great success through the '80s. So I came onboard in 1990, and took the rollercoaster ride down with him. It was still a great experience, though. We were mostly doing casinos, big clubs in Texas , and things like that, so it was a pretty good gig. It also taught me a lot about being on the road — preparing me for what I'm doing now.
Which leads us to Toby Keith. You joined him in 1998, just in time to take part in his rise to the top.
That's right, but it was a gradual process. When I started with Toby, we were usually the support act for someone else, like Reba or Garth. So I've been able to watch this thing grow to the point where it is now, where we headline everything. It didn't just happen overnight. It wasn't like getting "that big break" all of a sudden. It's been a gradual climb, and a nice one at that.
You've used a lot of BOSS and Roland gear throughout your career.
I bought my Roland GP-8 back in the '80s along with the FC-100 foot controller and EV-5 expression pedal. On the BOSS side I've used the SX-700 effects processor for years, the TU-12 tuners, TR-2 Tremolo pedal, CS-3 compressor/sustainer , OC-3 Super Octave, CE-3 Chorus, and SD-1 Super Overdrive pedal. I also got the GT-8 not long ago. Love 'em.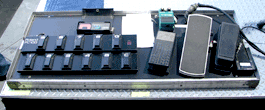 I've always gravitated toward the BOSS and Roland stuff, and have used it on everything I've done — in clubs, in stadiums, on Grammy-winning and multiplatinum albums. I've taken my rig around the world, and it's always worked flawlessly.
We just played the Stergus Biker Rally, and my pedalboard got soaked. It was pouring down rain. My tech didn't wipe it off before he packed it up, and it was a two-day drive to get to California , so this thing just sat in the truck with the water on it. When we got to the next gig, I took it out, cleaned it up, and there wasn't a thing wrong with it. Amazing, especially considering how old that pedal is — probably 20 years old — and the fact that it's never been in the shop.
As good a testimonial as that is, though, I still think the true testament to BOSS and Roland's quality is my 20 year of constant use doing sessions, demos, and over 2,000 concert and club dates and my gear fires up everyday and works perfectly.
You recently took delivery of a new BOSS GT-8. How's that working out for you?
When I was getting ready to go overseas, I wanted to be able to get my sounds together in one travel-friendly box, so I bought the GT-8. It's amazing. It does everything that you could possibly need it to do. Sometimes it makes me think, "Why do I have a refrigerator-size rack when I can do it all with this one little pedal, plug it into any amp, and make it sound awesome?"
Onstage with Toby, do you use a wide variety of patch setups throughout the show, or is it a simpler gig tone wise?
We've been averaging a 22-song set, and I go through about 18 sounds. Sometimes it might be an identical tone with a different delay, or with a harmonizer that I can bring in and out, but I'm definitely changing things to suit the character of the song.

How do your live arrangements compare to the recorded versions of the songs?
We tend to edge it up quite a bit onstage. We take what they did in the studio, and give it a lot of punch. Nobody has ever said, "You need to cop this part exactly from the record, or get this exact tone." I like to try to cop it as best I can, but I do like to put a little extra edge on it.
With so many tours to your credit, what advice would you give to players who aspire to do what you do?
If you're going to tour on this level, playing as many shows a year as we do, the whole "party on the road" idea isn't gonna work for you. You need to pace yourself. You can have a night here and there where you throw down, but otherwise you need to stay in shape and stay healthy. It's so easy to get sick on the road — one guy gets something, and it circulates through the bus, and before you know it you have five guys sick.
Outside of your gig with Toby, you have a solo album, Soundcheck, that's on the market now.
Thanks for mentioning that. People can get it from my website [ www.richeckhardt.com ] as well as in some stores across the country, and CD Baby is now carrying it online. It's all guitar instrumental, songs I wrote, and it shows a different side of what I do. Stylistically, it has flavors of Jeff Beck, Michael Hedges, Larry Carlton — I've had a lot of different influences, and that's what I tried to bring across on this record. The theme is, if you like the sound of the guitar, you're probably gonna like what's on this CD.
• • • • •
If you missed Rich on Toby Keith's 2005 Big Throwdown Tour, you can see him in action on the Toby Keith Unleashed DVD.
Live concert photography by Greg Rule.