Lincoln Brewster
For the Love of the Stompbox
By Greg Rule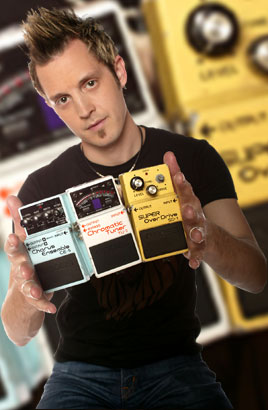 He's one of Christian Music's most inspiring new-generation talents, but Lincoln Brewster's rise to global recognition began in the pop mainstream over a decade ago. Barely in his twenties, Brewster — a gifted guitarist/singer/songwriter living in Modesto, California — was thrust into the pop spotlight by Steve Perry, the legendary pop singer from the band Journey.
"I'd made some instrumental guitar home demos," Lincoln tells us, "and I gave a copy of the tape to Randy Jackson, who was the vice-president of A&R at Columbia at the time. Randy gave the tape to Steve Perry, and Steve called me at home. It was surreal … he had my tape playing in the background, and said he really liked my music. He offered to get together, so I came down to LA." The two clicked, and Lincoln went on to collaborate with Steve on his solo album For the Love of Strange Medicine. He also joined Perry as guitarist on the subsequent world tour. "I feel like it was one of those things that was part of the preparation for what I'm doing now," says Lincoln. "I had no idea at the time, but it paved a lot of ground for me."
Today, Lincoln is spreading a musical message of joy and hope through his landmark Contemporary Christian recordings, as well as his high-energy live performances.
BOSS recently sat down to talk shop with Lincoln, and compiled the following highlights.
• • • • •
Do you recall when you got your first BOSS stompbox?
It was when I was nine years old, which is when I first started playing guitar. One of the first things I did was get a stompbox, and it was a BOSS Super Overdrive. In fact, it's the same one in the picture [above], which is why it's missing a knob and all banged up. I'm 34 now, so I've had that pedal for 25 years. My second pedal was a BOSS CE-2 Chorus, and then I got a BOSS phaser and delay. I became a huge BOSS fan.
How has your pedal setup evolved over the years? Did you ever get into an all-rack phase, or have you always been a stompbox guy?
I never got massively into the "rack thing," although I did have some gear in a rack at one period when I was with Steve Perry.
What BOSS pedals are you using today?
I'm having a custom pedalboard developed as we speak, which will include a [BD-2] Blues Driver, a Flanger [BF-3], a DD-3 Delay, and a Reverb pedal [RV-5].
There are many other pedals on the market. Why choose BOSS?
When I started playing with Steve Perry, I had some companies approach me with offers to play their gear for free, but I just don't use things I don't like … that I don't believe in. BOSS makes great products. They don't make junk. And they've been consistent since the beginning.
What do you consider to be the most indispensable stompbox?
If I had to pick one pedal for distortion tone, and I had my choice of any pedal out there, I'd pick a BOSS Blues Driver [BD-2]. And the other pedal I wouldn't want to be without is a delay, the DD-3.
Many guitarists are using the Roland Micro-CUBE guitar amps, which are especially cool for touring musicians' backstage warm-up rooms. Are you into those?
I am! I've had two of those for a year and a half or so. I went down to the music store, heard 'em, and I had to have them. Those are great little amps.
Do you have a studio at home?
Right now my main studio isn't at my house, it's at the church [Bayside Church, Granite Bay, CA ]. I intend on doing a smaller-size setup at home eventually, and I also want to take something on the road to write and record with. I'm definitely interested in the portable recorders that BOSS makes.
The new MICRO BR is the smallest multitrack BOSS has ever built, yet it's packed with features, such as a built-in drum machine, effects, etc…
Oh, man. That sounds cool. That'll probably be what I bring on the road.
You achieved many great things with your music thus far. Is there something that stands out as your proudest accomplishment?
It's really about waking up each morning and asking, "How can God use me today?" I love music, and it's a beautiful gift that God gave mankind … even the ability to appreciate it and be moved by it. But for me, it's a calling. At the end of the day music is a tool to positively impact peoples' lives. Just the fact that I get the opportunity to be used the way that I have is the most special part of it for me.
• • • • •
If you haven't experienced Lincoln 's music, you might want to start with the song "All For You," which is the title cut from his recent live album. "It encapsulates a lot of stuff for me," says Lincoln of the song. "The lyric kind of sums up my attitude about life … about being a living sacrifice for God. Giving your whole self…. Musically speaking, there's a long section in the middle of the song where I had the chance to cut loose. It's great to be able to innovate when you have the chance, and it's not every day that you can come up with new stuff. So one day we were jamming and I couldn't figure out what to do, so I started playing the guitar like a drum while using the wah-wah, and that's become somewhat of a little signature thing guitar wise."
For more info on Lincoln's past, present, and future, visit him online at www.lincolnbrewster.com.