Steve Rutledge
BOSS Rules Country Music
By Tiffany Schirz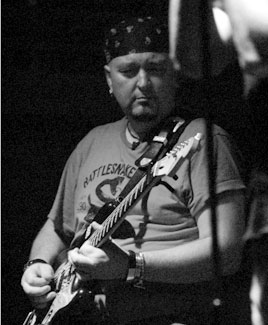 After losing his home and most of his gear to the floods in Frankfurt, Kentucky back in 1997, guitarist and producer Steve Rutledge took a chance and moved with his wife to Nashville. Luck was on his side this time, and soon he found himself on tour with some of country music's biggest names, as well as producing up-and-coming artists in his own studio. These days, he's busy as the touring guitarist and bandleader for #1 Billboard country artist Steve Holy. Rutledge is an avid BOSS user, and we caught up with him during a break from his touring schedule. Here's what he had to say.
How did you get started in the Nashville music scene?
I started playing guitar when I was five, and I played bar bands and different groups throughout the years. In Nashville, I started playing a lot of writer's nights, playing guitar and singing background vocals for a lot of different artists. My first label act was offered to me in '99, and I went on a stint with Michael English, who is a Christian artist. I played lead guitar. After that, I came back and started doing a lot of producing, and about 2.5 years ago, I got a phone call from a friend who was playing for Steve Holy to fill in as lead guitarist. A month later I was asked to be a part of the band, and then I became bandleader.
Tell us about your history with BOSS pedals.

In the flood, I lost all my pedals. I had a CS-2, which I loved. Now I have a CS-3 (Compression Sustainer) which is the best pedal for chicken-pickin.' I use the NS-2 (Noise Suppressor), and it's great because I use a lot of single-coils when I'm playing, and they have a tendency to be noisy. So I can use the NS-2 and no matter how close I am to my amp, it knocks out all of the hum. I can't say enough about that pedal!
I'm using the BD-2 (Blues Driver) for my overdrive, and it's very versatile. If I want a blues sound, or a country sound, I can get it. It's probably the best overdrive that's on the market right now.
Of course, I use the TU-2 for my tuner. I always have it on. And the DD-6 (Digital Delay) is phenomenal. It's got the tap tempo built in, where you hold down the button for a couple seconds and it automatically goes into tap mode. I think that's genius. Kudos to the engineers who designed that!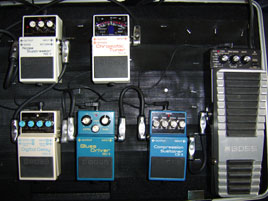 I'm also using the PW-10 (Power Wah), and I have been so impressed. The Power Wah is amazing because it also has a drive mode on it, so you can use it as a distortion pedal. It really has this Satriani-type sound to it. So if you're doing more rock-based stuff, it's a great pedal to put in front of the blues driver. Also, the Wah on it lets you adjust your frequency, which is incredible, and the Uni-V vintage rotary sounds are great!
I do a lot of acoustic work, and whether I'm doing acoustic or electric, I always use my pedal board. I use overdrive on my acoustic a lot for soloing. So I can play rock or whatever else on my acoustic. Another trick I'm using is an unwound G-string on my acoustic, where you can bend the strings more than normal.
You produce a lot of artists, so let's talk about recording. How do you get the sounds you want?
My setup in the studio is the same as when I'm on the road. I use all the BOSS pedals religiously!
Do you record your effects live, or do you add them after the fact?
It depends on what kind of sound I want. If you add effects in the front, then you can't take them out. I'll usually take a second line without the effects, so that way you can choose between the effects.
What have you learned from touring?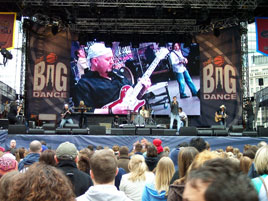 One thing I've learned is how reliable the BOSS pedals have been. Several years ago, I used to use rack stuff. But I switched back to pedals because you can't rely on the digital interfaces to work unless they have a certain amount of voltage. Whereas with the BOSS pedals, I can throw a battery in them and I'm ready to go. The reliability of the pedals I use has been 100%.
What advice would you give to up-and-coming guitarists?
Number one: always remember that when you think you're getting good, there's somebody better. So never stop practicing and learning. Number two: I'd recommend a BD-2, a DD-6, a CS-3 and a volume pedal for starters. You'll never want to be without these pedals!
For more information on Steve Rutledge, visit www.steel-string.com, and for Steve Holy info and tour dates, visit www.steveholy.com.