Michael Ward
Life of a Wallflower
By Paul Hanson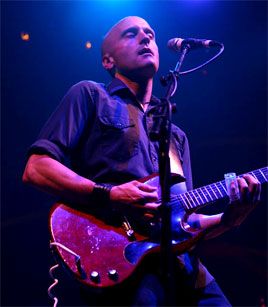 The following is an excerpt from a recent BOSS Tone Radio podcast hosted by Paul Hanson. Paul interviewed guitarist Michael Ward, who talked about how he gets his fat guitar sounds, playing with the Wallflowers, and more.
Paul Hanson: From the beautiful Hollywood hills of California, we have Michael Ward on the line. Michael has done the shred thing, but he's had incredible success with huge bands by playing the right part for the song. Michael launched onto the scene in the '90s, with his band School of Fish, and after that he became the guitar player for the Wallflowers, whose album "Bringing Down the Horse" was four times platinum, and won a couple Grammys.
Since then, he's been busy with different projects, recording with John Hyatt, Ben Harper, and many more. You can check out www.wardworldwide.com for more info.
PH: Michael, what are you up to these days?
Right now, I'm touring with Ben Harper in Australia. Ben is most famous for his lap steel guitar, and now he's branched out into more of a well-rounded singer-songwriter. Really accomplished guy and great musician.
You've played with so many bands — there are 30 different CDs on your website. How do you get so many great gigs?
I've been really lucky. I'm so thrilled to have played with so many awesome artists. Right after School of Fish, I was lucky enough to play with John Hyatt. And that was my first gig more or less as a side-man. But somehow that became more my livelihood. As much as I'm always itching to create and write music, there's a great sort of anonymity of just playing guitar for somebody, and you just show up and play the best you can, while traveling the world and making records. And there's always been one person or scenario that connects one gig to the next.
On School of Fish's track, "Three Strange Days," there's some weird stuff going on there. That intro is so freaky — do you remember what you did?
Absolutely, because that was back in the days when you had to actually flip analog tape over to do backwards stuff and then record it, and then flip it back again. For that cut, we knew we wanted to do that, and I had just gotten this Demeter amp (James Demeter), and Josh and I did the chords together and did this backwards trip on it. Live, it was pretty hard to recreate that, so we would actually do it with a couple BOSS delay pedals (the DD-2). It would get us pretty close.
Is there any favorite gear you've used over the years?
The Demeters have been a mainstay for me — I've got about four or five different configurations for them. They're all heads and I use various cabinets — I use 75 and 100-watters. I use 100-watts with Ben with a Demeter 212 cabinet. You get a lot of headroom, a lot of power amp kind of thing just driving two speakers.
When I was in the Wallflowers it was more tricky, because I almost had to play against my instincts — their sound was more like a Vox AC-30 and Telecasters, and I was always such a Gibson rockin' humbucker kind of guy. We had a lot of big success, but there was a lot of second-guessing for me — really a lot of experimenting.
How was your experience with the producer of that (Wallflowers) record?
They called me as a session guy. It was T-Bone Burnett, who is a great musician. His people called me, and what's really funny is that I had just finished playing with John Hyatt, and I had decided to start my own band. About a week after I got home, they called me, and I said "I'm really busy right now, and I don't think I have time." I wasn't busy! [laughs] I guess they want to hear that in LA, because they called me a few weeks later and said, "do you have time now?" I started playing and T-Bone liked what I was doing, and he was really cool. And about the second day of recording, Jakob Dylan asked if I would join the band. And again, I said, "no thanks," but they just kept asking me. I tried so hard to turn down what turned out to be the biggest band I've ever been in!
Can you talk about the guitars on "6 th Avenue Heartache?"
That slide guitar is Mike Campbell from Tom Petty's band. They had already recorded that, and just needed some guitars around it. A lot of times you show up on a session, and you're not the guy hitting the ball out of the park, you're more the support player.
Playing at Grammys, you didn't look nervous. What was that like?
In that band, we did so many shows like that — there were a lot of cameras in our faces all the time. Some of it was nerve-racking, but you've played the songs hundreds of times. It's such a rush of adrenaline, there's almost no time to get nervous in those situations.
On John Hyatt's "Perfectly Good Guitar," your leads are so great, but those big fat power chords you do especially well. Are there any other BOSS pedals you've used?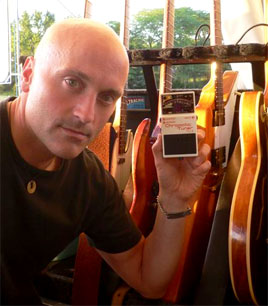 The mainstay, the silent assassin is the TU-2 tuner. I'm a tuning freak! Let's just say a wise teacher-friend of mine at G.I.T. taught me the importance of staying in tune all the time. [both laugh] You really trained me to stay in tune all the time. So anytime I get a little break, you'll see my foot hit that pedal, and boom — I'm checking the tuning. You mentioned big chords — I don't think anything sounds powerful and meaty if it's not in tune, and if it tweaks your ear because it's out of tune, it's not happening. Listen to AC/DC, that stuff is in tune and locked with everything.
Do you use harmonics?
Sometimes, yeah. A lot of times I'll tune specifically for the song if I'm doing open chords or chords higher up on the neck, because you know intonation is never 100% all over the guitar. Harmonics tend to be good for getting a clean read.
The first pedal I ever got was the old BOSS chorus, the CE-2. I'm sure I got it because I wanted to sound like Alex Lifeson or something! The 80s chorus sound was classic and pleasing, you have to admit.
Michael, any milestones you're proud of?
I was really proud to be in my mid-20s and get my band signed to Capitol records. That seemed like big time to me. When that band folded, I was really honored to play with John Hyatt and the Wallflowers. No one knew how huge the Wallflowers were gonna be — in fact, they were dropped from their old label.
I also played with this singer named Shelby Lynne a couple years ago — she's just a phenomenal artist. I just think she's so great, I was happy to be a part of it. Ben Harper, he's got a strong base and we tour the world, and it's great.
Ben Harper's "Waiting For You" from the album "Both Sides of the Gun" — can you tell me about this song?
I wrote the tune and had a demo of it. He loved the song and we recorded it. Six months later I was playing the song at a soccer game, and 6,000 Italians were singing along to it. That kind of stuff is just magical.
Do you still have your basement studio? Still using Roland VS recorders?
Oh yeah. In fact, I just used them a few weeks ago, on the road. I started with the 880, and eventually got the 1680. I've always just loved those things. They're super clean sonically, and never ever crashed on me, ever. No glitchy things at all. You know how it goes in a Pro Tools session, there comes that moment when the engineer says "Uh, take a break for a while, I gotta re-boot, I don't know what's going on." [both laugh]
I remember you used to have had several baritone guitars.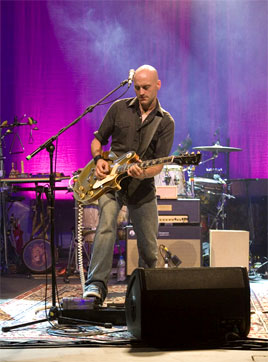 Yeah with the second School of Fish record and onto the Hyatt stuff. A lot of baritone guitars have been clean and twangy, and I said to my good friend Danny Farrington, "let's just make a beast." So we mounted some old Gibson pickups. This one I have is amazing, it's tuned a fourth lower than standard from B to B, but it's six strings. They're a workout, but the sound is unbelievable. I used it on the Avril Lavigne record ("Under My Skin"). The low B string is a 72, and the high B string is a 16. They're like piano wires! You cannot bend strings on it, but if you wanna hit big beefy power chords, this is it.
I also notice a lot of classic effects these days in your tone. Tremolo, Leslie speakers…
I've always been a tremolo fan, but the Leslie sound was a big Wallflowers deal. The fun thing is, all this stuff kind of cycles around. I've been playing for 30 years now, and you go through phases, you think, "this is it, this is my sound forever," but then 10 years later, you might be onto something different. It's fun to experiment with sounds and approaches.
What do you use for tremolo?
Demeter himself always made a really good tremolo, and I have a BOSS one in the rig right now, and it's amazing — the TR-2.
You are totally into bicycling. Tell us about the book "Mike and the Bike."
We referred to my fanatical cycling. It started in '91. I just got on a bike, and I fell in love with it. I got fit, and turned around this new leaf in my life. In the Wallflowers era, I met Lance Armstrong, and we became friends and I started training with him. I still ride 50 or 60 miles per day — a little less competitively. The bike still goes everywhere with me. Then my son was born, and I figured out I wanted to make a children's story. I have a great illustrator/musician friend Bob Thompson, Lance agreed to do the foreword, and Phil Liggett, the British TV commentator narrates it. The book comes with CD, you get music that my son sings, and it's just a really cool little package. You can check out www.mikeandthebike.com. It's available at all kinds of bookstores, too. And I recorded all the narration on the 1680!
Thanks for being on BOSS tone radio.
I gotta say, I'm on the phone here with Mr. Paul Hanson, who played a huge role in turning me into a guitar player who could make a career out of it. I came into GIT, and I can't thank you enough.
Visit BOSS Tone Radio to hear this interview.