The 2012 BOSS Loop Station World Championship
Loopers from 12 Countries Battle for the International Title in Frankfurt
By Peter Swiadon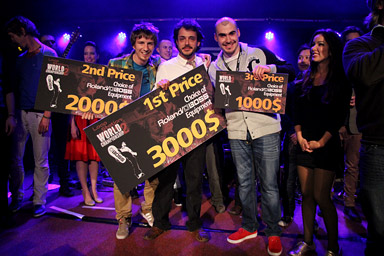 On March 21, 2012, looping fans packed the popular King Kamehameha Club in Frankfurt, Germany, to witness the international finals for the second annual BOSS Loop Station World Championship. At the event, 12 of the most talented and original looping artists from around the globe competed for 6,000 Euros worth of BOSS and Roland gear. Every contestant was a winner of a BOSS Loop Station competition in their respective country in 2011, which earned them the opportunity to compete at the grand finals during Musikmesse, the huge music industry trade show held each year in Frankfurt. Gathering together from places as far away as Brazil, Japan, and Russia, these inventive musicians all have one thing in common—a passion for creating highly original music using BOSS Loop Stations.
Looping has become a very popular avenue for performing, due in large part to the development of BOSS Loop Stations. With loopers, musicians can record what they're doing on the fly, and use these recordings as parts of songs during live performances. They can also add additional recordings to further embellish their music, such as vocal harmonies, rhythmic textures, and chord accompaniment for supporting solos.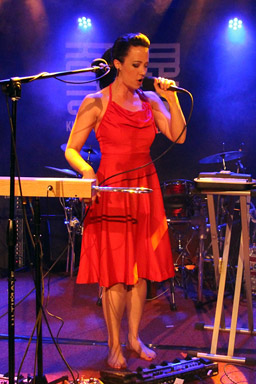 As any of the 400-plus attendees at the championship event can attest, looping can be a wildly creative medium. The finalists used everything from traditional instruments like autoharp, cello, flute, and trumpet to beatbox-style vocals, theremin, thumb piano, sand-filled bottles, and even a computer keyboard played like a rhythm instrument to incorporate an incredible variety of musical textures into their loops.
The evening was hosted by well-known local rocker Henning Wehland, and featured a guest performance by hip-hop artist Samy Deluxe. Samy also manned a seat on the judging panel beside looper extraordinaire Rico Loop, percussionist Michael Schack, and guitar virtuoso Alex Hutchings.
The finals opened with Henning welcoming the audience and contestants in both English and German. He also explained the contest, and worked the crowd to get them fired up and ready to rock before introducing U.S. finals winner Angela Sheik, the evening's first contestant. Angela delivered a very eclectic performance, utilizing autoharp, flute, and vocal effects to support her original composition. In a very unique touch, she played a theremin not for its typically eerie sounds, but as a control filter for her loops. Going first, her impressive presentation set a very high bar for the following contestants to measure up to.
The night rolled on with loop artists representing countries from all over the world, including Italy, the Czech Republic, the UK, Brazil, Japan, Russia, Germany, France, Spain, and Canada, and their performances were as diverse as their homelands. Several of the loopers performed mostly or entirely without instruments, using only their voices for rhythmic beatboxing and other sounds. In fact, this highly popular style was performed by the top three loopers chosen by the judges: Third Place winner Vakhtang of Russia; Second Place winner Ondrej Havlik (known as En.Dru) from the Czech Republic; and Grand Prize winner Tioneb of France, whose stunning performance won him the title. Using only a BOSS RC-300 Loop Station and his voice, Tioneb created an amazing array of sounds and textures that could not be produced in any other way.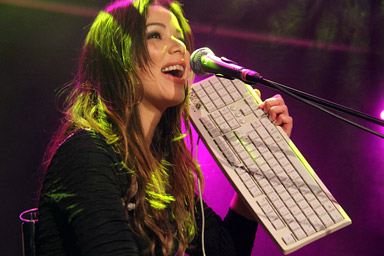 After the contestants finished their performances, Samy Deluxe took the stage and delivered his trademark German hip-hop experience while the other judges finished their deliberations. To end the night, Kaz Tanaka, President of Roland and BOSS, delivered a short speech and thanked everyone for their participation before announcing the winners and presenting their awards: €1,000 in gear for Third Place; €2,000 for Second Place; and €3,000 for First Place. Kaz also recognized the Brazilian contestant, Liah Soares, with a special award for her inventive use of a computer keyboard much like a guiro to create rhythms during her performance.
For loopers in the United States who feel they have what it takes, the third annual BOSS Loop Station World Championship runs from June 1 through August 31, 2012, with the U.S. finals to be held once again at Musicians Institute in Hollywood in October. The world finals will take place next January at The House of Blues in Anaheim, California, the site of the first international contest, during America's biggest yearly music business convention, the 2013 Winter NAMM Show. For entry and contest rules, go to www.BossUS.com/LoopStation. Good luck to all!