JB Brubaker
August Burns Red
By Paul Hanson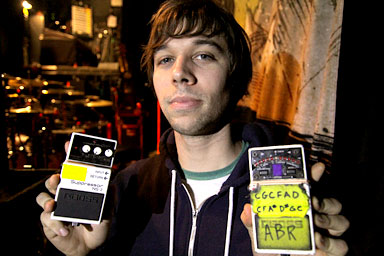 JB Brubaker is the lead guitarist and primary songwriter for August Burns Red, one of the heaviest metalcore bands around. Hailing from the small town of Manheim, PA, the young group has a deceptively clean-cut look for the genre, yet they unleash a slamming sound punctuated by rhythmically precise playing, heavy breakdowns, and odd-meter riffs. Since signing with Solid State records in 2005, they've recorded four albums, gaining steady momentum with each release. Leveler, their latest, recently topped the Billboard U.S. Hard Rock chart.
For Edition 31 of the BOSS Tone Radio podcast, I talked with JB about his band, their unique recording process, and the wide array of BOSS pedals he uses in his rig. To listen to the complete conversation along with music clips, visit: www.BossUS.com/Podcasts.
The following is an excerpt from our discussion.
So August Burns Red got started in 2003?
That's right. I'm one of the original members. There are [two other] original members left: our drummer Matt Greiner and the other guitar player, Brent Rambler. Brent and I were good friends in high school; he was a year behind me, but we were buddies coming up. And Matt, he was home-schooled, so I really didn't know him. A buddy of his worked with me at the local grocery store. I met Matt through this kid, who actually was our original bass player (he quit in 2006). We all just had an interest in heavy music and stuff.
What age did you start playing guitar?
I started playing at 18. I bought a guitar as a graduation present for myself after I finished high school.
Wow! You started a little bit late. Did you learn songs like "Sweet Home Alabama" and stuff like that?
[Laughs.] No. I was way into punk rock at the time, and that's what I started out learning—four-chord punk songs. I started out [with] power chords, not the open [chord] G-C-D stuff. I was bad at everything for the first two years I played. It wasn't something that I was very serious [about] at the time. I enjoyed going to shows and listening to music, but I was pretty bad at playing it for a while, which is normal when you're starting out on an instrument.
Are you in your twenties now?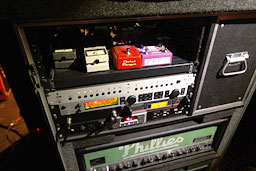 Yeah. I'm 27.
So you've really only been playing guitar for nine years.
Yeah. Nine years. You'd be amazed at what you can accomplish in nine years, I guess. [Laughs.]
No kidding. You're obviously very good. Do you feel like you had natural talent, or was it pretty much hard work to get to where you are?
I think it was more work. I think I had natural talent as far as being able to come up with guitar riffs and writing songs and stuff. I'll always say that I'm a better songwriter than a guitar player. I feel like I'm much more creative [at that] than getting down on the guitar and shredding. I've gotten better and better as the years have gone on, but I still look at some of my peers who play in metal bands, and I'm like, "Geez, these guys can play circles around me."
You recorded Thrill Seeker, your first album, with Adam Dutkiewicz from Killswitch Engage. Can you tell us about that?
Recording Thrill Seeker was good experience for us. We had never done a real record before, and working with a producer who was interested in shaping our songs was also very new to us. We did the whole pre-production thing with Adam, where he sat down with us and scrutinized our songs. I'm very grateful we did that, because we really didn't know what we were doing as far as songwriting and stuff. We were kind of figuring all that out.
Adam helped us get the songs into a better place, and we were amazed at how meticulous recording is. We hadn't grasped that at all up until that point. And, it also made me realize how much better Brent and I needed to get at guitar if we were going to continue to try to make a career out of this.
You're kind of regular-looking guys, and you don't really stand out. I heard that you went to meet Adam at the airport, and he couldn't find you.
Yeah, I think he might have walked right past us. We were holding up a sign for him to find us. He said he was expecting a bunch of guys with long black hair, black pants, and black shirts—that whole cliché metal thing. But we were probably dressed in cargo shorts and J.Crew polos or something. I don't even remember.
[Laughs.] I think it's cool that you dress like casual, regular guys.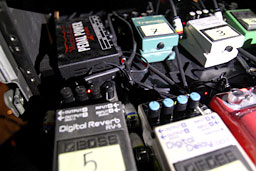 Right. We didn't want our music to dictate our style of dress, because none of us ever dressed to the scene that we're involved with. We just thought that was kind of silly.
Now Jason Suecof is your producer. He's also produced Trivium and All That Remains. What's it like working with him?
It's a rollercoaster. We get along with him great, but he drives us bonkers at the same time. We're always chomping at the bit when we come to [do a] record. We write everything and have our songs down solid before we go into track them. We're pumped, and can't wait to hear the stuff come together, and Suecof will be like, "Relax. Let's sit down and watch cartoons for a few hours." But once you can get him on track, it's great. He has good ideas and a great ear. He knows music very well. He's very intelligent when it comes to songs and music theory and all that stuff.
Can you go through your recording process?
We always do drums first. I tab all of our music out in a MIDI program called TabIt. So instead of actually recording scratch guitars, [our drummer] Matt records while listening to these MIDI tracks. We've been doing that since we first started writing songs. So, that's something we're very comfortable with at this point as a band.
Do you think that helps to make the perfection of your music? Everything's very tight and precisely played.
I definitely think we're very mechanical as far as that stuff goes, and that might be a result of me spending so much time in front of the computer with my guitar in my hand. I draw every note exactly on the grid so it sounds right with the click track. That's very time consuming, but it gets the songs perfect—every hit's there. I think it has helped us to analyze and scrutinize every single note and beat that we're writing.
After the drums are captured, do you guys do the guitars and bass together?
We do drums, and then we actually do rhythm guitars. Bass usually comes after we're all done with guitars, unless we're on some sort of time crunch. We finish all the guitars, including our overdubs and clean [sounds], and then we do bass and vocals at the same time. Jake will spend a couple of hours doing vocals, and then Dustin [Davidson] will come in and do bass the rest of the day.
Let's talk about gear. You play Ibanez guitars?
Yeah, I have a whole bunch of 'em. I've been playing my green one pretty regularly over the past 18 months or so. I'm pretty fond of that one.
Does it have EMG pickups?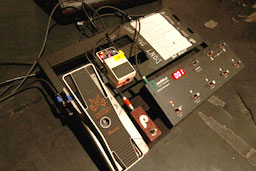 Yeah—it has an EMG 81 in the bridge and an 85 in the neck.
You used to have a pedalboard, but now your pedals are racked up in a drawer.
Yeah. I have 'em racked up in my road case.
You have a bunch of BOSS pedals, including a TU-2 Tuner, TR-2 Tremolo, and a DD-7 Digital Delay. On the DD-7, do you use the regular digital delay sound, or do you use the analog or modulation delays?
I wish I had it in front of me right now so I could tell you. I've definitely used the modulation [setting] before, but I don't believe I have used the analog setting. I think I actually do use the modulation on a regular basis.
You have an NS-2 Noise Suppressor. Do you put that before the delay?
I run my delay, tremolo, and reverb [pedals] all through the effects loop, so they're not even in the same chain with my noise gate.
So the NS-2 is after the guitar?
That's correct.
You have an RV-5 Digital Reverb. Do you use that for clean things?
Yeah. I use that on my clean [sounds], and I also use it on my lead stuff on my lead channel.
For the delay, I notice you have an FS-5U for tapping in the delay rate. Do you tap in the delay time for solos?
Definitely. I'm actually in the habit of tapping in the tempo every time I switch on my delay. It's something I've become really obsessed with doing. I don't know if it would even be that noticeable out front to the audience, but I want it to be perfect.
I think that it's noticeable. On just about every record, the delay's in rhythm. One of the nice things about the DD-7 is that you can tap in the tempo even when the delay is off. Do you do that?
Definitely. I tap in the tempo before I switch it on all the time. I'm seldom tapping if the delay is on; I like to get it set up [ahead of time].
I heard that you use the RJM Rack Gizmo to switch effects in and out.
Yeah, it's called the RG-16. That's the MIDI interface, and I use the RJM MasterMind MIDI switch pedal to control all those pedals I have up in my rack.
The RG-16 basically has a whole bunch of audio loops, and you insert the pedals in those loops. Then you save combinations and orders of pedals as presets?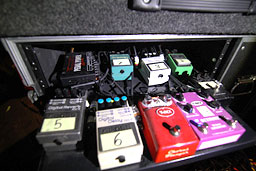 Yeah. And, it's really cool that I can control the channel on my amp as well. With one button, I can completely change my tone and my effects pedals that are on and active.
You have two Peavey 6550 amp heads. You have a green one and a red one, and they both say Phillies on them.
Yeah. [Laughs.] I'm a big baseball fan, and I like to show it off I guess.
What tuning and string gauge do you use? Metal bands that use low tuning all have a different approach.
We tune to drop C, which is C-G-C-F-A-D. It's essentially drop D, only a whole step down. I use D'Addario strings; I play .010-.052, which I think is generally lighter than our peers would be playing. I feel like a lot of guys are playing like .060s on the bottom and stuff like that.
I don't play that hard. I don't think my right hand hits that heavy, and I certainly don't have issues like hitting my strings out of tune or anything with the gauge I'm playing. And, I like having lighter stuff on top so I can bend my notes.
Do you have any more thoughts about BOSS gear?
I've been using BOSS stuff for years and years now. The first tuner I ever bought was the TU-2. I bought it when I first started playing guitar in 2003, and I am still using the same TU-2 tuner. I have taken this thing all over the world and it's never broken. I find that pretty remarkable, considering how many times it's been ripped on and off pedal boards and thrown around in suitcases by baggage claim people at airports and stuff.
Do you have any advice for guitar players?
I have advice, but it's terribly clichéd—if you want to become a great guitar player, you'll get out of it what you put in, and you have to put time in. It's not going to come overnight, and I've learned that first hand.
Learn more about JB and the band at www.augustburnsred.com.