Steve Lukather
The Guitarist of Record
By Paul Hanson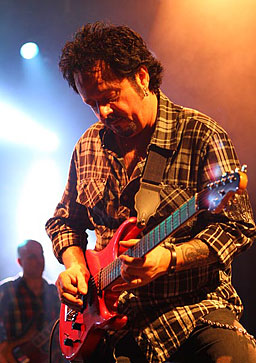 Guitarist, singer, producer, and songwriter Steve Lukather possesses one of the most impressive resumes of any musician in the modern recording era. With decades as a highly sought-after session player for the biggest artists in the music business, he's possibly appeared on more hits than any guitarist in history. On top of that, Steve also founded the GRAMMY®-winning band Toto in the 1970s with fellow virtuosos and high school buddies, and the band is still rocking today.
The number of recordings that Steve has played on is simply staggering, tracking for major names like Michael Jackson, Cher, Michael McDonald, and Paul McCartney, just to name a few. At www.SteveLukather.com, you'll find a partial discography, listed in fine print that seems to go on for days.
I caught up with Steve on the phone one L.A. morning after his daily three-mile jog and early morning practice session, and we discussed the long, wild ride of his guitar career. To listen to our complete conversation and clips of Steve's music, visit: www.BossUS.com/Podcasts.
The following is an excerpt from our talk.
I heard that when you were a kid, your mom won a piano on the TV game show The Hollywood Squares. Is that true?
It's true. I still have that piano. It's in my garage. It's a little spinet piano. I taught myself how to play on it. All my early studies of piano orchestration, harmony, theory, songwriting, and just learning how to play the piano was on that thing, so I kind of kept it as a little self-museum piece or whatever. I just wanted to keep it because it's where it all started, and maybe I'll give it to my little kids. I have two generations of children, from 26 [years] to six months old.
I understand that your son is a guitar player.
My son Trevor is 24, and he's got a killer band right now. They're going to London to start their pre-production stuff with Jack Blades' son, Colin, and Elvis Presley's grandson, Ben. They've got some killer tunes and they're young, good-looking kids. My son plays great; he's really coming on. He's a great songwriter, and I'm really proud of him. We've worked together—he played on my last record. He's going to come out and jam with me and Toto this summer. He's a lot of fun.
You and I are about the same age, and we're both huge Beatles fans.
That's where it all started. Who would of known when I was a kid listening to Meet the Beatles and starting to play the guitar that I would actually work with Paul McCartney and play with George Harrison and be his friend and stuff like that? It was surreal.
Some of my most fond memories…I've got some great photos and things that I keep in my office, and I just go, "Wow, I actually did that." To come full circle like that was amazing. And talk about two of the most lovely, humble, nice, normal people. I've worked with every major star…or not every, but a lot, if you look at my discography…there were no bodyguards around these guys. If there were, they were very hidden, no goons. You know what I mean?
[George would] drive over to my house in kind of a beat up old car. Somebody would drive by and go, "that looks just like George Harrison." Except it was, you know? [Laughs.] He'd just show up at my house, no bodyguards, like, "Hey, how's it going man?" We'd go out to dinner, and it would just be us. You know, sitting at a dinner table with Bob Dylan, George Harrison, Jeff Lynne, Jim Keltner, and I'm sitting there going like, "If my friends could see." I'm sitting in between George and Bob, and I'm going, "You've got to be kidding me, man." I was sitting between two heroes.
Do you have a favorite Beatles album?
Well, Sgt. Pepper's kind of changed the world. But I like them all. The first Beatles album is what hooked me: Meet the Beatles. You know, I have that CD in my car.
I've got to tell you something though: some records should not be made into CDs. There's something about the vinyl; it was meant for vinyl. And when you stick it starkly on a disc, it kind of points out any little flaw. You've got to understand, these records were made in 1963-64. Technology was [vinyl records in that era]. [Digital] takes the warmth away from it, so I prefer the vinyl versions.
But [Meet the Beatles] was the "on" switch to me, and probably every other musician my age. That was the "on" button that changed the world, the shot heard around the world.
For me, too.
The music holds up too, man. The music is still great. The songs are still great. You know, we live in the Internet era, and some young kid might say, "The Beatles suck," or "Hendrix is no good man, he's overrated." How can you possibly know? They don't understand that, in 1968, it was like aliens landed in our back yard the first time we heard Jimi and Beatles' Sgt. Pepper's and stuff.
You had to live there to really experience it. For people our age, we know the impact that it had. It was like otherworldly music that seemed so unattainable. It was scary.
When you were young, you took lessons from Jimmy Wyble.
Yes. That's true.
He wrote method books that dealt with complex stuff. I guess you probably didn't learn Jimmy Page licks from him.
Jimmy [Wyble] taught me how to read [music] and stuff like that. You know, I was really a 14-year-old raw kid. I'd been playing since I was seven or eight years old, but I was a rock and roller. I had a really good ear and could play rock and blues, and I could learn stuff off records. But he said, "We're going to break you all the way down."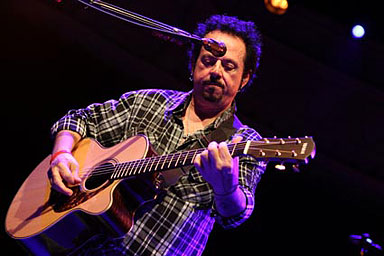 That was difficult for me, because I wanted to get out and rock. But he wanted to teach me the ropes, and I had to be very, very focused. And because my ear was good, he'd play something for me, and I'd have to read it. But I'd use my ear, and he'd go, "You're cheating." So what he would do is give me a lesson, hand me the music, and then I'd go back the next week and he'd hand me a piece of music that was different but at the same level.
So you'd have to read it.
Learning how to read music after you can already play [is hard], especially for guitar players. It's one of the few instruments where you can play the same note in five different places. [On] a piano, Middle C is Middle C. On a guitar, Middle C is like one, two, three, four different places, five if you really stretch it. Plus, [the tuning] is in fourths and then a third. I mean, guitar is the most [messed] up instrument in the world, and that's why guitar players are generally not that great of readers.
I've read that you've played on over 1500 albums.
So they tell me. I would say a thousand, blindfolded. I've been doing this for 35 years, so it's not like I did that overnight. There's a partial discography on my website [www.stevelukather.com]. You know, there's [also] a lot of things I did under the radar, overseas and stuff like that, hundred of records that aren't on there.
In the '80s, you were on virtually every hit record.
Well, I played on a lot of hit records, a lot of ones that people don't realize. People don't realize that Toto was pretty much the house band on Michael Jackson's Thriller record. I was on the Album of the Year three years in a row: The Dude (Quincy Jones), Toto IV, and Thriller. That's not to mention 50 or 60 nominated records.
I'm still playing guitar, I still have a career 35 years later. I'm booked up well into next year, and I've got a lot of new things on the rise. I'm healthier than I've ever been—I quit drinking and smoking, and I'm back in the woodshed [practicing]. I've got all-new gear. I'm building my new Luke III guitar. I've got a couple of Bogner Ecstasys, and I've got a small stompbox pedalboard, no racks…very organic. I use a cable [no wireless system].
I use a lot of BOSS stuff. What I do in the studios now is I carry a bag. I don't really take a pedalboard; I bring a guitar and a little bag full of pedals. And BOSS is always a major part of the trick bag when I'm on a session. I don't really use much anymore. I'm pretty much more of an organic guy.
Do you have any favorite BOSS pedals?
The delay pedal is really a great one, and also your chorus pedals. I'm never good with the "DS-598" or whatever [model name] is. I never read manuals—the easier it is to look at and work, the better for me.
I have 'em all, I use 'em all, and you know what? I buy them! They don't give 'em to me. I always go out and buy stuff that like. Whenever I've been hung up, I go, "Just give me a BOSS delay, and you know, one of those old chorus things." But I really don't use chorus anymore unless I do something radical.
The delays have a good sound. I put [them] through the effects loop. It just gives it a little depth; I'm not using it to be outrageous with it. It just gives [the sound] a little depth without squashing the notes and what you're trying to do.
Do you use the BOSS TU-3 Tuner, the floor pedal?
That's a great little unit. I always use [the TU-3] in the studio.
I heard you used the Roland Space Echo back in the day.
Oh, back in the day, sure. Unfortunately, I sold it.
When I was about 19 or 20, I remember hearing "Hold the Line" (Toto's first hit) in a stereo store.
Oh, that had a Space Echo on it. I was 19 years old when I did that.
Those guitars sounded so huge in the stereo store.
[Laughs.] That was the intent. I tripled those guitars. Back then it was a big deal. Nowadays, everybody [uses] six guitars on each side. Believe it or not, that was my '71 Les Paul with deluxe pickups, [the small humbuckers], through a Space Echo and a [modified] blackface Deluxe Reverb cranked all the way up.
I wish I went to your high school. You had some of the best musicians in the world there.
Yeah, man, it was an interesting little gene pool. One of my oldest friends, Mike Landau, we've known each other since we were 12 years old. He's one of the finest guitar players I've ever heard in my life. We grew up together, and we were in a lot of bands together.
In high school, we met the Porcaro brothers and it sort of changed all of our lives. We were in a band together called Still Life with John Pierce on bass, and Carlos Vega and/or Jeff Porcaro played drums. Jeff was in Steely Dan at the time. David Paich and Steve Porcaro on keyboards…these were our high school friends, childhood friends. Me and John Pierce and Mike go back to when we were just little kids.
Did Jeff Porcaro play with Sonny and Cher also?
Yes. My father did a film with Sonny and Cher, and I met them when I was 11. And I ended up producing Cher's record years later and playing on her stuff. Paich and Jeff were in the band when they were 17. That turned into the Boz Scaggs band. We all joined Boz's band, and Boz's band turned into Toto. And at that time, we started playing on everybody's record under the sun.
When you walked into a session, would there be music charts?
Not very often. I mean, you had to be able to read, but there were guys who did TV/film who were really good at that, and those guys are generally still doing it. That's another mindset altogether. I dabbled in that and it was pretty terrifying. I got through it, but I didn't enjoy it.
I got hired to fill in the blanks. I'd get a blank sheet, and all of a sudden I'd come up with the hook part in about two seconds. Most of the rhythm parts you've heard on all the Michael Jackson and Quincy Jones stuff, those are all mine.
Did you come up with the main riff for "Beat It" on Thriller?
That was Michael's. He sang me the riff, but I came up with [sings the bridge breakdown riff]. All the "Human Nature" stuff, those are all my parts. For songs like Michael McDonald's "I Keep Forgettin'," allthose muted rhythm parts, those were done in one take, and that was the first thing I grabbed for. All those—one or two takes, boom, out, done. I got hired to do all that stuff on the fly. There was never any music, except for chord sheets in front of me. Sometimes not even that.
I've heard that you're pretty much a one-take guy.
Well, you know, sometimes you get lucky. Back in the day, you didn't have a million tracks, so you had to do it. If I didn't get it, I'd have to do it until I did, or I'd punch in on a part. Or if I had something really great, I'd go, "Can I fix that one thing? The last note was a little out of tune. Can I punch in the last note?"
You've had such a long, interesting career, and you've played with the best people in the world.
I've [been] really blessed, lucky…I don't know how it happened. I was talking with Steve Porcaro; we came up at a time where there was never any doubt in our minds that we were going to make it. There was no "no" in our pathway. If there was a wall, we broke it down. We weren't going to take no for an answer. No is not an acceptable answer, and I still believe in that.
I think I may have lost my way a little, [but] I'm back and I really feel like I've rediscovered my instrument, found my passion and my muse and my heart. You know, in a 35-year career, it's not hard to lose your way sometimes, and I apologize for that. But I managed to hang on. Now I'm floating above earth, feeling better than I ever have.