Compact Pedal, Huge Tone
Using the BOSS ST-2 Power Stack to Bring Impressive Tube-Stack Tone to Any Rig
By Jim Bybee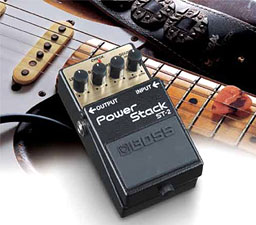 BOSS' large lineup of overdrive and distortion pedals is as diverse as it gets, with stomps that specialize in everything from mild blues grit to raging, over-the-top metal. But the latest addition, the ST-2 Power Stack, takes a new and novel approach—more than just a fuzz pedal, it's designed to deliver real-deal tube-stack tone with any amp. Here, we'll dive into the philosophy behind this amazingly versatile and remarkably simple pedal and give you some tips on using it effectively. You'll soon discover why the Power Stack is a must-have pedalboard addition, giving you instant access to the monster sound of a cranked-up stack in the studio, on stage, or in your bedroom.
360º View
The Power Stack has a basic black finish with white lettering and a gold control panel, a color scheme that should give a clue to the type of raging tones it's designed to unleash. It features LEVEL, BASS, and TREBLE knobs, familiar controls on a distortion pedal; however, it's the SOUND knob that is key to this stomp's unique, wide-ranging voice. Like all Compact Pedals, the Power Stack runs on a single 9-volt battery, or it can be powered with an optional PSA-120S Power Adaptor.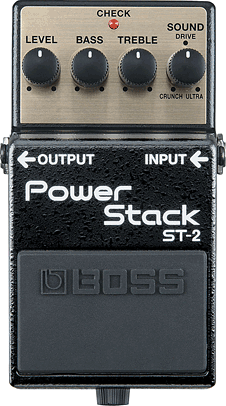 Stackology 101
If you're a rocker who's been playing electric guitar for more than a week, you know that cranking your amp up loud usually makes it sound better and more fun to play. This is particularly true with a stack-type amp—when cranked to 11, the tone is simply huge, with super-fat single notes, rich presence, and dynamic responsiveness that makes you want to slam out power chords and riff forever. Without a doubt, this sound has defined heavy guitar since the late 1960s. If you've had the opportunity to jam through the archetypal stack rig—a blazing 100-watt, all-tube amp head driving two cabs loaded with four 12-inch speakers in each—you know that it's true sonic nirvana. You also know it's louder than hell!
Unless you're an arena shredder with groupies and roadies to spare, playing through an actual stack at ear-splitting volumes is not very practical, and usually impossible. The size and sheer volume of a stack setup simply won't cut it in most real-world gigs, not to mention the eviction-inducing situation it creates for apartment and condo dwellers. The good news is that the Power Stack is the next best thing to the king-of-the-world experience of playing through a real wall of amps, delivering fat, saturated tone and that awesome feel through any amp at any volume.
The Sounds of Rock: Crunch, Drive, and Ultra
Through the years, stack tone has evolved as rock music has evolved. In the '60s and early '0s, the crunchy and creamy "plexi" tone was the standard. In the late '70s and '80s, the stack amp's basic DNA remained intact, but the sound got heavier with the inclusion of high-gain preamp stages. From the '90s onward, the sound has gone over the top courtesy of more sophisticated preamp and EQ circuits, delivering ultra-heavy tones that make '60s stacks sound almost clean in comparison.
All three classic stack tones are desirable for different styles of music, and the versatile Power Stack gives you all of them—and every shade in-between—in one pedal. The magic control here is the deceptively simple SOUND knob, which morphs through the different stack types as you turn the control from low to high. The panel markings tell you what stack zone you're in as you turn the knob: CRUNCH gives you the vintage '70s stack sound, DRIVE the '80s high-gain sound, and ULTRA dishes modern, super-saturated and heavy tone.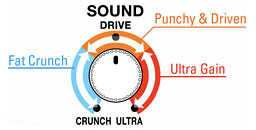 Unlike tweaking a simple distortion or overdrive control on other stomps, twisting the Power Stack's SOUND knob actually adjusts multiple tone-shaping and sensitivity parameters under the hood in addition to boosting the gain. This lets you easily sweep through the sounds of the different stack eras in a smooth and seamless way to dial in your perfect tone, just the way you like it.
Using the Power Stack with Your Rig
The Power Stack excels at bringing massive stack goodness to any guitar rig, big or small. It particularly works great with a combo or practice amp that's set for a clean or slightly dirty sound—just dial up the SOUND knob to the gain you like, tweak the BASS and TREBLE knobs to fine-tune the tonal balance, and adjust the LEVEL knob for the overall volume. The pedal can also bring some over-the-top fatness and sustain to an already-dirty amp, and it's perfect for adding a modern tone option to a vintage-style stack.
Many famous stack players are known to kick the front end of their amps with some sort of gain pedal to give them a boost for soloing, with pedals such as the BOSS DS-1 Distortion and BD-2 Blues Driver being well-regarded favorites in this role. By thinking of the Power Stack as an amp and not a pedal in terms of sound, placing another gain-boosting pedal before it can have a similar effect.
The Power Stack already produces a good amount of distortion itself, even at the CRUNCH setting; it won't take much to send it into hyper-drive, so a stomp that has a moderate amount of grit at lower gain settings will probably work best here. In addition to the DS-1 and BD-2, BOSS pedals such as the OD-3 Overdrive and FZ-5 Fuzz are good ones to start with. The CS-3 Compression/Sustainer can be very effective in this role, too, providing a clean volume kick as well as extra-fatness and sustain.
To take this pedal-as-amp-sound analogy even further, the placement of the Power Stack in your overall pedal chain might benefit from some non-conventional thinking. As described in our "Order in the Court" feature, overdrive/distortion pedals tend to work best when placed before modulation, delay, and reverb pedals. Of course, you can follow this tried-and-true wisdom and get excellent results with the Power Stack. But you might also want to try it at or near the end of the pedal chain, using it in the tone-shaping role of an actual amp. In this scenario, you'll probably get the best sound in the Power Stack's CRUNCH range—but remember, there are no rules, so change the pedal order and twist the knobs till it sounds good to you!
Loud and Proud
You really owe it to yourself to check out the ST-2 Power Stack and experience what some big-amp tone will add to your gigging, recording, or practice rig. One thing's for sure—you'll simply be amazed by the huge, satisfying sound you'll get out of this little stompbox.
Check out video and audio demos of the Power Stack in action.