RC-30 and RC-3 Loop Stations
Using USB to Back Up and Swap Loops
By Jim Bybee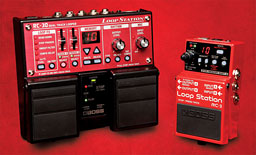 The latest BOSS Loop Stations, the RC-30 and RC-3, are amazingly powerful loopers, packed with a huge range of features in compact packages. Their primary feature is the recording time they offer, which is an incredible three hours, and in true stereo to boot. Each looper also provides 99 onboard memory locations for storing your loops. The RC-30 has dual-track capability, so every memory can actually store two separate loops. The single-track RC-3 stores one loop in each memory.
To manage your loops, there's a USB connector on the RC-30 and RC-3 that lets you connect to a computer running a Windows or Mac operating system. In this article, we'll discuss a few things you can do via USB.
First Things First
We'll start with an important note: please review the information in the owner's manual for your RC-30 or RC-3 before connecting it to a computer via USB. Working with the RC-30/RC-3 via USB is very simple, and not unlike using a common device such as a USB flash memory stick (in fact, flash memory is what's inside the RC-30/RC-3). However, there are some very basic precautions to take to ensure that your loop data remains safe, particularly when it comes managing files and folders and removing the RC-30/RC-3 USB connection from the computer. These are all covered in detail in the product owner's manuals.
Back Up and Restore
The most basic thing you'll want to use the USB connection for is to back up and restore the loops and performance settings you make in the RC-30/RC-3.
When you connect the RC-30/RC-3 to your computer, it'll show up as a flash drive.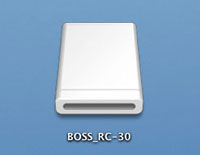 Inside, there's a folder titled "ROLAND." When you open the folder, it contains two other folders: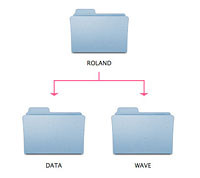 The DATA folder contains files that store the RC-30/RC-3 memory and system settings. The memory settings store info about how you've set up each memory location, including rhythm, tempo, phrase playback mode, and more. (On the RC-30, memory settings also include LOOP FX and track selections.) The system settings contain any changes you might've made to how the RC-30/RC-3 operates on a system level, such as modifying how the pedals behave.
Note: The contents of the DATA folder can't be modified on your computer, so you should leave them as they are.
The WAVE folder contains any loops you've stored in the RC-30/RC-3. The loops are contained in subfolders, with names that represent the 99 memory locations in the loopers.
To back up everything at once, simply copy the entire ROLAND folder to your computer.
You don't want to change the name of this folder when it's on your computer, because the RC-30/RC-3 needs it to be named ROLAND if you want to restore the data as a whole. Of course, this can get complicated once you start collecting multiple ROLAND folders over time. What I do is create an RC-30/RC-3 backup folder on my computer, and create subfolders named by date or application. Then, I copy the ROLAND folder I'm working with at the time into the proper subfolder for organization and safekeeping.
To restore everything at once, just copy the ROLAND folder back to the RC-30/RC-3. It's very important to note that doing this will erase the ROLAND folder that's currently there, including all its contents. If you have any settings and/or loops currently in the RC-30/RC-3 that you want to save, make sure you back them up first! (For detailed info, see the owner's manual for your looper.)
Swap Individual WAV Loops
The RC-30 and RC-3 record loops as 16-bit WAV files. If you like, you can transfer saved loops one at a time to your computer by copying them from the RC-30/RC-3 WAVE folder. This lets you share individual loops with friends, play them in music players, or use them in a multitrack DAW project.
The following image shows the WAVE folder structure of the RC-30, which has space for two loops in each memory. For example, the folder named "001_1" contains Track 1 in Memory 1, while the folder named "001_2" contains Track 2 in Memory 1. As such, there are 198 folders in total.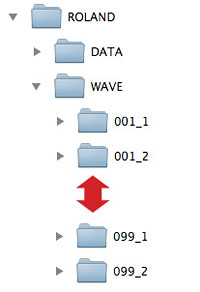 In the RC-3, only one loop is stored in each memory, so there are 99 folders in the WAVE folder ("001_1," "002_1," "003_1," etc.).
To save an individual loop, just open the folder that it's in and copy the WAV file inside to your computer.
You can also place WAV files from your computer into memory locations in the RC-30/RC-3. These can be previously saved loops from the RC-30/RC-3, drum loops, song tracks for music practice, or full-blown backing tracks. Your only limitation is the three-hour total memory limit—that is, the total time of all the loops in the RC-30/RC-3 cannot exceed three hours.
If you're using your own WAV files, make sure they're in the following standard format; otherwise the RC-30/RC-3 can't play them:
Data format: WAV
Bit rate: 16-bit linear, stereo
Sampling frequency: 44.1 kHz
To put a WAV file into a memory location, just place it in the desired subfolder within the RC-30/RC-3 WAVE folder. The RC-30/RC-3 can only handle one loop per folder, so make sure you don't put more than one in each.
Getting Loopy
As you can see, backing up data and swapping loops with your RC-30/RC-3 is pretty simple. So, start looping and have some fun!