The Art of Looping
Exploring New Performance Horizons with BOSS Loop Stations
By Jim Bybee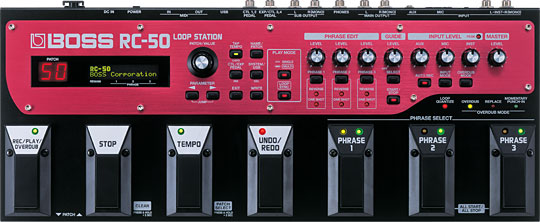 Loop-based music making has taken the world by storm in recent years, both in the studio and on stage. BOSS' innovative Loop Station products have played a huge role in the rise of live looping artists everywhere, giving musicians of all stripes great sounding and easy-to-use tools to create and manipulate loops while performing. The annual BOSS Loop Station World Championship competitions showcase the world's top looping musicians from around the globe, and those that participate clearly show the Loop Stations' power to bring artistic expression to new heights. If you're not "in the loop" yet, you need to check out a BOSS Loop Station and see how fun and inspiring making music with loops really is.
Looping Basics
For the uninitiated, a "loop" is simply a snippet of audio that plays repeatedly. With a Loop Station, you can plug in a guitar, mic, or other instrument, record a loop on the fly, and then use it as an accompaniment for further live playing and/or singing. You can even overdub new performances while the loop plays, a feature known as "sound-on-sound" recording. In addition, some Loop Stations have multitrack capability, allowing you to play multiple loops at one time.
Before the advent of today's purpose-built digital loopers, innovative guitarists and other musicians first created loops in real time with delay or "echo" devices (first tape-based and later digital). In fact, simple looping can be accomplished with BOSS delay pedals like the DD-20 and DD-7. For all its coolness, creating loops with a delay unit has its disadvantages. First, the available recording time is measured in seconds, limiting your loop creations to a few bars. Second, unless you have an external recorder handy, there's no way to save your masterful loop creation once it's complete—if you turn off the power or record a new loop, your inspired performance is history!
The Loop Station Advantage
For many years now, BOSS' Loop Station products have been the go-to looping devices for performing musicians everywhere. They're made from the ground up with real-time live looping in mind, with tons of features that make them perfect for guitarists, vocalists, and all musicians, even those that play acoustic instruments. The current Loop Stations are the most powerful ever, with three different models to choose from (see our roundup below).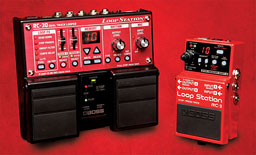 Perhaps the most important thing a Loop Station provides is time—recording time, that is. The RC-30 and RC-3, the newest Loop Stations, offer a staggering three hours of onboard stereo recording time! Unlike using a delay unit, you're not relegated to creating short, repetitive phrases—you can capture complete song sections, or even record an entire song in a single pass. In addition, with the onboard loop storage and massive memory that all Loop Stations provide, you can use them to store pre-recorded backing tracks for both practice and live performing.
For someone that plays an instrument, an obvious necessity in a performance looper is hands-free, real-time control. Of course, Loop Stations are designed for foot-controlled operation, with both built-in pedals and connectors for adding additional footswitches.
Nuts and Bolts
In Loop Station lingo, a recorded loop is called a "phrase." A phrase can play repeatedly, creating a continuous musical backing. Alternately, a phrase can be set to play only once when triggered, a function known as "one-shot" playback. If desired, a phrase can play in reverse for wild backwards effects, or be set to fade in and/or out automatically.
While a phrase is playing, new recordings can be overdubbed sound-on-sound style. Here, the Loop Stations' undo function is super handy—if you don't like your overdub, simply press a footswitch and undo it, returning the phrase to its pre-overdub state. If you change your mind, press the footswitch again to redo the undo. Of course, all this can be done during a performance without ever stopping playback.
Loop Stations also feature built-in rhythms that are great for jamming and creating ultra-tight, grooving loops. Some also offer multiple input types, allowing you to connect a guitar or bass, a microphone, and a stereo device such as a mixer or portable music player. These inputs are available simultaneously, letting you record the sounds of the connected devices into your loops as the inspiration hits you.
Finally, when your loop masterpiece is complete, you can store it in one of multiple onboard phrase memory locations for later use. Loop Stations also provide USB for saving your loops to a computer so you can share them on the web or use them in DAW projects. You can also import audio from the computer into a Loop Station.
Choices, Choices…
Whether your looping needs are great or small, BOSS has a Loop Station for you.
RC-30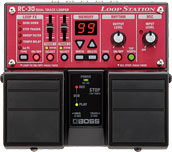 The RC-30 Dual Track Looper comes in the popular BOSS Twin Pedal format, and this potent looping powerhouse proves that good things come in small packages. As mentioned earlier, it features three hours of stereo recording time, plus 99 memory locations for storing phrases onboard and USB 2.0 for swapping phrases with a computer. In addition, the new dual phrase loop feature lets you create and play two completely independent stereo loop phrases in perfect sync!
With the RC-30's LOOP FX, you can process loops in real time with effects such as Bend Down, Sweep Filter, Tempo Delay, and more. Multiple inputs include stereo ¼-inch inputs and outputs, a mic input with phantom power, a stereo AUX IN jack, and a key selection of onboard rhythms that include real audio drum loops. Finally, it runs on batteries or AC power, and is right at home next to your other BOSS pedals.
RC-3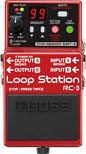 The RC-3 is the RC-30's kid brother, housed in a rugged BOSS Compact Pedal chassis. This single-track looper offers the essential features of the RC-30 in an even smaller pedal, including stereo I/O, up to three hours of stereo recording and loop storage, 99 onboard memories, USB 2.0, and built-in rhythms. If you crave more foot control, an optional BOSS FS-5U or FS-6 footswitch can be connected to the RC-3's external pedal jack to give you multi-pedal control like its Twin Pedal cousin.
RC-50
With its multitrack capability and powerful and flexible loop manipulation tools, the flagship RC-50 is the ultimate looper. It features seven built-in pedals for massive foot control, and can record phrases in mono (up to 49 minutes) or stereo (up to 24 minutes). The RC-50 has 99 patches, and each patch contains three phrases—that adds up to onboard storage of nearly 300 phrases!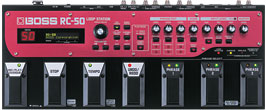 The three phrases in an RC-50 patch can be played separately (in Single mode) or simultaneously (in Multi mode). Single mode is great for recording and playing different song sections as separate phrases (verse, chorus, etc.), while Multi mode allows you to combine phrases together to create complex sounds. When in Multi mode, you can use the Loop Sync function to perfectly lock the recording and playback of all three phrases.
The RC-50 also plays nice with the outside world. By connecting the built-in USB connector to a computer, you can back up and restore RC-50 patches, and swap WAV audio loops. For synchronization and MIDI control, use the MIDI IN and OUT connectors to communicate with other MIDI devices such as sequencers and multitrack recorders.
The Sky's the Limit
When you open up your imagination, you can come up with lots of creative uses for a Loop Station. You can take solo or small group performances to a new level, creating on-the-fly backing tracks for soloing or vocal accompaniment. Imagine using a single instrument or just your voice to build an entire multi-layered musical arrangement—with complex chord changes—right in front of your audience. Perhaps you like to work with pre-recorded backing tracks; simply store them as phrases in the Loop Station's onboard memory locations and head to the gig. On the other hand, if you're into unstructured sounds, a Loop Station is an amazing tool for creating swirling, ambient soundscapes.
A BOSS Loop Station also makes a great practice tool—you can jam along with backing tracks to build your chops, and record your playing to evaluate your progress. With the RC-50, you can even record external audio from a CD or MP3 and slow down the playback without changing the pitch—a great tool for guitarists who want to learn speedy licks by their favorite players.

Instant Inspiration
The first BOSS Loop Station World Championship and preliminary national competitions showed off the truly awesome combination of musical talent, artistic imagination, and live looping. At these events, loopers from around the world displayed their unique gifts, using Loop Stations in performances that were unique, exciting, and incredibly inspiring.
To see and hear some of the amazing things that can be accomplished with a BOSS Loop Station and stimulate a little creative inspiration of your own, check out the jaw-dropping performances from just some of the talented artists that took part by clicking here.
The fun will continue with the Loop Station World Championship 2, BOSS' second annual search to find the world's top looper. It's easy to enter—just submit a short YouTube™ video of yourself performing live with any BOSS Loop Station product. The result could be a trip to the U.S. finals in Hollywood, California, where the top looper will earn $3,000 in BOSS gear and a spot in the international championship at Musikmesse 2012 in Frankfurt, Germany—click the link below for full details.
Happy looping!