The Personal Multitracker for the Computer Age
Inside the Powerful, Portable, and Versatile BR-800
By Jim Bybee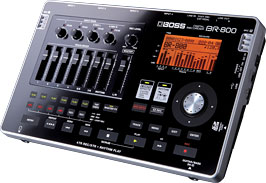 Without a doubt, the computer has become a central hub for music creation, and it's the tool to use for building large productions with huge numbers of tracks. But even with the massive power today's computers offer, BOSS' BR-series self-contained personal multitrackers remain as popular as ever. Why? Because their portability, ease of use, and amazing ready-to-play effects let you quickly capture ideas anytime and anywhere, the moment your inspiration strikes. By themselves, BR recorders give you everything you need to record great sounding music from start to finish. And because your audio is captured in CD quality, the tracks you create in a BR can be used as "keepers" if you ever want to transfer them to larger productions in other formats.
Since the beginning, BOSS has provided software tools for exporting BR tracks into the computer so they can be burned, shared, and/or used in DAW projects. But with the BR-800, BOSS has created a device that actually integrates with the computer, functioning as both a standalone SD-based eight-track recorder with 64 virtual tracks and a USB audio interface/hardware control surface for a complex DAW. In fact, it even comes with Cakewalk's popular SONAR DAW software! The BR-800 gives you a single and familiar machine that you can use at all steps of the creative process, from initial spark to demo stage to mega-multitrack master.
In this article, we'll take a close look at the BR-800's ultra-flexible, best-of-both-worlds features, and show you why it's an essential companion for all your music-recording activities, both with and without a computer.
Around the Horn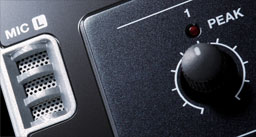 The compact BR-800 is perhaps the coolest-looking BR ever, with a sleek profile and glossy black finish. The panel layout is sleek as well, with high-tech touch-sensor switches and a smooth control surface, giving the BR-800 a clean look and feel that's right in step with today's smartphones and tablet devices. There's also a high-resolution display, as well as dedicated track faders and knobs for setting input levels. The panel's top corners house integrated high-quality stereo condenser mics, great for capturing acoustic instruments, vocals, and on-the-fly ideas.
The rear and front panels provide a huge amount of I/O connectivity. Inputs include four XLR mic inputs (one with phantom power), four ¼-inch inputs, a Hi-Z guitar/bass input, and a stereo line in. Stereo outputs are provided on two ¼-inch jacks and a phones jack. There's also a jack for connecting a foot switch or an expression pedal. On the side panel you'll find a USB jack (more on this later) and power selector. For the ultimate in flexibility, the BR-800 can be powered three different ways—with six AA batteries, the included AC adapter, or USB bus power from a connected computer.

Multi-Channel Recording On the Go
As a portable standalone recorder, the BR-800 has all the great, easy-to-use features that the BR series is known for, and then some. This multitracker records directly to convenient SD media and provides eight-track simultaneous playback, with 64 virtual tracks for capturing alternate takes. You can record up to four tracks at once, and the four mic inputs make it easy to capture a drum set or multiple musicians playing at once.
The built-in digital mixer gives you simple yet powerful sound-shaping control over your tracks, with each channel providing a three-band EQ with parametric midrange, panning, and sends to reverb and chorus/delay effects. There's also a dedicated stereo rhythm track that plays in perfect sync with the recorder, with over 300 rhythm patterns and nine drum kits to choose from as song accompaniment. You can also create your own custom rhythms on your computer with the BR-800 Rhythm Editor software (available here as a free download) and save them into your projects.
Awesome FX
BR recorders are famous for their great effects, and the BR-800 offers the biggest set ever from the BOSS arsenal. For electric guitar and bass, there are over 40 COSM amps to choose from, plus staples such as overdrive/distortion, delay, wah, compressor, modulation, and tons more. There are also effects optimized for acoustic/electric guitars, including an Acoustic Processor that adds richness and life to the sterile sound of piezo pickups recorded direct. Vocal effects—many of which come straight from the popular VE-20—include pitch correction, doubling/harmony, special FX like radio and strobe, and many others. There's lots of other processing on tap, such as the previously mentioned reverb and chorus/delay in the mixer and mastering effects for adding that final polish to your mixes.
It's simple to call up the effects—just touch the COSM EFFECTS button. The BR-800 also makes it easy to find the right effect for the instrument you want to record, with the appropriate effects category automatically called up when you select an input source for recording (GUITAR/BASS, XLR MIC, LINE IN, the built-in mics, etc.). The effects are super-easy to use, with great-sounding presets that give instant gratification. Of course, the effects are fully editable—one method is with the intuitive EZ TONE interface, which allows you to adjust multiple effects parameters at once via a simple X-Y grid and sound targets like "soft," "bright," "solo," "backing." Alternately, you can tweak effects in micro detail via a very deep set of parameters.
Capture Your Ideas Now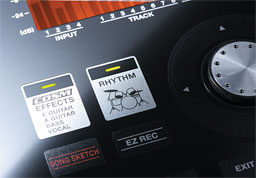 Recording ease is another BR tradition carried over in the BR-800, with a few new innovations added to help your workflow. The handy RETRY button is very cool; pressing it jumps instantly back to the time position of the last recording, great for perfecting parts without having to mess with locators or the transport controls. EZ REC makes selecting inputs and setting up effects and rhythms a breeze with helpful, icon-driven menus. The new LOOP REC option is a great way to capture a song section that repeats; just play it once while recording, and the BR-800 automatically loops the part over the length of the track. When you want to record a new looped section on a track, just navigate to that point and start recording again.
Another cool new feature is Song Sketch. Basically, this is an alternate operation mode that turns the BR-800 into a dedicated two-channel recorder. Song Sketch is perfect for use with the built-in mics, making it easy to grab song ideas as they come. You don't have to use the mics, though; any BR-800 input can be used in this mode. The great thing about Song Sketch is that it's instantly accessible at all times—just touch the SONG SKETCH button and you're there. Your Song Sketch recordings are captured as stereo WAV files, and it's easy to transfer them to a computer or import them into a BR-800 multitrack song for further development.
USB Computer Companion
As you can see, the BR-800 is a powerful music production tool for creating pro-quality multitrack recordings from start to finish without any outside help. And if that's all you need, you don't need to read any further. But if you also like to work on projects in a computer DAW, the chameleon-like BR-800 easily transforms itself into a pro front-end for your computer rig, both as a USB audio interface (with effects!) and as a control surface. The single-cable USB connection provides power to the BR-800, giving you a quick and clean setup.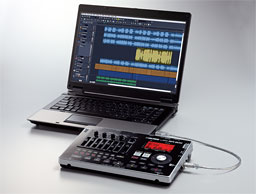 Through USB, the BR-800 functions as a 24-bit, four-in/two-out audio interface for any computer DAW running on a Windows- or Mac-based computer. As mentioned at the top, Cakewalk's SONAR 8.5 LE comes on an included DVD, giving Windows users a complete PC music production environment out of the box. As an extra bonus, the DVD also provides a huge selection of play-along tracks, rhythm loops, and songs. These can be used in SONAR and other DAWs for song construction and practice. They also give you a convenient library of jam tracks to use with any computer music player that can play and loop WAV audio files.
What's extra-special about using the BR-800 as the audio I/O for your DAW is that you can employ its extensive range of effects, both for live tracking and processing sounds after the fact. Latency can be a real issue when trying to monitor live sounds with DAW plug-ins, but the BR-800 and its dedicated DSP gives you plenty of complex processing to enjoy with no latency. Tracks previously recorded in the DAW can also be routed through the effects; this is great for re-amping guitar parts through COSM amps, adding processing such as harmonies and pitch correction to vocals, and more.
Nothing beats hands-on hardware control of a DAW's mixer and transport, and the BR-800's cool touch switches and faders can do just that. Control Surface mode uses the standard Mackie Control protocol, which is supported by most of the popular DAW software on the market (check with the manufacturer of your DAW to find out).
Aside from working with a DAW, the BR-800's USB connection allows you to do other important things with a computer. For one, you can back up and recover BR-800 projects. You can also use the included BR WAV Converter software to prepare audio tracks for swapping between the BR-800 and a DAW. Finally, the BR-800 Rhythm Editor software we discussed earlier communicates with the BR-800's drum sounds via the USB connection.
The Multi-Talented Multitracker
Versatility, portability, amazing sound, great effects, onboard rhythms, computer integration…what's not to love about the BR-800? This flexible machine supports you every step of the way as you build songs, from quick demo to eight-track project with rhythm to full-blown DAW production. Once you discover the power of the BR-800, you'll wonder how you got along so long without one!
Watch a video demo of the BR-800 here.