BOSS MICRO BR® BR-80 Digital Recorder
An Out-Of-This-World Dream Machine That You Can Own Today
By Peter Swiadon

It's time for a little science fiction: a new machine was just released, and it's a self-contained multitrack SD recorder that can record up to 64 tracks and play back eight at a time. It also has super high-quality stereo condenser mics built in, software versions of over 40 famous guitar and bass amps, and stereo effects processing. That's not all—it offers simple, icon-based operation and editing, mixer memory, independent channel EQ, vocal processing including pitch correction, nine drum kits, mastering tools, full digital track editing, and everything else that a major pro recording studio can provide.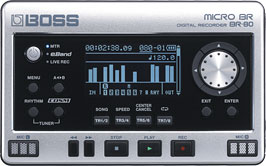 With a simple button press, this same device can instantly become a handheld stereo field recorder, ready to record up to 550 hours of sound whenever the occasion arises. It can also become a backup band with its 300 onboard audio tracks and beats, and can play them at your choice of speeds and keys. Importing your own music files is possible, too, and you can play along and record your guitar sound through top-notch effects. Another thing—it's a USB audio interface that you can use with your favorite computer music software. Oh, yeah, it also runs on two AA batteries, and it's small enough that you can literally put it in your shirt pocket and take it anywhere you want to go.
That would be quite a machine, wouldn't it? What's truly amazing is that this dream machine isn't sci-fi: it's real! It's the BR-80, the newest member of BOSS' MICRO BR family of pocket-sized studios, and it's simply incredible.
Triple Threat
The BR-80 is essentially three machines in one—a fully self-contained multitrack recorder, a handheld stereo field recorder, and a complete eBand™ jam-along player, all in one small box.
The on/off button on the BR-80 selects which mode is active: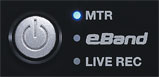 Now, let's take a closer look at each.
MTR Mode
The first mode is MTR, which is short for "Multitrack Recorder." When you select it, the BR-80 becomes a complete 64-track recorder with eight track playback, full COSM®-based effects for guitar, bass, vocals, and other audio sources, stereo rhythms with over 300 patterns and SMF support, and much more. Basically, this mode is a true BOSS self-contained recorder, with everything you would find in a large pro recording studio stuffed into one tiny package.
Navigating in MTR mode is simple; you can get around just by using the cursor buttons and the multi-function dial. For example, if you want to adjust levels, press the Cursor Down button, and this screen will appear: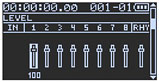 It shows the current level of each channel and the rhythm track. By navigating with the cursor and dial, you can tweak every channel until your heart's content, including independent three-band channel EQ with parametric midrange (see the illustrations below), plus solo, mute, panning, and reverb. And since this is a digital mixer, the BR-80 will remember and recall your settings for each song.

The COSM effects section comes up simply by pressing the COSM button. To make it easy, the BR-80 organizes its effects in over 20 categories (the illustration below shows the BLUES category as an example). You can choose from a large variety of presets within each category for instant inspiration, or edit the effects as you like and save your own custom presets. There are plenty of ready-to-play sounds for any kind of application—electric guitar, acoustic guitar, bass, vocals, stereo instruments, and even mastering tools for getting that perfect final mix.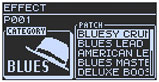 Live Record Mode
Handheld field recorders are a huge and growing market. Roland (BOSS' parent company) has a strong history in this area, so it was natural to include a handheld in the BR-80. Selecting LIV REC mode instantly transforms the BR-80 into a WAV field recorder that can capture up to 550 hours of stereo sound on a 32 GB SD card.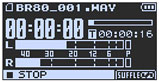 Using LIV REC is super-easy: just press the record (REC) button, which arms the stereo mics and puts the BR-80 into record-standby. Then, when you're ready to go, press PLAY. You can even use the built-in metronome if you want to get a quick song idea down in tempo, so you can work it into a finished song in MTR mode later.
eBand Mode
The eBand JS-8 is a standalone BOSS play-along unit with onboard backing tracks and loops for jamming, WAV/MP3 song playback, awesome COSM guitar effects, and built-in speakers. The BR-80's eBand mode contains virtually all the same features, so getting a BR-80 is like getting an entire eBand minus the speakers. The main display in eBand mode looks like this: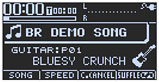 This screen tells you which song or loop is going to play, and which effects setup will be used for tone. It even tells you what key the song is in. In eBand mode, you have access to around 300 onboard audio loops and beats, so you have lots of cool music to jam to. Like MTR mode, you have the full set of COSM instrument effects, so when you're playing, you can get a tone that matches the song. eBand mode can also import audio from your computer via USB and play back songs you've created in MTR mode.
Another of the many things the eBand JS-8 can do is adjust the speed and key of the audio it's playing in real time, and the BR-80's eBand mode does this as well. While you're playing along to the included loops or your own imported tracks, you can slow down or speed up the audio without changing the pitch, and also change the key. These features are great for doing things like learning a super-fast lick by slowing it down and then gradually going faster until you've mastered it, learning how to play in different keys, transposing material to fit your vocal range, and more.
There's even a Center Cancel function that can remove certain portions of the audio, such as the lead guitar or vocals, so you can join the band by playing/singing the parts yourself. eBand mode does all of these things, and you can record your jam-along performances, too. Included software helps you work with the music on your computer, making it easy to move it to the BR-80 and back.
Extra Goodies
Of course, there's more. You can take material recorded in LIV REC mode and move it to tracks in MTR mode to use as a basis for a multitrack song. There, do all your overdubs, add the built-in drums, and master the song. Then, take that song, drop it into eBand mode, and jam to your own music! Those built-in drums, by the way, can follow SMF drum parts that you import into the BR-80 from a computer, so you're not locked into the preset rhythms. That said, the preset rhythms may be all you need—they're very musical and versatile, there are hundreds to choose from, and you can tailor their sound by selecting among nine different drum sets when using them in your songs.

The BR-80 is also a USB audio interface, so you can use it as a pro-quality I/O for a computer-based recorder. In addition, all of the BR-80's great amps and effects can be used, giving you latency-free processing for recording guitar, bass, and vocals directly into the computer. You can even employ the effects to process previously recorded tracks, such as "reamping" guitar sounds. Cakewalk's Window's-based SONAR X1 LE DAW software is bundled with the BR-80, providing a full-fledged PC-based music production environment. In addition, the included BR Wave Converter software lets you easily exchange data between the BR-80 and SONAR X1 LE or any other DAW.
Truth is Stranger Than Fiction
Does the incredible BOSS BR-80 sound like science fiction? Yes! It's simple and intuitive to use, crammed with powerful features, completely portable, and just all-around cool. It's really the ultimate guitar companion—a powerful multi-effects processor, a backing band, a recorder, a music player, and much more. Best of all, it's not fiction; it's real, and you can get one now. What are you waiting for?
For video demos of the MICRO BR BR-80, click here.