Tips and Tricks: About Accu-Pitch®
The Cool BOSS Tuner Feature That Helps You Tune Faster
By Peter Swiadon
For a few years now, BOSS tuners have included a feature called Accu-Pitch. But what does it actually do? It's a good question, and one we hear a lot. Let's take a look at Accu-Pitch and see if we can't demystify it a little.
Accu-Pitch is a technology in the latest BOSS tuners that gives you an affirmative confirmation—either audibly or visually—when the target note is tuned accurately, be it a guitar string, a note played on a horn, a singing voice, etc. This simplifies and speeds up the process of getting in tune, so you can spend less time with tedious meter watching and more time playing.
The first tuner to offer Accu-Pitch was the BOSS TU-15. Now, it's available in all BOSS tuners in one form or another. The current list includes the following:

Each handheld BOSS tuner model has a built-in speaker, which allows it to play audible pitches as tuning references. The tuners that include metronome functions (TU-80 and TU-88) also play beats. In all of these, Accu-Pitch sounds a beep when the correct pitch is attained—simple as that! (Of course, you can always disable the Accu-Pitch beep when you need to tune silently.)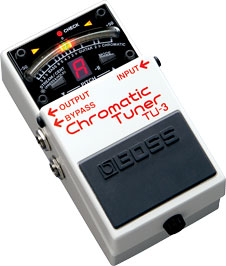 Two BOSS tuners, the TU-1000 and TU-3, are designed for floor use in guitar and bass rigs. As such, they don't play reference pitches, so they incorporate a visual version of Accu-Pitch.
The TU-1000 is notable for its huge tuning display, which lets you tune easily from a distance. Here, Accu-Pitch provides a virtual light show in which two LED arrows shoot across the display to confirm that the note is in tune. It's pretty impressive, and you can see it from a long way off, which is very useful if you're on a large stage and aren't right in front of the tuner.
The stompbox-size TU-3 has its own version of visual Accu-Pitch. With its super-bright display and indicator lights, you can easily tell if you're in tune even if you're nowhere near the tuner.
So, that's it—Accu-Pitch in a nutshell. Now grab your BOSS tuner and get in tune!