The Road to the BOSS Loop Station World Championship
A U.S. Winner is Crowned at the First Annual Loop Station National Finals
By Jim Bybee
Today's light-speed advances in digital technology have dramatically affected the way nearly all musicians create music, opening up new avenues of expression that were impractical or impossible in the recent past. One such example is live looping, where an artist uses a foot-controlled recorder to capture segments of their live performance as audio loops, which they then play back and manipulate in real time. The loops are most often used to augment or support other aspects of the performance, such as singing and live playing. The groundbreaking BOSS Loop Station products have played a seminal role in the rise of the loop artist by offering all musicians affordable, great-sounding, and easy-to-use tools for creating and working with phrase loops live and in the studio.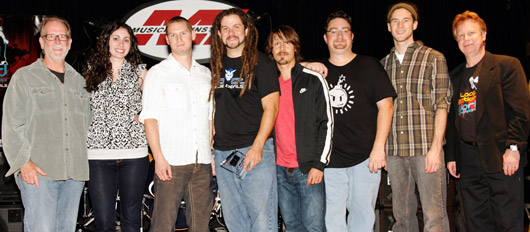 To celebrate this new breed of musician, BOSS has embarked on an exhaustive search to find the world's top loop performer. In the summer and fall of 2010, live looping competitions have been held around the globe to find loop artists that will represent their individual nations at the Loop Station World Championship in Anaheim, California, during the 2011 Winter NAMM Show. BOSS U.S. recently held its own Loop Station National Finals, a first-ever event that determined who would represent the United States at the final international showdown.
On October 23, 2010, six loop artists from around the U.S. came to perform before a live audience and a panel of celebrity judges at the renowned Musicians Institute in Hollywood, California. Philip Stendek from St. Louis, Missouri, was the day's big winner, and he will go on to loop for the U.S. in Anaheim. The six were chosen as finalists from hundreds of video submissions received by BOSS during a national preliminary round held over a three-month period in the summer of 2010.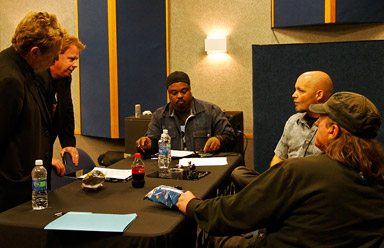 To judge the six finalists, an all-star panel was assembled that included four prominent and influential musicians: Andy Summers, a solo artist and guitarist for The Police; Frank Gambale, a solo fusion guitarist who's played with Chick Corea and others; Derrick "Dock" Murdoch, bassist in the house band for The Tonight Show with Jay Leno; and Jude Gold, director of GIT, the guitar school at Musicians Institute. Also on the esteemed panel was Michael Molenda, editor-in-chief of Guitar Player magazine, and Paul Youngblood, a director of BOSS Corporation.
The finalists all performed five-minute original compositions live using one or more BOSS RC-series Loop Station products, and were allowed to sing and play one or more instruments of their choice. In addition to Stendek, the looping artists were: Tony Smiley from Oregon; Brenna Fitzgerald from Pennsylvania; Micah Beverly from Arizona; Brian Kerr from Ohio; and Jason Olcese from Pennsylvania. Each artist is an active musician in their local community, with most gigging regularly with BOSS Loop Stations, as well as performing with bands and other ensembles.
All the finalists wowed the crowd and judges with their energy, creativity, and excellent musicianship. Most of all, they amazed everyone with their abilities to layer multiple musical parts together with BOSS Loop Stations and support their compositions with rich, full, and interesting on-the-fly accompaniment.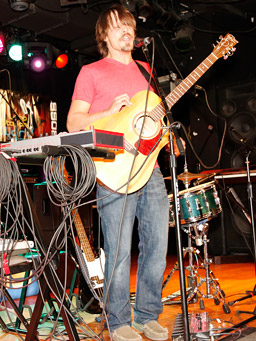 Tony Smiley performed first, building an upbeat backing on his RC-50 Loop Station with vocal beat-boxing, guitar, keys, bass, and percussion before launching into a vocal tune with live guitar accompaniment. Brenna Fitzgerald performed her piece with perhaps the most diverse range of instruments of the event, recording parts in her RC-50 with a Fantom-X8 keyboard, guitar, percussion, and violin before adding live V-Drums® and lead vocals. Next up was Micah Beverly, who gradually built loop layers as he played guitar and sang, and his excellent lead guitar playing drew comments from at least two of the judges. He used an RC-50 as his looper and played his guitar through a BOSS GT-6.
Philip Stendek—the ultimate winner—had the most unique approach to working loops in his composition, using four independent RC-20XL Loop Stations to record an ethereal accompaniment with three-part vocals and keyboards, and then a separate backing with bass and guitar. From there, he played drums and sang along with loop backing, and at one point he even played a keyboard solo on a JUNO-G with his left hand while continuing to play the drums. He then closed his piece by bringing back the vocal/keyboard loop that he started his tune with. Phillip incorporated a lot of other BOSS gear in his setup, including RT-20, DD-7, and TU-3 pedals, and he used an EDIROL M-10DX Digital Mixer to bring his multiple sound sources together.
Brian Kerr took the simplest and most organic approach, using only a mic-equipped acoustic guitar and an RC-20XL to build a high-energy, mostly instrumental piece with strummed chords, impressive lead licks, and percussion created by banging on his guitar's body like a hand drum. At one point, he even added a harmonized vocal part by singing into his guitar's sound hole mic. Jason Olcese closed out the performances with a tune that evoked the sound and rhythmic vocal styling of Jason Mraz. Using an acoustic/electric guitar, a BOSS OC-3 Super Octave pedal, and hand percussion, he tastefully created loop backing in his RC-50 as he sang, punctuating his performance with some nice dynamic stops, and well as a kazoo solo and percussion played on a Roland HandSonic® HPD-15.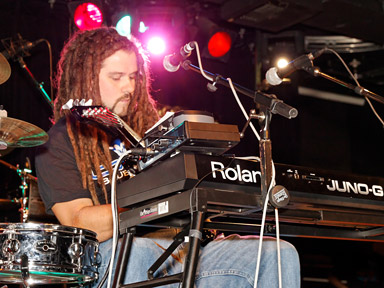 The judges evaluated each artist's performance equally in three categories: creativity, musical expression, and skill in using their chosen BOSS Loop Stations. Based on these criteria, they were tasked to select first, second, and third place finishers. After each performance, all the judges shared their thoughts with the artist and the audience, discussing what they liked and disliked.
Before the winners were announced, Frank Gambale and his band treated the enthusiastic crowd with an exceptional musical performance.
After much deliberation by the judges, Third Place went to Tony Smiley, while Second Place went to Micah Beverly, and for their efforts each received $2000 in BOSS gear. In addition to earning a spot at the BOSS Loop Station World Championship, First Place winner Philip Stendek went home with $3000 in BOSS gear.
Though Brenna, Brian, and Jason didn't place in the top three, they hardly went home as non-winners. At the close of the event, Andy Summers summed up all the performances and the judges' feelings this way: "It was very entertaining and instructive to be here tonight, and it was great to see all this talent. There was blood in the judges' room, and it was brutal coming to this decision, because I think all these guys are real winners—they're all great. I think we heard some really interesting music tonight, and it was very inspiring to see what you might do with these loopers."
To see and hear the six finalists perform, click here.
To learn more about the Loop Station World Championship in January 2011, visit BOSSLoop.com.